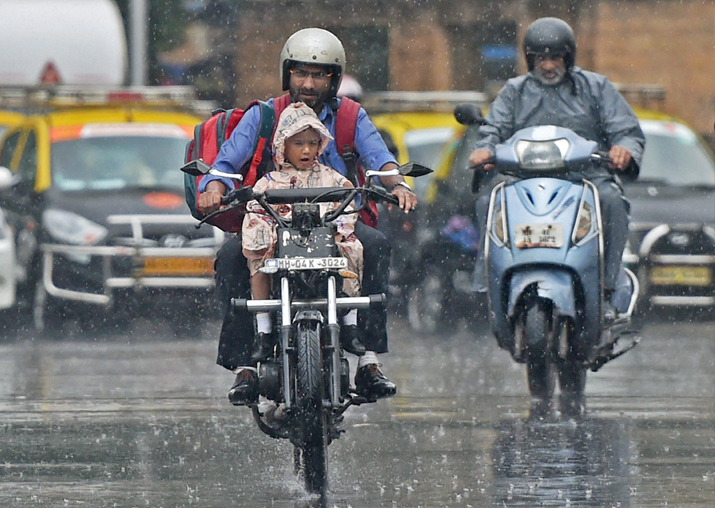 Torrential rains battered Mumbai and parts of Maharashtra on Wednesday, disrupting normal life in the country's financial capital. Flights were badly hit after a private airline skidded on Mumbai airport's main runway, forcing its closure. Air India technicians were helping the airport authorities to remove the stuck SpiceJet aircraft to clear the main runway for regular operations. It is expected to open at 6 am on Thursday. 
Flights were landing on and taking off from a secondary and shorter runway, leading to huge delays, diversions, go-arounds and cancellations since Tuesday night, officials said. Since Tuesday night till Wednesday morning, over five dozen flights were diverted to Nagpur, Ahmedabad, Bengaluru and Hyderabad. Another more than 100 flights, including international ones, were cancelled.
The IMD said Mumbai suburbs recorded a whopping 354 mm rainfall till Wednesday morning, making it the second highest downpour on a single day since the great Mumbai floods when the city experienced 945 mm rains. The previous high record was on August 29 when Mumbai recorded 316 mm rainfall.
Highlights:
# The Brihanmumbai Municipal Corporation (BMC) issues an appeal requesting people not to "spread and trust" rumours of a cyclone warning. "As informed by IMD there is no cyclone warning for Mumbai. Citizens r requested not to spread & trust rumour," the BMC's Disaster Management Cell said in a tweet.
# Air services at the Mumbai airport were hit badly, with 108 flights cancelled and another 51 diverted to nearby airports till this (Wednesday) morning due to heavy rain and closure of the main runway.
06 pm: Traffic updates by Mumbai Police Tqwitter handle-
- Traffic smooth at Kandivali, Borivali, Eastern Freeway, Kalanagar Bridge, Sakinaka, Haji Ali Jn, Tardeo Pedder Road & Girgaon
- Slight water logging at Andheri subway. Traffic normal at D N Nagar
- No water logging or traffic diversions in Worli including smooth traffic on Sea Link
- No water logging & traffic normal at BKC, Dahisar,Dadar,Parel,Matunga & Tardeo
- Obstruction in traffic on Centaur Bridge, North Bound, Vile Parle, W.E.H. due to breakdown of a Car. Traffic is moving slow
- Water logging at Pannalal compound, Tank road junction and Johnson& Johnson Co. in Mulund 
04 pm: No untoward incident has been reported so far from any part of the city, said an official attached with the Disaster Management Cell of the BMC
01:32 pm: 
Mumbai: Operations going slow on Runway 14 at Chhatrapati Shivaji International Airport; NOTAM taken up to 1800 hrs #MumbaiRains

— ANI (@ANI) September 20, 2017
01:15 pm: More than 50 flights cancelled due to main runway closure at Chhatrapati Shivaji International Airport, reports ANI
01:12 pm: 
#mumbaiRains pic.twitter.com/JYBUSBmWon

— Aly Goni (@AlyGoni) September 20, 2017
11:12 am: 
Six International flights have been diverted from Mumbai to Delhi as the main runway at Mumbai airport is closed.

— ANI (@ANI) September 20, 2017
10:32 am: Situation will improve from now onwards: Ajay Kumar, Scientist IMD
10:31 am: We have removed warning (for heavy rainfall), intermittent rainfall likely over city & suburbs for next 48 hrs: Ajay Kumar, Scientist IMD
10:30 am: Now rainfall will decrease, but light to moderate rainfall to continue in Mumbai region: Ajay Kumar, Scientist IMD Mumbai
09:42 am: There are delays in arrival and departure flights because of the fluctuating weather: Airport Spokesperson
09:40 am: Experiencing heavy rainfall and bad tail winds at CSIA. Flights taking off and landing from secondary runway as main runway is closed: Airport Spox
09:38 am: 
#MumbaiRains At least 13 Mumbai-Delhi flights delayed and 15 cancelled.

— ANI (@ANI) September 20, 2017
09:33 am: 
Many flights from Delhi-Mumbai cancelled/delayed due to bad weather and SpiceJet flight incident at Mumbai airport

— ANI (@ANI) September 20, 2017
09:30 am: Water-logging has started taking place in several areas. 
09:28 am: Second runway of the airport is operational but the flights are still running late and many of them are being diverted.  
09:05 am: This has been recorded in the past 24 hours, till 8:30 am. Warnings continue today but situation is improving, keeping a close watch:DDG IMD
09:03 am: Mumbai city recorded 210 mm rainfall, suburb recorded 303 mm rainfall & Dahanu near Mumbai recorded 304 mm rainfall: KS Hosalikar, DDG IMD
08:20 am: 
#MumbaiRains: Runway 14 and runway 32 operational at present.

— ANI (@ANI) September 20, 2017
07:56 am: 
CR suburban trains update 0730 hrs of 20.9.2017 pic.twitter.com/8mB34FWBK0

— Central Railway (@Central_Railway) September 20, 2017
07:45 am: 
Won't be working today,no Dabba delivery by Mumbai Dabbawalas due to #MumbaiRains : Subhash Talekar, Mumbai Dabbawala Association Spox pic.twitter.com/KlJqPA1Cc7

— ANI (@ANI) September 20, 2017
07:39 am: Main runway of Mumbai airport still closed; total 56 flights have been diverted. Second runway operating, reports ANI
07:31 am: 
#MumbaiRains: Five Western Railways trains cancelled; six trains cancelled and two diverted on Central Railways pic.twitter.com/90QNsrZ5ba

— ANI (@ANI) September 20, 2017
07:26 am: 
#MumbaiRains: Chhatrapati Shivaji International Airport shut,both runways non-operational. Flights diverted to Goa,Bengaluru,Delhi,Hyderabad pic.twitter.com/BKclJ0NGpO

— ANI (@ANI) September 20, 2017
07:23 am: 
#MumbaiRains: Massive waterlogging in various parts of Mumbai: High tide expected around 12:03 pm today. pic.twitter.com/IvHT1w4fV2

— ANI (@ANI) September 20, 2017
07:19 am: 
Earlier #Visuals from Mumbai Airport: Chhatrapati Shivaji International Airport shut, both runways non-operational due to #MumbaiRains pic.twitter.com/9bxYnHVeb7

— ANI (@ANI) September 20, 2017
Heavy rains coupled with thunder and lightning lashed the metropolis yesterday, slowing down movement of vehicular traffic and suburban trains, and bringing back memories of torrential downpour late last month when the financial capital came to a standstill. 
Flight operations at the Chhatrapati Shivaji International Airport (CSIA) here were affected due to low visibility in the evening, and seven flights were diverted.
A Spicejet plane carrying 183 passengers overshot a wet runway here last night while landing at the airport in rain-hit Mumbai and got stuck in the mud. The passengers were evacuated using the emergency chute of the Boeing 737.