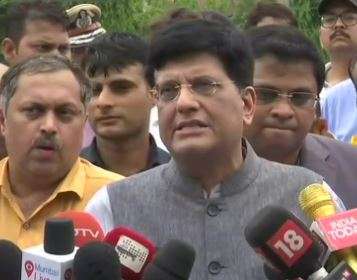 Railway Minister Piyush Goyal on Tuesday said it was unfortunate that part of an over bridge collapsed in Mumbai's Andheri West and added an inquiry was ordered.
"It's an unfortunate incident, I have ordered an inquiry into this. Commissioner of Rail Safety will give report in 15 days," ANI quoted Piyush Goyal saying.
"Five people were injured, ad hoc compensation of Rs 1 lakh will be given to them, their treatment expenses will be taken care of by Railways," he added.
Mumbai was crippled for the second time in less than a month after a section of a foot over-bridge (FOB) crashed over the Western Railway (WR) tracks at Andheri following Tuesday's heavy rains which left many areas of the city flooded, playing havoc with road and rail traffic.
At the height of the morning peak hours, a portion of the Gokhale Bridge, running east-west over the Andheri station, suddenly came down trapping at least five persons, and paralysing the suburban and long-distance train services on the WR.
Coming nine months after the Elphinstone Road FOB crash and stampede that left 23 commuters dead, Tuesday's incident instilled fear among the commuters, especially since at least three jam-packed locals had passed seconds before the bridge caved in on the railway tracks.
Coupled with torrential overnight rains, the crash severely hit Mumbai's lifeline -- the suburban train services which ferry around eight million commuters daily.
(With inputs from agencies)