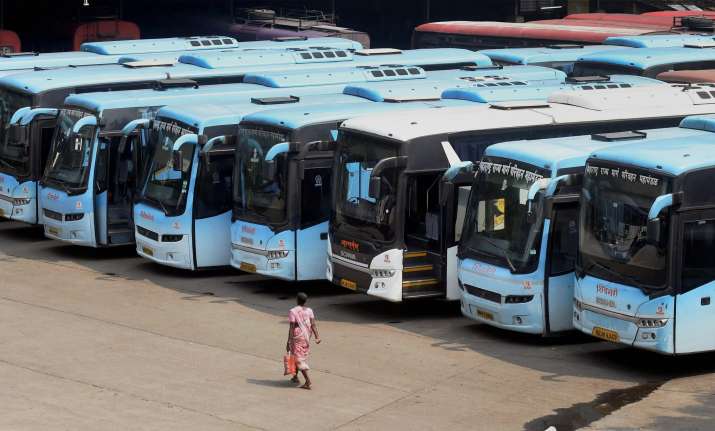 The ongoing strike by Maharashtra State Road Transport Corporation (MSRTC) employees, who are demanding a pay hike, entered the third day today even as talks held among stakeholders failed to break the deadlock. 
Talks held between Transport Minister Diwakar Raote, MSRTC officials and union representatives failed to arrive at a negotiated settlement to end the strike. 
Owing to the stir, which started on October 16 midnight, passengers across the state continued to face hardships in travelling to their hometowns in the festive season. 
Raote, along with officials of the corporation, held several rounds of meetings yesterday with union representatives. However, these meetings failed to break the deadlock. 
Raote later said, "Union representatives put forth the highest-ever proposal to increase the salary. Their (pay hike) demand is so hight that it is not possible for the MSRTC to accept it." 
The minister once again appealed to the striking staffers to resume duty taking in account the plight of long- distance passengers. 
Several stranded passengers took trains to reach their destinations. The Central Railway has added a few additional unreserved coaches in Matsyagandha Express, Mangalore Express and Tutari Express for the benefit of passengers. 
"The Central Railway has decided to attach additional unreserved coaches in Lokmanya Tilak Terminus-Mangaluru Matsyagandha Express, Chhatrapati Shivaji Maharaj Terminus 
Mangaluru Jn Mangalore Express and DadarSawantwadi Tutari Express to clear the extra rush of passengers due to the strike, a senior CR official said. 
A stranded passenger, Nidhi Dwiwedi, took to twitter to appeal to ST staffers to end the strike. She tweeted, "The most awaited Indian festival #Diwali and we sit at ST Bus stand waiting for the bus to arrive. Please resume." 
Meanwhile, union representatives blamed the MSRTC administration for the prevailing logjam and hardship caused to bus commuters 
A senior representatives of the ST Workers' Union said, "As per the rule, we had given a notice for strike 40 days in advance. But the administration remained under the impression that we would accept their terms." 
The corporation, has however, denied the charge. 
Milind Band, Deputy General Manager (operations) of MSRTC, said, "After their notice, we held a series of meetings with their representatives and tried to convince them how their demand was not financially feasible. But, unfortunately, they went ahead with the strike." 
Meanwhile, the Brihanmumbai Municipal Corporation (BMC) has announced it will give Rs 25 crore to BEST to pay Diwali bonus to the civic transport utility's employees. 
Following the announcement, BEST employees' Unions have decided to withdraw their call for indefinite strike which was to start from October 21.