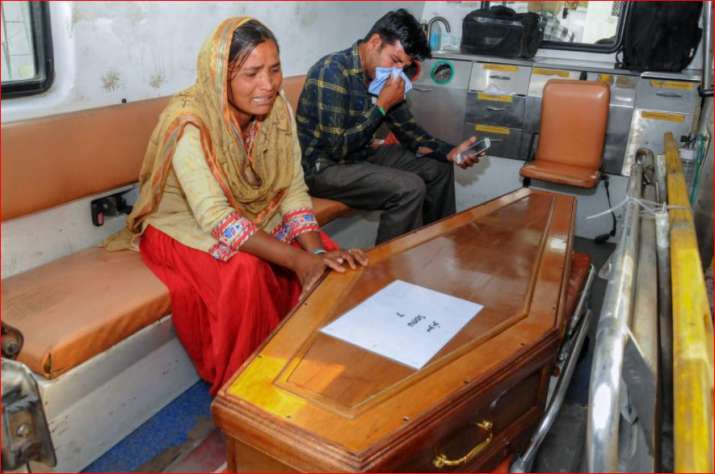 The mortal remains of 38 of the 39 Indians killed in war-torn Iraq were brought back on Monday in a special aircraft and handed over to families, ending the wait of the teary-eyed friends, near and dear ones.
A pall of gloom descended at the airport complex here as 31 coffins carrying the mortal remains of men from Punjab and Himachal Pradesh were brought out of the airport building to be taken to their native places in specially arranged ambulances.
Families and fellow villagers had been camping outside the airport complex since Monday early morning, waiting for the mortal remains to arrive.
"It is a very sad moment for all of us. Most of the victims were young men who had gone to Iraq to earn money. Their families are devastated," said Surjit Singh, relative of one of the victims.
The coffins of seven other victims, hailing from Bihar and West Bengal, were taken in another IAF aircraft to Patna and Kolkata.
Minister of State for External Affairs V K Singh, who brought back the bodies from Baghdad, told reporters in Amritsar that Indian embassy did not have any record of the 40 Indians captured by the terror group ISIS in Iraq in 2014 as they had gone there through illegal travel agents. 
The minister said that had the government had any information about these people being in danger, it would have rescued them as it had done in case of over 45 nurses in 2014. 
Thirty-nine of the 40 Indian labourers were killed by the terror group, while one of them managed to escape posing as a Muslim from Bangladesh. 
Out of the 39 killed, 27 hailed from Punjab, four from Himachal Pradesh, six from Bihar and two from West Bengal. 
The special aircraft carrying the mortal remains of 38 Indians in caskets landed at the Amritsar international airport around 2:30 pm. The presumed remains of one of those killed were yet to be positively identified. 
As the aircraft carrying the coffins landed in Amritsar, an air of gloom descended as distraught families looked at the caskets. 
The remains of the 31 men belonging to Punjab and Himachal Pradesh were received by their relatives at the Sri Guru Ram Das Jee International Airport in Amritsar. 
The special flight proceeded to Kolkata, where the mortal remains of two men hailing from Nadia district were handed over to their families. The aircraft then left for Patna for handing over the bodies of six men hailing from Bihar to their families. 
Authorities helped the families to take the bodies to their native places. 
Talking to reporters in Amritsar, Singh, who had gone to Iraq yesterday to bring back the bodies, said it was not possible to ascertain when they were killed. 
"But we were told that it could be about one year (ago). But it is very difficult to say whether it is more than a year or less than a year," he said. 
To a question, Singh said that the Iraq-based Martyrs Foundation had advised against opening of caskets. 
"The Martyrs Foundation has told us that the way toxic contents were found (from where the mortal remains were taken out) and the way all this was done (embalming of bodies) when you open the casket it may pose danger and that is why they said it is better not to open it," he said. 
Asked how they were killed, Singh, a former army chief, said that some of the persons were killed by bullets. 
"When tests were conducted (on mortal remains) it was found that some persons were killed by bullets and however, in some cases, it is very difficult to say as to how they were killed," he said. 
"The external affairs ministry started a campaign in 2014 in which we say that one must not go through an illegal agent. There was no record of these 40 persons in any embassy. They migrated through illegal agents. When you go through illegal agents then it is difficult to find where one has gone," the minister told reporters and called for strict action against fake travel agents. 
To a query, he said that had they got any clue about the Indian men, they could have been saved like nurses were saved in Iraq in 2014. 
"Do you know about Indian nurses case? We knew about their condition and we asked them to get out of their place (in Iraq in 2014). Initially, they refused to leave the place, saying they were not in danger. But after four days, they told us their hospital was damaged. Then we rescued them. Had there been any information that these persons (40 Indian men) were in crisis at a particular location, we would have rescued them," he said. 
Singh emphasised that both the state and central governments should work collectively to ensure the gullible people do not fall prey to illegal travel agents. 
"We have told each state that law and order is their responsibility and they should catch illegal agents in their respective states and take action against 
them...States and the Centre should work collectively in this direction. We do not want anybody to go illegally abroad. We want people to go legally so that we have their record," he said. 
To a question on jobs as demanded by the family members of the victims, the minister said the union external affairs minister had already told the family members to provide detailed information about persons who are eligible for jobs. 
Singh also explained about how they located the mound from where the mortal remains were taken out in Iraq. 
"...we were not allowed to go to Mosul through Erbil as war was going on. After talking to company owner (in whose factory these 40 men were working) and others, we got information that a lot of people were buried near a place in Badush. 
"We found a mound which was not natural. We sought a ground penetration radar and then we found some human skeletons (in the mound). Thereafter digging exercise was started to bring out the mortal remains. We got a kara (iron bracelet worn by Sikhs) and long hair and then we thought they may belong to be our people. Thereafter, DNA sample exercise commenced. The 38 samples matched while 70 per cent of one sample matched," he said, adding that he had gone to Iraq four times in search of the Indian men. 
Watch Video: Mortal remains of 38 Indians killed in Iraq brought to Amritsar, families mourn their death