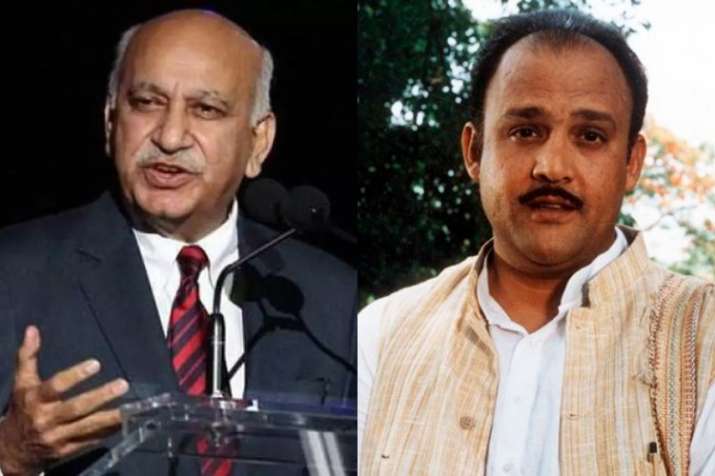 The #MeToo fire raged on Tuesday as more women narrated their experiences in the wide spectrum of sexual misconduct with Union minister MJ Akbar and character actor Alok Nath amongst those named for their alleged actions.
While External Affairs Minister Sushma Swaraj refused to answer a question on the allegations against her junior minister, the ripples of the movement to call out those who had allegedly sexually harassed women, verbally or physically, were felt across the media and entertainment industry.
As the debate around what constitutes sexual harassment and concerns over due process intensified across newsrooms, drawing rooms and social media platforms, several senior journalists joined the list of those "named and shamed" by women.
Multiple sexual harassment charges against journalist-turned-politician MJ Akbar 
India's #MeToo movement, which started with actress Tanushree Dutta's allegations against veteran actor Nana Patekar, has reached the political allies with multiple allegations against senior journalist and Union Minister MJ Akbar. 
After a journalist Priya Ramani came forward and admitted that MJ Akbar was the unnamed man she had accused of sexual harassment in an earlier article, several female media persons came forward and shared their stories, which were very similar to Ramani's experience. 
He was this brilliant,flamboyant #editor who dabbled in politics, who called me-my 1st job- to his hotel room to 'discuss work', after i put the edition to bed-read midnight, & made life at work hell when i refused.,cudnt speak up due to various compulsions, but yes #MeTooIndia

— prerna singh bindra (@prernabindra) October 6, 2018
In this case, #MeToo. Year: 1995, Place Taj Bengal, Kolkata. After that encounter, I declined the job offer.

— Shuma Raha (@ShumaRaha) October 8, 2018
OMG! He turned up at my friend's house one night for a coffee. As a single mother with a sleeping child she told him she could neither invite him in nor go out with him. From next day he made life hell for her at their workplace https://t.co/3XRj7oWK94

— Sujata Anandan (@sujataanandan) October 8, 2018
There was no reaction available from Akbar on these allegations against him. When asked about these charges against her ministerial colleague and whether there will be an internal inquiry against him, Minister of External Affairs Sushma Swaraj evaded the question from reporters on the sidelines of an event in New Delhi.
Expressing its gratitude and solidarity towards women journalists for their courage, the Editors Guild said in a statement that it is committed to ensuring that the legal rights the victims and the accused are not violated.
"The Guild extends its total support to all women journalists, who suffered a disadvantage in their careers, physical or mental trauma, as a result of any sexual predation," it said.
Also read | #MeToo Movement : Hold unbiased probe into sexual harassment cases, Editors Guild tells media organisations
Rape accusation against Alok Nath 
Perhaps the most harrowing experience to be shared was by a TV writer-producer, who has accused the "most Sanskaari person", as actor Alok Nath is known, of raping her more than once 19 years ago.
The writer gave a detailed account of the alleged assaults in a lengthy Facebook post Monday night.
She did not name Nath but referred to her attacker as "the most Sanskaari (cultured) person", a sobriquet attached with the actor courtesy his on-screen image of playing the goody-goody father, uncle and grandfather.
She alleged that Nath sexually assaulted her on more than one occasion after he was freed from the 1993 show for misbehaving with its lead actor, Navneet Nishan.
Confirming that she was indeed talking about him, the writer told PTI later in the day, "It has been the nucleus of my every situation. I lost my confidence as a writer and as a human being. It changed me fundamentally."
She added that she would be meeting advisors to decide further course of action.
Reacting to the allegations, Nath told a news channel, "Neither I am denying this nor do I agree with it. It (rape) must have happened, but someone else would have done it. Well, I do not want to talk much about it as for the matter if it has come out, it will be stretched."
Nishan also backed the alleged victim's account and said, "I dealt with the four year harassment by slapping the man in question and it is done and dusted."
The Cine and TV Artists Association Tuesday said it would send Nath a show-cause notice.
"Dear XXXXX I am so so sorry... Unfortunately we've to follow the due process. I urge you to file a complaint against this vile creature, we extend you full support," CINTAA general secretary Sushant Singh wrote to Nanda.
Malayalam actor-turned MLA Mukesh accused of harassment
#MeToo also moved out of the Hindi film industry Tuesday with Malayalam actor-turned MLA Mukesh being accused by Tess Joseph, a woman casting director, of harassing her in 1999 during the shooting of a television show.
An MLA of the ruling CPI(M) and the host of several popular TV shows, Mukesh rejected the charges and said he did not even remember the shooting of the programme.
Allegations against Varun Grover, Rajat Kapoor, Vikas Bahl
Writer-lyricist Varun Grover was also accused in an anonymous post but issued a strong denial, saying nothing in it was true and he was ready to go through an inquiry to prove himself.
The comedy collective AIB, actor-director Rajat Kapoor and filmmaker Vikas Bahl felt the repercussions of the allegations of sexual misconduct and molestation.
The Mumbai Academy of Moving Image (MAMI) announced that the festival will drop AIB's "Chintu Ka Birthday" and Rajat Kapoor's "Kadakh" from its showcase in the light of allegations against them.
Bahl will no longer be associated with Kabir Khan's "83".
Though Bollywood's biggest and most powerful have been mostly quiet on the issue, actor Aishwarya Rai Bachchan Tuesday backed the movement but stopped short of commenting on individual cases.
"The #MeToo movement has gained momentum in present times, the world has become smaller with social media, one voice is becoming larger. What is nice is that the media is becoming allied and propelling voices that need to be heard and giving them platform," she said.
Also read | Indian Film and Television Directors' Association sends show-cause notice to Vikas Bahl post assault accusations
Indian Film & Television Directors' Association said they have taken note of the spurt in the number of cases and have issued Bahl a show cause notice. It said it has set up a Women's Grievances Redressal Cell to safeguard the interest of women artistes.
The National Commission for Women said it is in the process of gathering detailed information of the various allegations that have come to light in the media.
The movement also had its naysayers. 
Like BJP MP Udit Raj who backed Patekar and asked, "#MeToo movement is important but what is the relevance of making sexual harassment allegations against anybody ten years later?"
As the movement gathers momentum, more skeletons are likely to come out of the cupboard with more women saying #MeToo, said activists. 
Also read | Singer Abhijeet Bhattacharya on sexual harassment accusation: Fat, ugly girls blaming people
Cong demands probe into sexual harassment allegations against MJ Akbar
The Congress Tuesday demanded a probe into allegations of sexual harassment against Union minister M J Akbar even as External Affairs Minister Sushma Swaraj evaded questions whether the government will take any action against him.
Reacting on the issue, the Congress demanded that the matter should be investigated.
"It is an extremely serious matter and the minister concerned needs to speak up. Silence cannot be a way out. This matter should be investigated. We would like to hear from both the minister in question and the Prime Minister on this issue," Congress spokesperson Manish Tewari told reporters.
At a regular party briefing, BJP spokesperson Sambit Patra was also asked a volley of questions on the issue but he declined to respond. 
He said his mandate was to speak on the specific issue of the Congress role in allegedly fomenting violence against migrants in Gujarat.
The #MeToo movement has intensified in the country with more women recounting their experiences of sexual harassment in the entertainment and media industry.
The movement started in India after actor Tanushree Dutta alleged that well-known Bollywood actor Nana Patekar sexually harassed her on the sets of a movie in 2008. Since then, many women have come out in public to share their experiences of harassment. 
(With inputs from PTI)