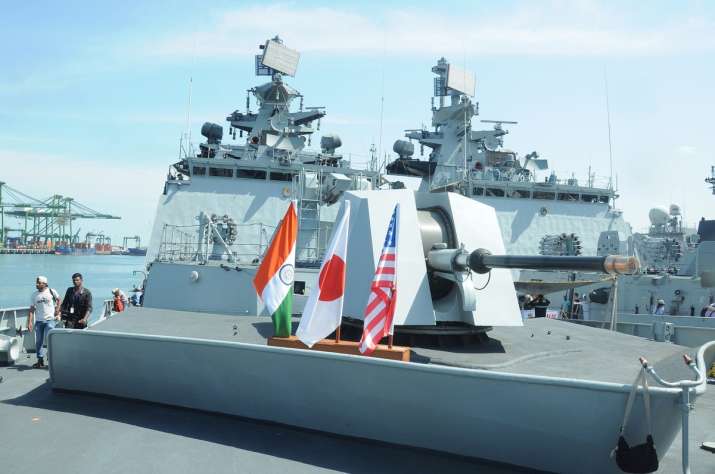 As the United States, Japanese and Indian maritime forces today began the Malabar Naval Exercise-2017 aimed at "achieving deeper military ties between the three nations," a top US official said the exercise is setting a great example to the world. The 21st edition of the three-nation naval exercise, MALABAR-17, involving India, Japan and the US began today and will continue till July 17. 
"Operating together and practising together is a good thing. It is because -- we are better together and we learn from each other. We know who we are and what is our capability. That is the strategic message to the entire world. I think, we are setting a great example here in Malabar (exercise) 2017", US Navy Commander, Rear Admiral William D Byrne Jr told reporters after the inauguration of the five-day Malabar Naval Exercise, here. 
"I would like to say this is a strategic message to China. It (the message) would also be the same to Canada or to Republic of Korea or to Australia or to any other maritime force," he said. 
Message to China, Korea? 
The Malabar exercise is taking place amid the ongoing military standoff between armies of India and China in the Sikkim section and Beijing ramping up its naval presence in South China sea. 
Responding to a query about it, Indian Flag Officer, Commanding-in-Chief, Eastern Naval Command, HCS Bisht said, "it has nothing to do with Malabar Exercise." 
"The Process of Malabar exercise starts a year before (its scheduled beginning) and the initial planning takes place six months in advance. The stand-off you are talking about has got nothing to do with the Malabar exercise. 
Through this exercise we learn from each other," he said. Bisht reiterated that the joint Naval exercise would focus on the "mutual learning," "sharing of best practices" and enhancing the "inter-operability" among the three countries. 
To a query on the conduct of Malabar exercise vis-a-vis the situation prevailing around North Korea, the US Commander Byrne said, "There are certainly global threats. Malabar is not focused on any specified threat. It is directed towards three countries India, Japan and United States. It is not directed towards any specific country or threat." 
95 aircraft, 16 ships and two submarines
As many as 95 aircraft, 16 ships and two submarines from the three countries are taking part in the Naval exercise.  
The US Navy are being represented by the ships from the Nimitz Carrier Strike Group and other units from the US 7th Fleet. The US Navy forces will include the Nimitz-class aircraft carrier Nimitz with its air wing, Ticonderoga-class cruiser Princeton, Arleigh Burke-class destroyers Kidd, Howard and Shoup along with integral helicopters, a Los Angeles-class attack submarine and one Long Range Maritime Patrol Aircraft P8A. The exercise will also witness a separate interaction between IN and USN Special Forces and Explosive Ordnance Disposal teams at the IN MARCOS training base INS Karna at Visakhapatnam. 
The apan Maritime Self Defence Force will be represented by JS Izumo, a helicopter carrier with SH 60K helicopters and JS Sazanami, a missile destroyer with SH 60K integral helicopter, an official press release said. 
From the Indian Navy, aircraft carrier INS Vikramaditya with its air wing, guided missile destroyer Ranvir, indigenous stealth frigates Shivalik and Sahyadri, indigenous ASW corvette Kamorta, missile corvettes Kora and Kirpan, one Sindhughosh class submarine, fleet tanker INS Jyoti and Long Range Maritime Patrol Aircraft P8I will particiapte in the exercise. Indian Naval Ship Jalashwa is also taking part. 
What kind of warfare will take place?  
The 21st edition of the exercise, conducted ashore and at-sea, would include professional exchanges on carrier strike group operations, maritime patrol and reconnaissance operations, surface and anti-submarine warfare.
Medical operations, damage control, explosive ordinance disposal, helicopter operations and anti-submarine warfare would also take place. 
The at-sea exercise includes events such as submarine familiarisation, air defence exercises, medical evacuationn drills, surface ware fare exercises, communication exercise and search and rescue operations.
Indian, Japanese and the US maritime forces have an understanding and knowledge of shared working environment at the sea.
The joint naval exercise is a demonstration of a commitment of all three nations to address common maritime challenges across the spectrum of operations and will go a long way in enhancing maritime security in the Indo-Pacific region for the benefit of the global maritime community. 
What China says about the exercise?
While China's government last week played down its concerns over the tri-nation naval exercise, the State media in Beijing have hit out at the largest-ever drills as a threat to China's "security concerns" and economic interests in the Indian ocean region.
On Friday, the Chinese Foreign Ministry issued a measured reaction to the drills, saying it has 'no objection to normal bilateral relations and cooperation among relevant countries' but 'hope[s] this kind of relations and cooperation is not directed at any third party and conducive to regional peace and stability.' 
(With PTI inputs)