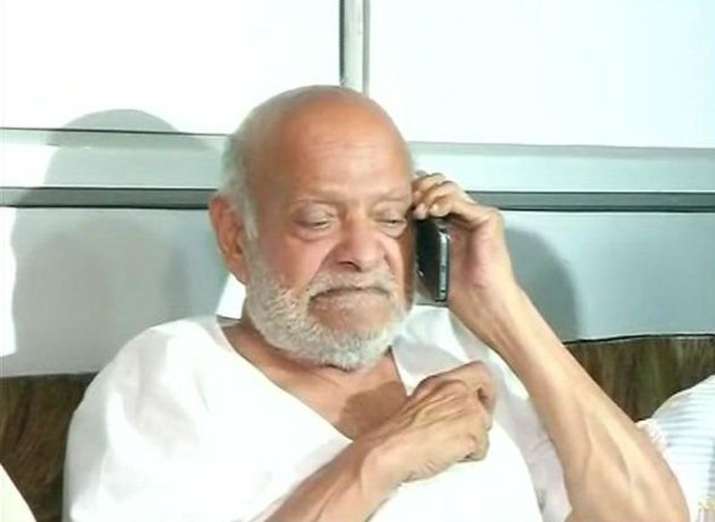 Kanu Ramdas Gandhi, Mahatma Gandhi's grandson and a former NASA scientist, breathed his last in a private hospital here on Monday evening.
He was 87 and is survived by his 90-year old wife Shivalaxmi.
He had been ailing since the past few weeks and had been in coma after he suffered a heart last month.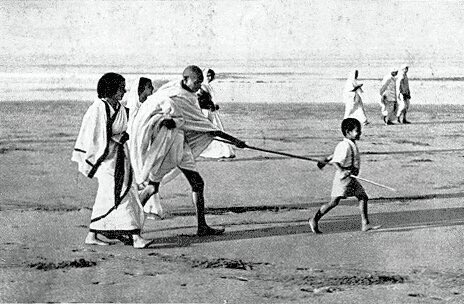 Kanu was famous as the little boy who walked ahead of Mahatma Gandhi who prodded him with his stick on the beaches of Gujarat's Dandi village during the historic Salt Satyagraha of March-April 1930.
On October 22, he suffered a heart attack and brain haemorrhage which left half his body paralysed and he lapsed into a coma from which he never recovered, said his close friend of decades, Dhimant Badhia.
"He lay in a critical state at a private charitable hospital with little monetary resources and virtually nobody to care for him," Badhia told IANS.
After discussing with his wife, the last rites are likely to be performed in Surat on Tuesday morning, he added.
Based in Ahmedabad, Badhia, an old friend and grandson of a close associate of Gandhi, arranged for some monetary help for the ailing Kanu, and had recently given Rs 21,000 from personal resources.
The Radhakrishna Temple got Kanu admitted to the Shiv Jyoti Hospital nearby.
They also took care of his 90-year old wife, Shivalaxmi, who is practically deaf and suffers from other old-age related ailments, Badhia said, unsure of her fate now.
The going was not particularly good for the elderly childless Gandhi couple since their return after a four-decade long stay in the US in 2014, including Kanu's career of over 25 years with NASA.
Decades ago, the bright Kanu was handpicked by the then US Ambassador to India, John Kenneth Galbraith for studies in MIT, US.
Later, he worked with NASA and the US defence department on wing structures of fighter aircraft, while Shivalaxmi was a professor and researcher in Boston Biomedical Research Institute.
They had come back to India in 2014 after living in the US for over four decades. 
"Upon return to India, they kept moving from one place to another as they have no place of their own here. They spent short spells in ashrams or inns, and at one point they were compelled to spend six months in New Delhi's Guru Vishram Vruddha Ashram," he said.
At that time, Union Minister Mahesh Sharma got in touch with Kanu and made him speak to Prime Minister Narendra Modi who was sympathetic and offered all help to the couple, but Badhia said they never heard from either his office or the Gujarat government.
Soon after reaching Surat, he suffered the heart attack on October 22 accompanied by a severe stroke which left half his body paralysed; he lapsed into a coma and remained on life-support systems.
Shivalaxmi remained by his side most of the time, as also Rakesh, an aide deployed by the temple authorities round-the-clock to serve Kanu.
Fortunately, Kanu's very aged sisters - Usha Gokani from Mumbai regularly enquires after his health and another Bengaluru-based sister Sumitra Kulkarni, a former Rajya Sabha Member, visited him recently.
Badhia said the duo had even offered to bear Kanu's medical expenses but the temple authorities declined, saying they were repaying the debts of Mahatma Gandhi's services to the nation.
Expressing grief over his death, the prime minister tweeted, "Pained by the demise of Kanubhai Gandhi, the grandson of Gandhi Ji. Remembering my various interactions with him. May his soul rest in peace." 
(With IANS inputs)