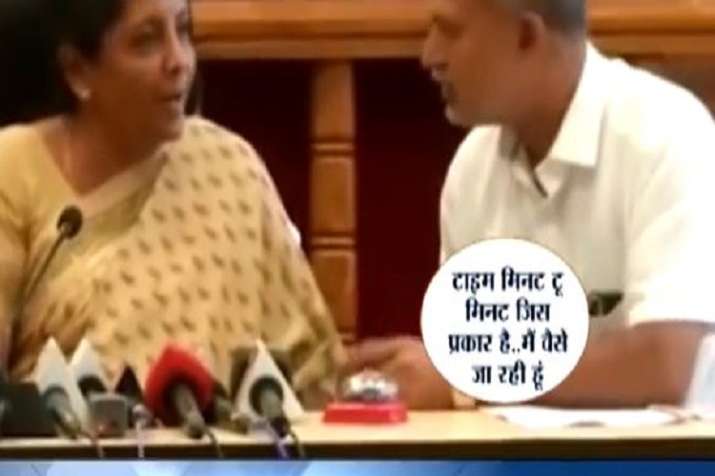 During a visit to Karnataka's flood-hit Kodagu district to review the army's relief operations, Defence Minister Nirmala Sitharaman lost her cool at state minister Sa Ra Mahesh during a press conference. The whole incident was recorded on camera. 
The state minister asked Sitharaman to wind up her press conference quickly citing lack of time. This infuriated the defence minister. 
"I am following a minute-to-minute programme, minister. If officials are important, my parivaar (family) is also important.... Central minister follows the minister in-charge here. Unbelievable," Sitharaman shot back at Mahesh who was seated beside her. 
"Let it get recorded," a visibly upset Sitharaman said when told that the microphones were on. 
At least 17 people have been killed due to torrential rains in Karnataka's Kodagu over the last week. Nirmala Sitharaman, who is a minister from Karnataka, visited Kodagu today and offered Rs 1 crore from the MPLAD (Members of Parliament Local Area Development) fund for the district.
Earlier, Sitharaman donated Rs one crore from the Members of Parliament Local Area Development (MPLAD) for flood-hit Kodagu. She assured the locals that the Army would help in rebuilding roads in the flood-ravaged region 
"I can assure you that the task force of the Indian Army's Border Roads Organisation (BRO) will visit as consultants and advise the administration on how to build roads in hilly areas," Sitharaman told reporters in Madikeri, about 280km from the state capital Bengaluru.
At least 17 people have been killed and about 5,000 people are currently sheltered in 51 relief camps across the district. More than 1,100 houses have been destroyed in floods and landslides in the area.
WATCH: When Nirmala Sitharaman lost her cool during press conference