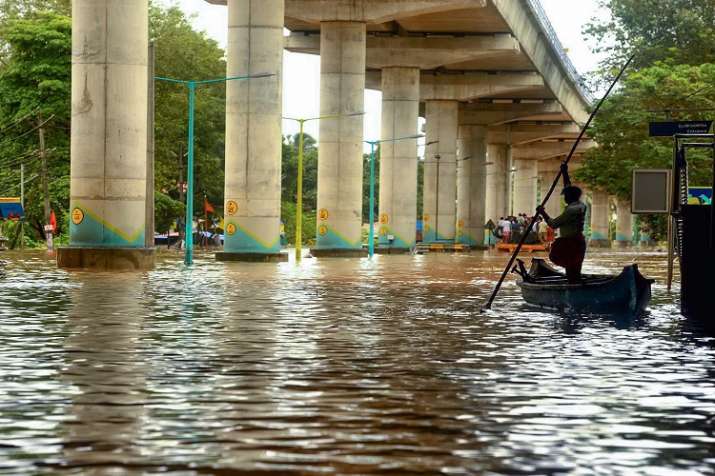 At least 357 people have lost their lives in Kerala with incessant rains hitting the state since August 8. As per the data, 36 people have gone missing, while more than 3.14 lakh people have been moved to relief camps. Rescue operations are underway as crores of property, including residential houses have been damaged in the state.
Red Alert has been issued in parts of the state for Sunday, as heavy to very heavy rains are expected to lash Pathanamthitta, Idukki and Ernakulam districts. Alert was issued in 11 districts on Saturday, as the IMD predicted heavy rainfall in all districts except Thiruvananthapuram, Kollam and Kasaragod.
PM Narendra Modi on Saturday announced Rs 500 crore financial assistance to Kerala after he conducted an aerial survey of the flood affected areas in the state. This is in addition to Rs 100 crore aid announced by the Centre earlier.
Devastating floods in Kerala have united the country as several states have come forward and have announced financial aid for the flood-hit state.
Jharkhand
Chief Minister of Jharkhand Raghubar Das has announced an aid of Rs 5 crores for flood-hit Kerala.
Maharashtra
Chief Minister Devendra Fadnavis has announced Rs 20 crore as immediate assistance from state government.
Gujarat
Gujarat Chief Minister Vijay Rupani has announced Rs 10 crores from Chief Minister relief fund for the state.
Punjab
One lakh packets of food products consisting water bottles, skimmed milk, biscuits and sugar were sent to Ludhiana's Halwara airport in Punjab. Chief Minister Capt Amarinder Singh had announced Rs 10 crores worth of immediate relief, Rs 5 crore in form of ready-to-eat food material.
Madhya Pradesh
Madhya Pradesh Chief Minister Shivraj Singh Chouhan has released Rs 10 crores as assistance for flood victims of the state.
Himachal Pradesh
Himachal Pradesh Chief Minister Jairam Thakur has announced Rs 5 crore for flood-hit Kerala.
Uttarakhand
Uttarakhand Chief Minister Trivendra Singh Rawat has announced Rs 5 crores from the state government for flood-hit Kerala. The Chief Minister will also donate his one-month salary for relief operations.
Rajasthan
Rajasthan Chief Minister Vasundhara Raje has announced financial assistance of Rs 10 crores from the state government for flood-hit Kerala.
A number of ministers from political parties have also announced to donate their one-month salary to provide aid to the victims of floods in Kerala.
Railway Minister Piyush Goyal on Saturday announced free transportation of relief material to the flood-hit state.
"We are concerned about well-being of people affected by Kerala floods and Centre is committed to providing all possible help. Railways will now provide free transportation of relief material for Kerala through various State Govt. agencies, PSUs and other Govt agencies," said Goyal.
Kerala is facing the heaviest rains and consequent widespread floods and destruction since 1924, which the state estimates has caused a loss of over Rs 19,500 crore.
80 dams have been opened as the southern state is facing its worst flood in 100 years.