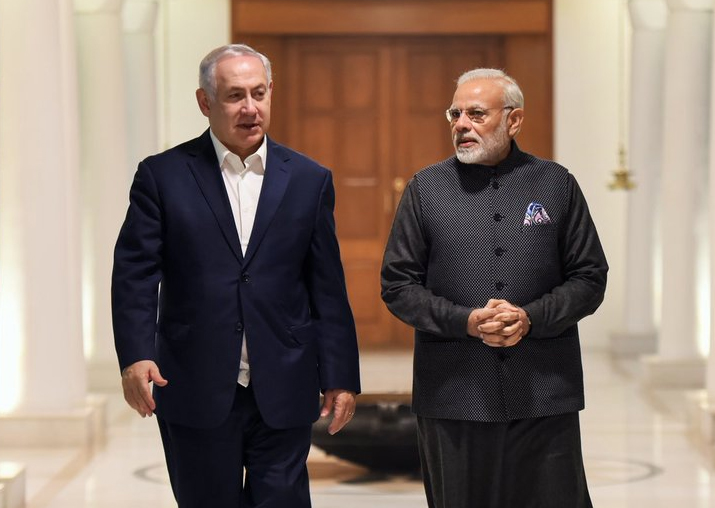 Israeli Prime Minister Benjamin Netanyahu on Sunday said that even though the Jewish state was "disappointed" by India's vote at the UN against the Jerusalem issue, one negative vote will not affect the ties.
Dubbing India-Israel relationship as a "marriage made in heaven", Netanyahu said that he hoped that his visit to India will strengthen cooperation between the two countries in various areas like technology, agriculture and other spheres that are changing the world.
"First of all, there is a special relationship between the two countries, between their people and then between the leaders. The partnership between India and Israel is a marriage made in heaven but consecrated on earth," Netanyahu said.
"Yes, naturally we were disappointed, but this visit is a testimony that our relationship is moving on so many fronts forward," Netanyahu said when asked to comment on India's vote at UN against the US decision to recognise Jerusalem as Israel's capital.
"I don't think one vote affects a general trend you can see in many other votes and these visits," he opined.
Last month, India joined 127 other countries to vote in the United Nations General Assembly in favour of a resolution opposing the recent decision of US President Donald Trump to recognise Jerusalem as Israel's capital. The resolution was approved with 127-9 at the UN General Assembly.
Hailing PM Narendra Modi "as a great leader", Netanyahu said the Prime Minister was "impatient to bring future to his people".
Welcome to India, my friend PM @netanyahu! Your visit to India is historic and special. It will further cement the close friendship between our nations. @IsraeliPM #ShalomNamaste pic.twitter.com/sidgMmA1fu

— Narendra Modi (@narendramodi) January 14, 2018
Asked about his agreement with Modi on counterterrorism, Netanyahu said the doctrine of counter-terrorism included having intelligence to prevent it.
"Our defence relationship is quite significant and comprises many things. I think the key word here is defence. We want to defend ourselves, we are not aggressive nations. We are very committed to making sure that none can commit an aggression against the either one of us," he said.
Commenting on the ways to strengthen ties, Netanyahu said Israel was developing rapidly and is creating industries "out of thin air".
He said given India's importance in being a major auto dealer, it would be important for India and Israel to have a good tie-up between car manufacturers.
PM Modi hosts dinner for Netanyahu at his residence 
PM Modi hosted a private dinner for his Israeli counterpart Benjamin Netanyahu and wife Sara at his 7, Lok Kalyan Marg residence here on Sunday night.
"Delighted to welcome Mrs. Netanyahu and PM @netanyahu to 7, Lok Kalyan Marg. @IsraeliPM," Modi tweeted. 
Delighted to welcome Mrs. Netanyahu and PM @netanyahu to 7, Lok Kalyan Marg. @IsraeliPM pic.twitter.com/FDI4MJlKBq

— Narendra Modi (@narendramodi) January 14, 2018
Earlier in day, Modi, setting aside protocol, received Netanyahu at the airport. He welcomed Netanyahu with a hug upon his arrival. The two leaders also attended a ceremony to rename Teen Murti Chowk as Teen Murti-Haifa Chowk, after the Israeli city of Haifa. 
In the presence of PM @netanyahu, paid tributes to the brave Indian soldiers who fought at Haifa. The spot where we commemorate their sacrifice will now be called Teen Murti - Haifa Chowk. pic.twitter.com/WmXdS6pE7F

— Narendra Modi (@narendramodi) January 14, 2018
Netanyahu is on a six-day India visit. His visit to New Delhi is only the second one by an Israeli PM and comes after a gap of 15 years.
With PTI Inputs