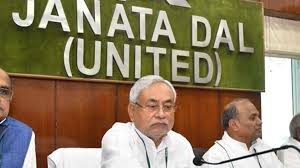 Bihar Chief Minister Nitish Kumar on Thursday said that his Janata Dal-United would not be part of the Narendra Modi government. He called the BJP's offer of participation in the Modi-led ministry "symbolic representation."
"We got the BJP's offer (for one ministerial post).. discussed it in the party and conveyed yesterday (Wednesday) itself that it was not acceptable. We also reiterated our stand this morning," Nitish Kumar, who is also the JD-U chief, told media persons.
He, however, reiterated that his party would continue to be part of the National Democratic Alliance (NDA).
The Bihar Chief Minister said that his party had been offered one cabinet spot but felt this was inadequate.
Bihar CM Nitish Kumar: They wanted only 1 person from JDU in the cabinet, so it would have been just a symbolic participation.We informed them that it is ok we don't need it. It is not a big issue, we are fully in NDA and not upset at all.We are working together,no confusion. pic.twitter.com/AsDa8EUnUN

— ANI (@ANI) May 30, 2019
The JDU had contested the Lok Sabha as part of the National Democratic Alliance. Nitish Kumar's party won 16 seats and the BJP won 17 seats.
Meanwhile, BJP President Amit Shah is all set to become a member of the Narendra Modi Cabinet, which will be sworn in by President Ram Nath Kovind here at Rashtrapati Bhawan.
(With inputs from agencies)
WATCH: