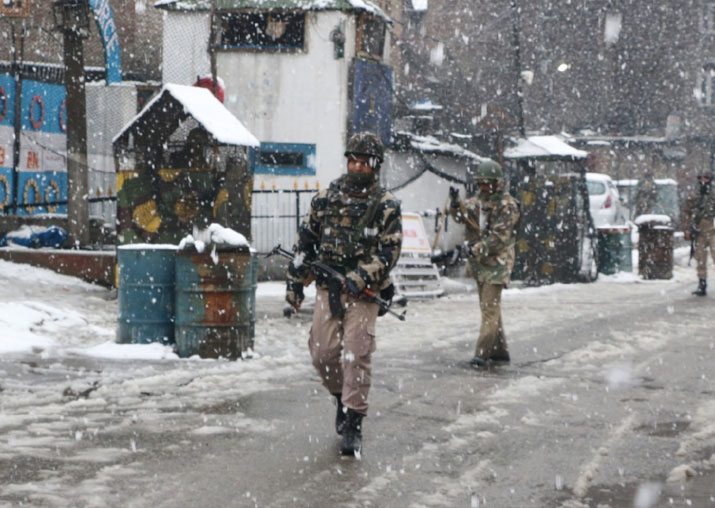 Two holed up LeT terrorists were killed today in a nearly 30-hour long gunfight with security forces at Central Reserve Police Force (CRPF) camp in Srinagar's Karan Nagar. 
"While one was gunned down as he came out of the under construction building to get into another adjacent building, the other was trapped and killed inside the building that they took refuge in on Monday," a police officer said.
The exact identity of the militants was still being established, the police said, adding that a search operation in the area was going on. 
The militants had taken shelter inside the Karan Nagar area building a day ago after an alert sentry at the observation post of the 23rd battalion of the Central Reserve Police Force (CRPF) spotted them and fired, averting a possible terror attack on the camp. 
Carrying backpacks and AK-47 rifles the militants were forced to withdraw and later trapped inside the building from where they had been engaged in the gun battle with the security forces.
A CRPF trooper was killed during the gunfight on Monday while a constable of the Special Operations Group (SOG) of the Jammu and Kashmir Police was injured.
The attempted terror bid on the CRPF camp came close on the heels of the Sunjuwan military camp attack, in which seven persons, including six soldiers and a civilian, were killed.
Meanwhile, a fresh terror attack was averted by alert guards at the entrance of an Army camp in Jammu. Two motorcycle borne militants approached the entry point of the army camp in Domana area around 4.30 a. They fired towards the sentry post. As the guards retaliated the terrorists were forced to flee, informed sources in the police said. "A search operation is now underway to trace the militants," they said.