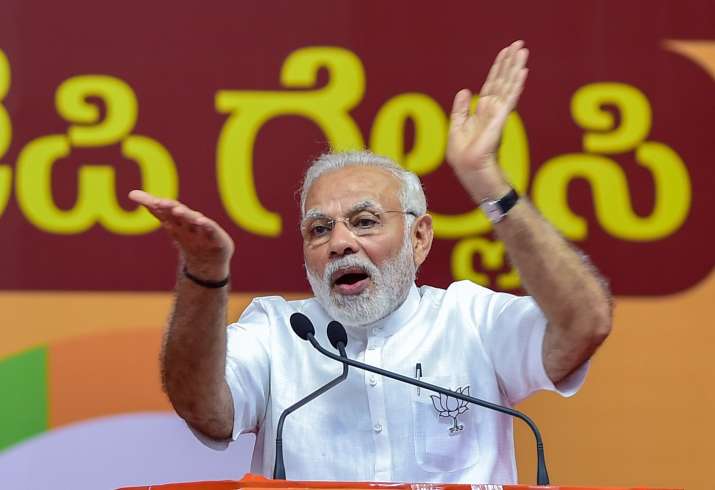 Prime Minister Narendra Modi on Friday said that the country is moving forward from women development to women-led development.
"Today India is moving forward from women development to women-led development. Women first was the mantra of his government and the party", said the prime minister while addressing Karnataka BJP Mahila Morcha Karyakartas via the 'Narendra Modi App' on Friday.
"When we have such a mantra for the country's development, our party also believes in this mantra. For party Mahila Shakti (women power) is important. For us, whether it is organisation or government or framing of programmes it is women first," he added. 
Capable women have been given important portfolios in his cabinet, Modi said adding group photos of foreign ministers and defence ministers at the SCO summit in China showed that Sushma Swaraj and Nirmala Sitharaman representing India were the only women. 
"Both of them have had a connection to Karnataka," he noted. 
Lauding the contribution and efforts of women workers, Modi asked the Karyakartas to concentrate on winning booths. 
"We have to win state election. We will win, we will have to win assembly constituency, but as always I urge karyakartas and for me the most important thing is winning polling booths," Modi said. 
Holding that if the party wins polling booths no power can defeat it in the assembly, he said "Where is victory, it is in polling booths, rest is all its effects. We have to win polling booths." 
"When we have to win polling booths we will have to bring out Karnataka Congress government's false promises and misdeeds. We will have to appeal everyone to join in India's journey towards progress. In doing this our Mahila Morcha karyakartas are most influential as they do it by building trust," he added. 
During his speech, Modi recalled the legacy of women leadership in Karnataka by remembering Kittur Rani Chennamma, Belavadi Mallamma, Rani Abbakka, Onake Obavva and legendary Hindustani singer Gangubai Hangal. The prime minister said he was "also excited to know that 
there was a dedicated women team that worked behind ISRO's Mars Mission 'Mangalyan.' 
Watch video: PM Modi interacts with Karnataka's BJP Mahila Morcha workers through NaMo App
(With inputs from PTI)