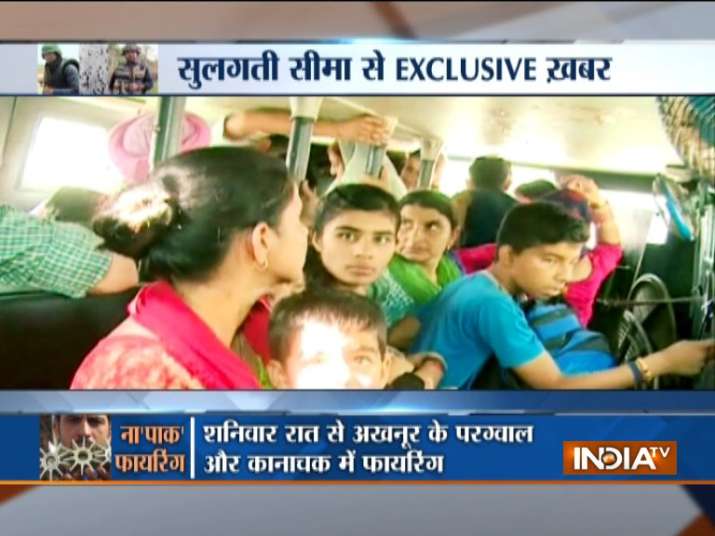 Empty, shelled and destroyed houses; scared adults and frightened children; the incessant sound of gunshots and bombs - this is not a description of Syria or Gaza but Jammu and Kashmir's border villages, which have been transformed into a virtual war zone by incessant firing from Pakistani side.
The Pakistani troops have been on a spree to violate ceasefire along the International Border in J&K. Each time, India gives a befitting answer, Pakistan pleads Indian troops to stop bombarding them only to repeat heinous violation of ceasefire days later. 
In the latest set of repeat actions, Pakistani Rangers violated ceasefire thrice yesterday, a day after full implementation of 2003 ceasefire pact earnestly in a bid to ensure peace on both the International Border and the Line of Control (LoC) in Jammu and Kashmir, as per Pakistan's request.
In yesterday's firing, Pak bullets claimed lives of two BSF jawans and injured 11 civilians. Indian troops gave a befitting reply and obliterated 10 Pakistani bunkers. According to BSF several ambulances were spotted across the border, indicating a heavy infliction.
Also read | Days after 'full implementation' pact, Pakistan violates ceasefire, kills 2 BSF personnel
Scared families: 
India TV's ground report reveals how severely the lives of border villagers have been affected by Pakistani firing. In a major violation of international laws, Pakistan has been targetting residential areas along the border. This has left villagers with no option but to seek cover in bunkers or flee. 
India TV team caught up with several villagers moving out of their houses to escape firing and mortar shells. "We have not eaten anything since morning. We have been moving from one place to another in hope of safety, we don't know what will happen," a teenage girl told India TV as security forces escorted her and her family to safety in an armoured vehicle.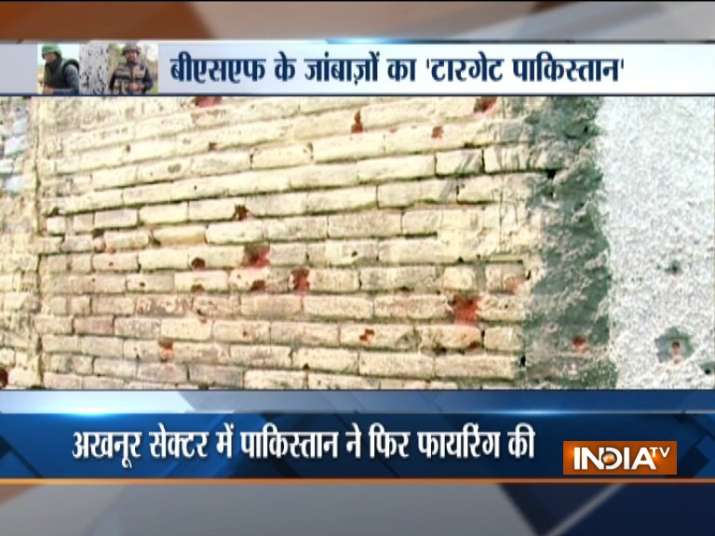 Fire. Beg. Repeat. 
The incident comes only five days after Pakistan initiated a hotline conversation between DGMO of the two armies. During the conversation, the Indian and Pakistani DGMO agreed to fully implement ceasefire at the border in accordance with the understanding of 2003. 
"Both the DGMOs agreed to fully implement the Ceasefire Understanding of 2003 in letter and spirit forthwith and to ensure that henceforth the Ceasefire will not be violated by both sides," Pak and Indian Army had said in a joint statement last Tuesday.
Also read | India, Pakistan DGMOs talk over hotline; agree on no ceasefire violations as per 2003 understanding
It was also mutually agreed that in case of any issue, restraint will be exercised and the matter will be resolved through utilisation of existing mechanisms of Hotline Contacts and Border Flag Meetings at Local Commanders' Level.
It is not the first time Pakistan has gone back on its word recently. On May 20, the Pakistan Rangers "pleaded" with BSF to stop firing along the IB, after being pounded with heavy artillery that left a Pakistani trooper dead. Only to initiate ceasefire violation hours later on the same night.
The intense shelling from Pakistan between May 15 and May 23 had forced thousands of people residing along the IB in Jammu, Kathua and Samba districts to flee their homes. At least 12 people were killed, including two BSF jawans and an infant, and scores of others were injured. 
'Stop the bloodshed'
Piling casualties of ceasefire violations prompted a sharp response from the political circles as well. Jammu and Kashmir Chief Minister Mehbooba Mufti on Sunday plead both sides to 'stop the bloodshed'. 
"It's unfortunate that this has happened even after Directors-General of Military Operations (DGMOs) held dialogue. People on both sides of the border are dying. The DGMOs should hold dialogue again. This bloodshed must be brought to an end," CM Mufti told media on Sunday.
Also read | Stop the bloodshed: CM Mehbooba Mufti on fresh ceasefire violation
Meanwhile, the Opposition blamed BJP in the Central govt for 'failing to provide a sense of security among the border dwellers due to policy paralysis'. 
"The BJP has made border dwellers fodder for Pakistani cannons. The BJP-led government at the Centre cannot shrug off its responsibility for the volatile situation on borders, as it has completely failed in instilling a sense of security among the border dwellers due to policy paralysis," National Conference provincial president and MLA Devender Singh Rana told reporters on Sunday.
The senior NC leader claimed that people dwelling along the international border have virtually become fodder for Pakistani cannons.
Singh said that the ceasefire violations not only incur a loss of life and property, they rob the entire population of their livelihood, deprive children of their studies and restrain farmers from farming.
Watch India TV's exclusive ground report from the bombarded border: