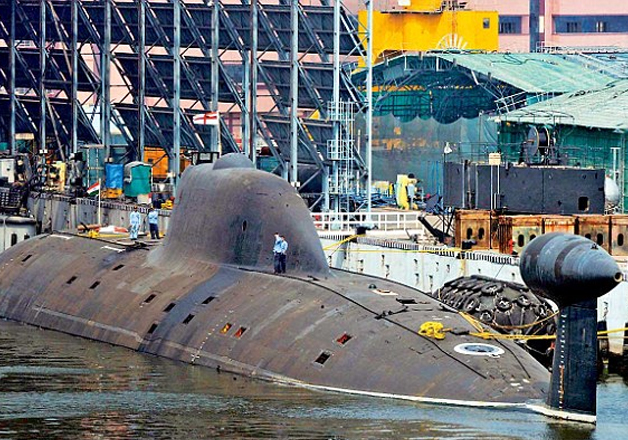 Country's first armed nuclear submarine, INS Arihant, which can deliver atomic weapons from land, sea and air has been commissioned into service after extensive sea-trials.
According to a report in The Hindu, 6,000-ton, 110-metre-long INS Arihant (the Sanskrit name meaning 'Slayer of Enemies') is powered by a 83 MW pressurised light water nuclear reactor. The vessel was formally commissioned by Navy Chief Admiral Sunil Lanba in August.
The vessel has been built under the Advanced Technology Vessel Project at the Ship Building Centre Visakhapatnam.
With this induction, India has also completed its nuclear triad, which has a 'no first-strike' policy regarding the use of its nuclear weapons. Only five countries in the world -- US, UK, France, Russia and China have so far developed nuclear-armed submarines.
Times of India, however, reported that the vessel is not yet fully ready to be deployed for deterrent patrols.
INS Arihant has been developed over the last three decades under a secret government program. First sanctioned in 1970, the project was approved in 1984 and work began in 1998. The vessel was launched in 2009 by Prime Minister Manmohan Singh. Since then it was put to extensive sea trials and the reactor on board went critical in 2013.
The nuclear-powered ballistic missile submarine is armed with 12 Short Range K-15 Sagarika missiles with a range of 750 km or four K-4 ballistic missiles (developed by the Defence Research and Development Organisation).
The ship also assures second strike capability to India -- the capability to strike back after being hit by nuclear weapons first.
INS Arihant is the lead ship of India's newest class (Arihant class) of nuclear ballistic missile submarines.