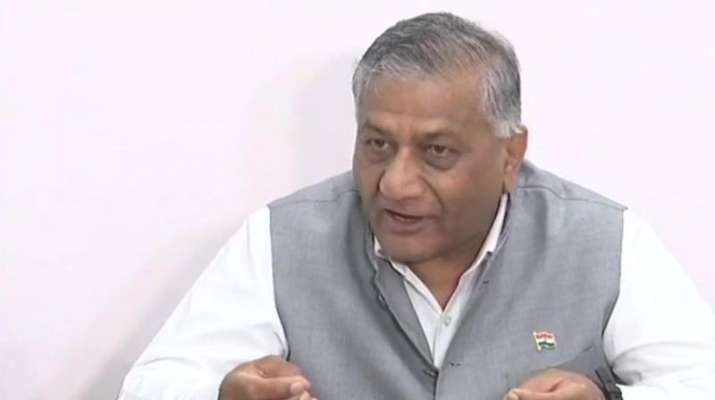 In a strong statement against the newly formed Pakistan government under the leadership of Prime Minister Imran Khan, former Army chief and MoS, External Affairs  VK Singh said that that the PTI chief is controlled by the Pakistan Army. He added that no dialogue would take place till the situation and environment improve.
" Did you expect any change from a man propped up by Army? Army (Pakistan Army) is still calling the shots". He also said, " Did you all expect a change? If a person is propped up by Army, army still rules. Let's wait and watch how things move, whether a person remains under army's control or doesn't", VK Singh was quoted by news agency ANI.
Speaking on the possibilities of change after the election of Imran Khan as Prime Minister VK Singh said; "I think our policy is very clear. Dialogue will happen provided the environment is made conducive for it".
Speaking on the Kartarpur corridor issue, VK Singh said that India has not received any proposal from Pakistan to open the route.
"Nothing has come from the government's (Pakistan) side. This issue has been going on for a very long time. If anything come about we will let you know," Singh told reporters in New Delhi.
The minister's statement came amidst claims by Congress leader Navjot Singh Sidhu that Pakistan will open the corridor of Kartarpur Sahib on the occasion of 550th birth anniversary of Guru Nanak, which will be celebrated next year.
The Kartarpur route, along India-Pakistan border, is barely 3 kilometre away from Gurdaspur , Punjab. If opened, it will allow Sikh pilgrims a direct access to the historic Gurdwara Darbar Sahib in Kartarpur, Pakistan where Guru Nanak died in 1539.