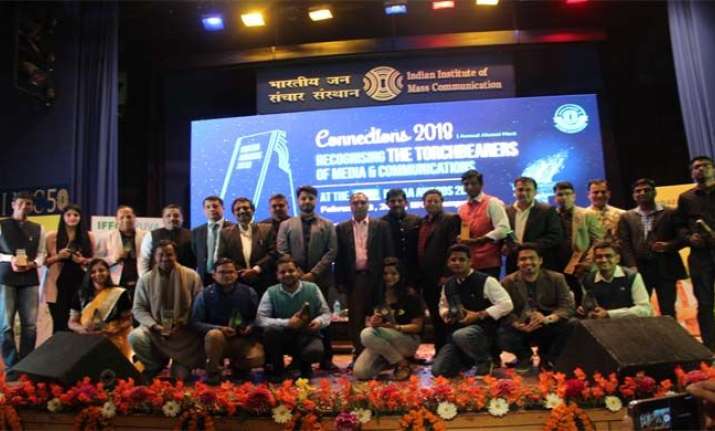 Indian Institute of Mass Communication Alumni Association (IIMCAA) announced the winners of its 'IFFCO IIMCAA Awards 2018' during the 6th Annual Alumni Meet - Connections 2018, on Sunday, 18th February at the IIMC HQ in New Delhi. 
This was the first alumni meet in a series of 16 alumni meets in India, Tashkent and Singapore this year. Odisha Chapter will host Dhenkanal Connections on 26th February, while Maharashtra Chapter will organise Mumbai Connections on 10th March.
IIMC DG KG Suresh, Uzbekistan Ambassador Farhod Arziev, IIMCAA President Suresh Kumar Vashishth, Connections Convenor Nitin Pradhan, Connections Souvenir Editor Sudhir Chaudhary, IIMCAA Awards Convenor Ashish Chakravarty, Senior journalist Brjaesh Kumar Singh, Nirmal Pathak, Utpal Chaudhary, Mukesh Sharma, Ad Guru Ramesh Tahliani, Shruti Jain, Marketing expert Sunila Dhar along with stalwarts of mass communications industry presented the awards to winners. 
20 categories of IFFCO IIMCAA Awards carried a cash prize of INR 21,000 with trophy, certificate and Samsung Tablet. Agriculture Reporting Award has the highest cash prize of INR 51,000. This year, IIMCAA introduced- 'Alumni of the Year Award' and 'Public Service Award' to recognise the voice of those, whose work made noise. Supriya Prasad received 'Alumni of the Year Award' for bringing new trends in Television Journalism. Pankaj Pushkar received the 'Public Service Award' for his enormous social work in children's education.
 
In 2018, IIMCAA will host Chapter Meets in 15 cities, which include Dhenkanal (Odisha), Mumbai, Bengaluru, Lucknow, Patna, Ranchi, Guwahati, Kolkata, Hyderabad, Jaipur, Ahmedabad, Bhopal, Tashkent (Uzbekistan), Singapore and Chandigarh. Tashkent and Singapore will host first International Chapters Alumni Meets in the history of IIMC.