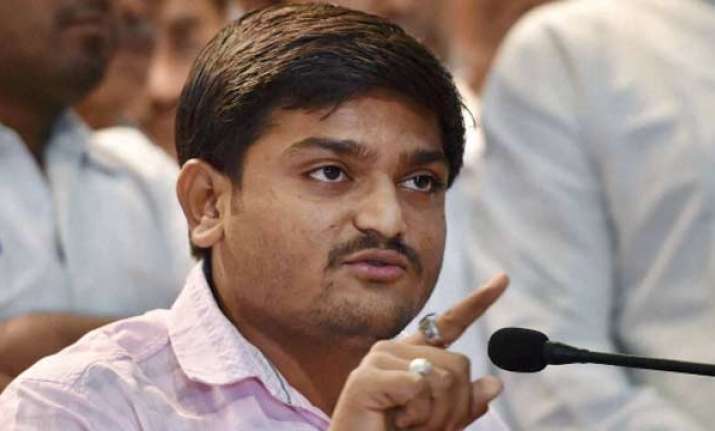 A local court in Gujarat awarded two-year jail-term to Patidar reservation crusader Hardik Patel and Lalji Patel, leader of the Sardar Patel group, for arsoning and vandalising a a Bharatiya Janata Party MLA's office during the 2015 Patidar reservation stir. Both of them were later granted bail by the court on personal bonds of Rs 15,000 each.
The Visnagar Court pronounced Hardik Patel guilty in a case related to vandalising BJP legislator Rushikesh Patel's office in 2015. Apart from the jail-term, Hardik Patel was also slapped with a fine of Rs 50,000 by the court.
A total of 17 people were named as accused in the case. Lalji Patel has also been sentenced to two years in jail and fined Rs 50,000.
Soon after the court's verdict, Hardik took to Twitter to say that he will continue his struggle for the poor and downtrodden and that BJP's 'Hitler' rule won't be able to suppress his voice.
सामाजिक न्याय और सामाजिक अधिकार के लिए लड़ना अगर गुनाह हैं तो हाँ मैं गुनहगार हूँ।सत्य और अधिकार की लड़ाई लड़ने वाला अगर बाग़ी है तो हाँ मैं बाग़ी हूँ।सलाखों के पीछे सत्य,किसान,युवा और ग़रीबों के लिए लड़ने वाली मेरी आवाज़ को भाजपा की हीटरलशाही सत्ता नहीं दबा सकती ।।

— Hardik Patel (@HardikPatel_) July 25, 2018
Questioning the jail term awarded to him, Hardik said that the Gujarat government had said ahead of the Assembly elections that all cases against Patel agitators have been withdrawn. "For what crime I have been given the jail sentence?" he asked
WATCH: Court awards 2-year jail-term to Hardik Patel