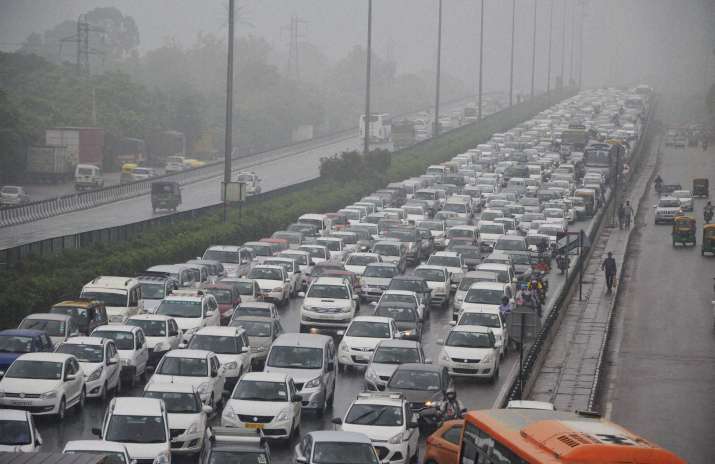 The chock-a-block situation in Gurgaon eased today but continuous downpour slowed vehicular movement on the main roads in the city.
Police said that they have made detailed plan to avert a similar situation with force being deployed in full strength round-the-clock at 14 crucial points, mainly on the NH8 and NH-248A.
"Fourteen crucial points have been chosen mainly on the NH8 (Delhi-Jaipur) and NH248 (Gurgaon-Alwar) and forces deployed 24x7 for the same. At each point inspector-rank officers have been deployed along with police personnel as per requirement of each spot," Commissioner Navdeep Singh Virk said.
Virk said the police officers and other personnel will work in two shifts: from 8am to 8pm and then the 12-hour night shift.
"These duties will continue till further orders," he said.
The crucial points include Hero Honda Chowk, Rajiv Chowk, Jharsa Chowk, Signature Tower Chowk, IFFCO Chowk, Shankar Chowk, Subhash Chowk, Golf Course Extension Road intersection on Sohna Road, Main Chowk in Sohna, Maharana Pratap Chowk.
The other four points are Atul Kataria Chowk, IMT Manesar Chowk, HUDA City Center Station and its vicinity and Sector 31 redlight signal and its vicinity.
The jams, which on some roads had stretched for 15 km, eased after prohibitory orders - which bans large gatherings and is usually reserved for troubled areas - was imposed on a key crossing for several hours. The prohibitory orders were lifted last night after the situation on the roads normalised but overnight rains contributed to slow traffic movement causing trouble to commuters.
Meanwhile, a top official scotched rumours that Virk has been transferred as commissioner because he failed to tackle the traffic situation.
"The news of transfer of Commissioner of Police Virk is sheer rumour and there is no such order till now," said RS Sangwan, Deputy Director, National Capital Region Planning Board.
Sangwan said there was currently no water on Hero Honda Chowk on the Delhi-Gurgaon expressway and the drains of NHAI and Khandsa were also low on water. He said pumps have been used to remove water at Hero Honda Chowk and NH-8.
Gurgaon Deputy Commissioner TL Satyaprakash regretted for the inconvenience causes saying "the city has learnt its lesson and is now better prepared to tackle more rain".
"There were a couple to blunders we did...we apologise to whoever suffered and sincerely regret the inconvenience" but added that "we have taken this as an opportunity to reposition ourselves. Now, even if it rains double the amount, people won't face problems. We promise this won't repeat again," Satyaprakash said.
On the other hand, the Haryana government has directed the Chief Administrator of Haryana Urban Development Authority (HUDA) and director of local bodies department to visit the city to expedite the road clearance effort.
As per our feedback, and also shown by the media, the main problem is disruption in traffic movement. It is not that the water has entered houses. The traffic movement was disrupted by the waterlogging at the Hero Honda Chowk and the NH8," Chief Secretary DS Dhesi said.
Explaining reasons behind the traffic jams, he said that Gurgaon received 4.6cm of rain from 2pm to 5pm on July 28, which was unexpected.
"From June 1 to 27, the city received just 19 cm of rain, while on July 28 it received 4.6 cm of rain in just three hours," he said.
Long tailbacks were witnessed in gridlocked roads in Gurgaon last two days due to severe waterlogging on National Highway-8 after heavy rains lashed Delhi's satellite city, leaving thousands of commuters stranded and forcing authorities to clamp prohibitory orders.
Schools were also ordered to be shut down for two days. Prohibitory orders were imposed near Hero Honda Chowk in a bid to ease the congestion caused by massive traffic jams.