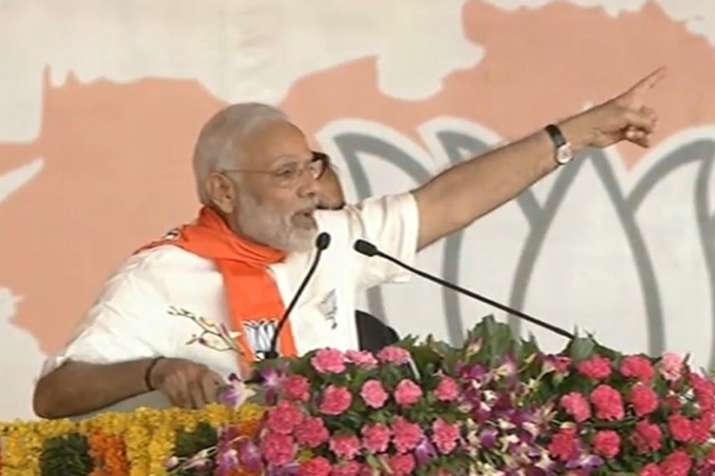 Taking a dig at the Congress, Prime Minister Narendra Modi today said that the upcoming Gujarat Assembly elections is a fight between 'development and dynasty', adding that development politics will triumph over family rule. 
"This election is a duel between development and dynastic rule. Development is going to win and dynastic rule is going to lose," he said. 
Addressing a massive rally organised by the state BJP to celebrate the conclusion of the saffron party's 'Gujarat Gaurav Yatra' (march for Gujarat's honour), PM Modi accused the "corrupt" Congress of being concerned with only "preserving its dynasty" and challenged the party to fight elections on the issue of development.
"Communalism, casteism, dynastic rule, misleading the people -- these are the instruments which Congress uses to win elections. They don't have it in them to win on the issue of development.
"I challenge them to fight on the issue of development and stop misleading people," Modi said addressing party workers at a rally here. 
"The party of which the leading family is corrupt, what kind of welfare can be expected of it," he said.
He demanded to know why, if the Congress was doing well, 25 percent of its MLAs left the party before the elections.
PM Modi said the Congress, jealous of the people of Gujarat, had always treated the state like a "thorn" in its side. "Gujarat has always been treated like a thorn by the Gandhi family and their party," he said. 
Addressing around seven lakh people, PM Modi said that Congress tried to send him jail, but failed to do so. 
"To see me behind bars, Congress decided that until they don't send Amit Shah to jail, they won't be able to send me," he said.  
Modi accused the Congress of treating Gujarati leaders "unfairly" and named Sardar Patel and former Prime Minister Morarji Desai among the party's victims. 
"History knows what they did to Sardar Patel's daughter.When Morarji Desai was PM they wanted to destroy him.They don't like Gujarat," he said. 
Furthering his attack the UPA government, PM Modi said that introduction of GST was not a decision of him alone, but the Congress too, adding that the latter should not spread lies about the new tax regime. 
Calling it his 'dream project', the Prime Minister also said that he will inaugurate the Ghogha-Dahej Ro Ro service on October 22.
Gujarat chief minister Vijay Rupani, BJP national president Amit Shah and several other leaders of the party were also present at the event.
Last week, PM Modi had visited the state to inaugurate and lay foundation stones of various projects in Rajkot, Vadnagar, Gandhinagar and Bharuch. He had also participated in a roadshow in his hometown Vadnagar on October 8.