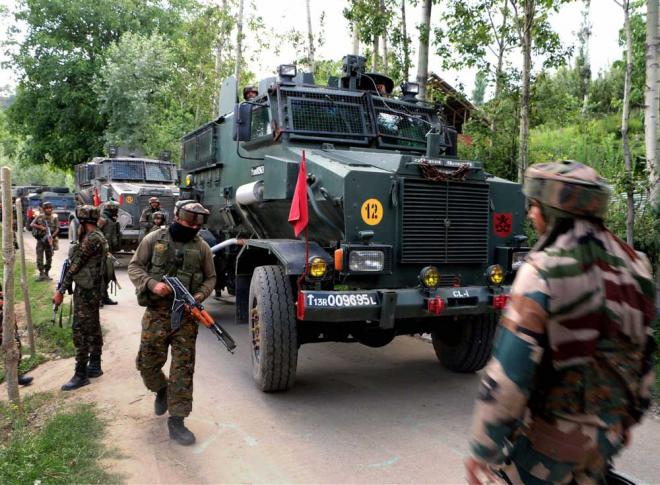 Just days after Prime Minister Narendra Modi made his maiden visit to Pakistan, Jaish-e-Mohammed terrorists stormed the Indian Air Force station in Punjab's Pathankot, resulting in the death of seven security personnel. India's response at the time was that of restraint with the government even allowing a probe team from Islamabad to the Pathankot base to ensure that the preparators, based in Pakistan, could be brought to speedy justice.
Nine months later, when Lashkar-e-Taiba (LeT) militants killed 19 Indian soldiers in Uri on September 18 attack, the Indian army claimed 11 days later that it had conducted "surgical strikes" against terrorists based in Pakistani-occupied Kashmir (PoK). The strikes, conducted within 2–3 km into Pakistan's side of LoC, were precise and only targeted militants without harming any civilian in the operation.
India's response to the two terror attacks that hit the country in a span 10 months were distinct. Importantly, they brought about a change in perception that India will not always walk the path of restraint when it comes to terror. In a sense, the surgical strikes gave India an advantage of unpredictability in its response to future attacks by terrorists targetting Indian territory.
India's response to terror attacks
On both fronts – diplomatic and military – India has, in recent years, changed its tactics that is now visible. One may argue on the results that this change in approach has brought, but the world now knows that India will not take things lying down and shall respond with aggression.
The killing of Burhan Wani in July 2016 and the Uri attacks in September have sent relations between India and Pakistan to a spiralling low. Relations have been frosty with no bilateral dialogue taking place. With most of the terror attacks in India being carried out by Pakistan-supported groups, India has intensified its efforts to name and shame Pakistan at international fronts.
Bilateral documents
After the Uri attack, India has let go of its traditional approach of restraint in directly or indirectly attacking Pakistan on bilateral forums. India has been successful in conveying to the international community at large that most of the attacks taking place in India are carried out by groups backed by Pakistan. This has yielded results with the US State Department listing Pakistan among the nations and regions that provide "safe havens" to terrorists, saying terror groups like the Lashkar-e-Taiba and Jaish-e-Mohammad continue to operate, train, organise and fundraise inside the country in 2016. Almost every major bilateral document has featured terrorism on top of the agenda and that should be counted as a big win for India.
United Nations
From External Affairs Minister Sushma Swaraj's speech at the UN General Assembly on September 26, 2016 to other responses by representatives at the United Nations, India has continuously raised the issue of terrorism on international forums. Most recently, in June, Syed Akbaruddin, India's envoy at the UN, flayed the body for failing to act against safe havens for terrorist groups in Pakistan.
Military response
India's military response to terror attacks in Jammu and Kashmir has been stern, with security forces eliminating over 100 terrorists in the year so far. According to official figures shared by top sources in the security establishment, LeT terrorists Abu Dujana and Arif Lilhaari were the 115th and 116th terrorists to be killed in the state this year. Although the number of terror attacks have also risen in the Valley, the response by security establishment has been equally lethal for militants.
Preparedness
While the menace of terror has not been new to India, the country has taken its own time to come up with measures that could effectively counter and prevent terror attacks from hitting Indian soil. Perhaps the biggest wake-up call for the need for a robust and efficient system – or the lack of it -- came in the form of the ghastly terror attack in Mumbai on November 26, 2008. 10 LeT terrorists arrived in Colaba in two inflatable speedboats. Reports to police received little response and the security establishment appeared helpless a the militants carried out a series of 12 coordinated shooting and bombing attacks lasting four days across Mumbai. The 26/11 attacks laid bare the gaping holes that exist in India's preparedness to prevent attacks of such magnitude.
The Pathankot attack came as another shocker with investigations showing that the perpetrators may have spent as many as 15 hours roaming on Punjab roads in a hijacked car before they actually entered the air base. While India has begun working on strengthening its intelligence and security apparatus – be it in terms of border fencing or on training its personnel or upgrading technology – getting a full-proof system ready to prevent a terror attack is still distant.
Police reforms
Police forces are the first line of defence in the face of internal security threats. However, police reforms in the country have been slow. In February this year, Union Minister Kiren Rijiju said he would "admit" to the fact that modernisation of the country's police forces was not up to the mark. In its reports last month, Comptroller and Auditor General (CAG) slammed Uttar Pradesh Police saying that it has been functioning with "less than 50 per cent of the sanctioned manpower", "obsolete weapons" and "outdated communication technologies."
In a report published in 2010, the CAG had laid bare the status of police modernisation in all states. The report titled "Compendium of Performance Audit Reviews on Modernisation of Police Force" highlighted how the actual release of funds under police modernisation scheme fell short of the outlay. In some cases, the Centre did not contribute its share, while in others, the states lagged behind.
Armed forces modernisation
The pace of modernisation of the armed forces has also been slow. Recently, a 119-page report by the Indian Army, published on 'Future Core Technologies and Problem Statements', shed light on the problems faced by the soldiers – from vulnerability of their body armour, obsolete night fighting gear, problems with winter clothing to lack of situational awareness systems which keep them updated during operations. 
In the Union Budget 2017, the expenditure on defence is 1.63 per cent of the projected GDP for 2017-18, the lowest since the 1962 war with China. The Budget announced a 6 per cent hike in the defence budget from Rs 2.58 lakh crore in 2016-17 to Rs 2.7 lakh crore. The hike, experts said, was insufficient for the armed forces to meet its demands for military modernisation despite heightened tensions with Pakistan and the increasing military capabilities of China.    
Out Rs 2,74,114 crore allocated for Defence, about Rs 86,000 crore has been allocated for capital acquisition, which includes new weapon systems and modernisation, which is overshadowed by the revenue expenditure of Rs 1,72,744 crore, which includes day-to-day running costs, salaries, etc. Another Rs 14,852 crore has been earmarked for civil works, ordnance factories, BRO, etc, under miscellaneous expenditure.
Experts argue that the budget falls short of expectations in terms of the pace of modernisation required for the armed forces. They contend that the increase in defence budget has not matched the government's revenue increases, which has gone at a very good pace of around 16 to 17 per cent increase. Moreover, much of the increase in defence budget is in the revenue segment and not in the capital segment, which is crucial for modernisation.
Procurement of defence equipment has also been slow and reports of graft have only dampened the pace. Bureaucratic and technical complications have also slowed down the process. For example, French aviation major Dassault won the tender to supply Rafale fighter aircraft in January 2012 but had been locked in negotiations with the Indian government over the technical details ever since. The deal was considered crucial for the Indian Air Force that is grappling with a dwindling fighter fleet. A deal for for 36 jets was finally signed on September 23, 2016 but India will not get them before 2019.
Way Ahead
While in the last decade or so, India has intensified fight against terrorism, be it diplomatically, strategically or militarily, the rise of global terror groups such as Islamic State and Pakistan's continued support to terrorism in Jammu and Kashmir have compounded the problem. India knows that Pakistan's 'deep state' is going to continue with its proxy warfare against the country through terrorists and no government is going to make much of a difference there.
Clearly, the stakes are high for India as it develops economically. While dealing with terrorism may not have easy answers, improving India's counter-terrorism capacities are non-negotiable - be it in terms of counter-terrorism training, upgrading technologically or strengthening the coordination within civilian and military establishments. Given the threat India faces, this is one area that the country can ill-avoid. 
Click here for full coverage.