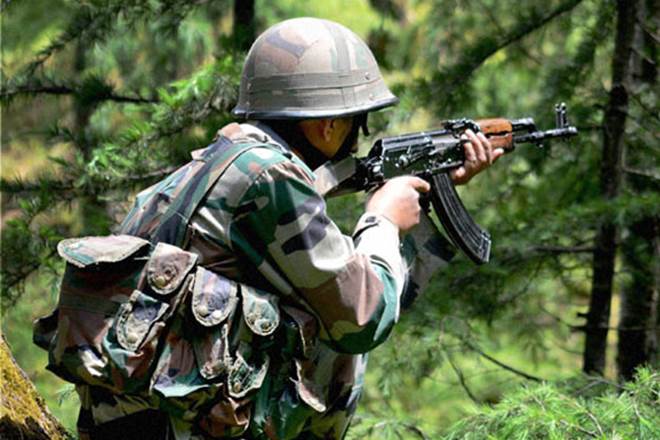 The killing of four Indian soldiers along the Line of Control by Pakistani troops on Saturday was the latest in what is a scaled-up offensive by the Pakistan Army along the 778-km LoC.
The year 2017 has seen a significant rise in ceasefire violations by Pakistan along the LoC, with over 780 ceasefire violations reported in the year - up from 153 in 2014,152 in 2015 and 228 in 2016.  
Besides unprovoked attacks on India along the LoC, this year has also witnessed 120 attacks along the 198km international border.
The dastardly attack comes despite repeated warnings to Pakistan by the Indian Army to desist from actively abetting cross-border terrorism and infiltration, warning that all misadventures to either target Indian troops or provide cover fire to infiltrating terrorists would be met with retaliatory punitive fire assaults.
India's Director General of Military Operations (DGMO) Lt Gen A K Bhatt had told his Pakistani counterpart, Major General Sahir Shamshad Mirza, last month that there appeared to be a "disconnect" between his army headquarters at Rawalpindi, which professes a desire for peace, and its troops on the ground along the LoC, who resort to heavy firing and ceasefire violations without any provocation.
On Saturday, four Indian soldiers, including an Army Major, were killed after Pakistani troops opened fire on an Indian Army patrol along the LoC in Keri sector of Jammu and Kashmir's Rajouri district.
The violation came at a time when Chief Minister Mehbooba Mufti was camping in Rajouri district headquarters to address people's grievances.
According to an Army officer, the firing took place around 1215 hours.
"We suffered three fatal casualties including one officer in the incident. Major Moharkar Prafulla Ambadas, Lance Naik Gurmail Singh and Sepoy Pargat Singh were grievously injured during the ceasefire violation and succumbed to their injuries. Two other personnel also sustained injuries and are undergoing treatment," a defence spokesman said.
Senior Superintendent of Police (SSP) of Rajouri Yougal Manhar added that one of the two injured personnel died later. 
The Army, in a statement, said that Indian troops retaliated "strongly and effectively".
Major Ambadas (32) belonged to Bhandara district in Maharashtra and is survived by wife Avoli Moharkar, while Lance Naik Gurmail Singh (34) belonged to Amritsar district in Punjab and is survived by wife kuljit Kaur and a daughter.  Sepoy Pargat Singh (30) belonged to Karnal district in Haryana and is survived by wife Ramanpreet Kaur and a son, the Army said.
"Major Ambadas, Lance Naik Gurmail and Sepoy Pargat were brave and sincere soldiers. The nation will always remain indebted to them for their supreme sacrifice and devotion to duty," the Army statement said.