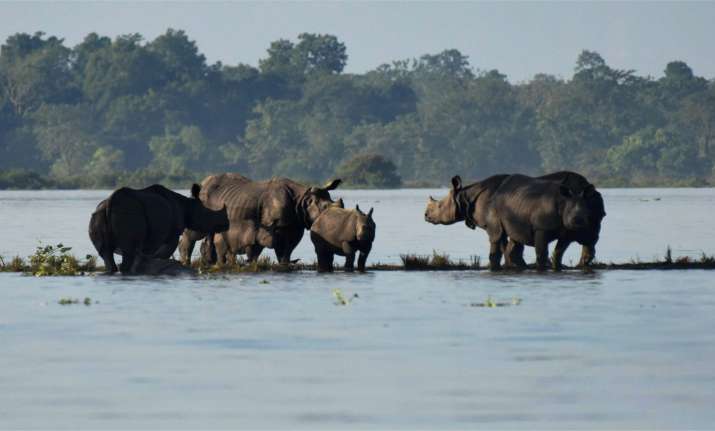 Rain fury continued across the country claiming nine lives in Gujarat and causing flash floods in Odisha, while in Assam the death toll touched 60 today though the flood situation there eased. The issue of floods in different parts of the country also featured in all-party meeting today where Prime Minister Narendra Modi assured leaders that the government is taking all steps to reduce the suffering of people. Assam, Manipur, Arunachal Pradesh, Gujarat and Odisha are worst affect states due to incessant rains. 
Gujarat
At least nine people have died and over 400 rescued by the National Disaster Response Force and the Indian Air Force as heavy rains lashed many parts of Gujarat in the past two days, leading to swollen rivers and overflowing reservoirs. 
Rescue operations gained momentum as the rains took a break after lashing several parts of the state, especially Saurashtra and Kutch. 
Since yesterday, Abdasa tehsil of Kutch district received maximum 322 mm of rain followed by Jodia in Jamnagar (259 mm), Dasada in Surendranagar 236 mm and Rajkot 206 mm of rainfall. 
Odisha
In Odisha, too, heavy rains led to swelling of two major rivers causing flash floods in Rayagada district, prompting the state government to seek the help of defence forces. The MeT department has warned of heavy to very heavy rains in several parts of the state due to a low pressure over the Bay of Bengal. The flash floods, followed by an "alarming" rise in the water levels in the Nagavalli and the Kalyani rivers inundated vast areas, causing extensive damage to bridges and snapping road and railway connectivity. 
Several areas in Kalahandi district were also severely affected by the floods caused by incessant rains. 
Heavy to very heavy rainfall, coupled with gusty surface wind, is likely to hit several parts of Odisha due to low pressure over the Bay of Bengal, the weather department said here today. 
Four Mi-17 V5 helicopters of IAF have been tasked for the relief and rescue operations. The choppers, detached for Op- Triveni under the Central Air Command, based at Raipur/Jagdalpur, were on a standby awaiting weather clearance.
A road link between Rayagada and Bhawanipatna has been snapped as flood water is flowing on a major road.
An East Coast Railway (ECoR) official said the flash floods have affected train services in the Rayagada-Titlagarh railway section as Railway bridge No 585 between Theruvali and Singapur Road Railway stations was washed away.
"There are flash floods in Kalyansinghpur of Rayagada caused by the rivers Nagavalli and Kalyani," Chief Minister Naveen Patnaik said after reviewing the flood situation at an emergency meeting held at the office of the Special Relief Commissioner (SRC).
Assam
However, the flood situation in Assam improved marginally with the water level receding, amid reports of one more death and over 10 lakh people being affected across 21 districts in the state. 
According to a report by the Assam State Disaster Management Authority (ASDMA), one person died in Morigaon district, raising the toll to 60 in this year's flood related-incidents. 
At the Kaziranga National Park, 38 per cent of the area is submerged, leaving some animals dead and some moving to nearby highlands. 
Currently, the Brahmaputra river is flowing above the danger mark at two places - Nimatighat in Jorhat and Dhubri town. 
The ASDMA said over 10 lakh people are currently affected in Dhemaji, Lakhimpur, Biswanath, Darrang, Nalbari, Barpeta, Bongaigaon, Chirang, Kokrajhar, Dhubri, South almara, Goalpara, Morigaon, Nagaon, Karbi Anglong, Golaghat, Jorhat, Majuli, Sivasagar, Karimganj and Cachar districts. 
 
ASDMA said 1,512 villages are under water and nearly 50,000 hectares of crop area inundated. The worst affected is south Salmara, where over 3.07 lakh people have been affected by the deluge, followed by Dhubri with more than 1.88 lakh people marooned. 
Authorities are running 280 relief camps and distribution centres in 15 districts, where 22,837 persons are currently taking shelter.
Arunachal Pradesh
Union minister Kiren Rijiju yesterday met farmers in Arunachal Pradesh where floods have caused heavy damage to crops and assured them of all help from the Centre and the state government. The state government has been assessing the extent of damage and loss to farmers after weeks of heavy rains caused landslides which left a trail of destruction in the state. Several major roads in Arunachal Pradesh have been damaged due to landslides with district officials working round the clock to restore the roads. 
Floods and landslides triggered by incessant rain last week have completely cut off many district headquarters in the state from the rest of the country, officials said. The state capital was virtually cut off with its lifeline NH 415 getting washed away at the entry point, while the alternate road via Jullang remained blocked leaving only one road open through Hollongi en route Lakhimpur district in Assam, they said. 
Himachal Pradesh
Two persons were feared dead after being swept away by the swirling water of the Beas river at Kullu in Himachal Pradesh and flash floods wreaked havoc in Janvi area as heavy rains pounded parts of the state. 
A landslide occurred on the Kullu-Manali road in Hanogi in which a temple was damaged but no loss of life was reported. 
Palampur, which received 158 mm of rain, was the wettest in the state followed by Baijnath 150 mm, Kheri 113 mm, Dharamshala 111 mm, Nahan 34 mm and Manali 14 mm. 
Rajasthan
Moderate to heavy rains occurred in parts of Rajasthan with Gogunda in Udaipur witnessing 7 cm of precipitation. 
Kotda in Udaipur and Nathdwara in Rajsamand both received 5 cm rains, followed by 4 cm each in Pipalda in Kota and Kotri in Bhilwara. 
Churu was the hottest in the state with a high of 40 degrees Celsius, followed by 39.7 degrees Celsius in Jaisalmer, 39.4 degrees Celsius in Bikaner and 38.9 degrees Celsius in Ganganagar. 
Maharashtra
At least two persons were killed and four others injured when a house collapsed at a village in the district following heavy rains early today, an official said. 
The house, located on a hillock at Mharal village in Kalyan tehsil, collapsed at around 2.30 am after the region witnessed heavy downpour for the last two days, district disaster management officer Asmita Nikam said. 
Heavy rains at isolated places in other states 
Isolated places in Chhattisgarh, Madhya Pradesh and Vidarbha region received heavy rains while day temperatures hovered around normal in Punjab and Haryana which sweltered under high humidity levels. 
In Haryana, Ambala recorded a high of 35.1 degrees Celsius and gauged 5.2 mm of rains while Hisar recorded a maximum of 38.2 degrees Celsius. 
Amritsar in Punjab recorded a high of 35.4 degrees Celsius, one notch above the normal while Ludhiana and Patiala recorded their maximums at 35.3 degrees Celsius and 35.6 degrees Celsius, respectively. 
In Jammu and Kashmir, traffic on the 300-km long arterial Jammu-Srinagar national highway, was suspended for a few hours due landslides triggered by rains in Ramban district. At least 16 people were killed after a bus carrying Amarnath Yatra pilgrims fell off in gorge off the Jammu-Srinagar national highway in Ramban . 
Men and machines of the Border Roads Organisation (BRO) and a construction company cleared the blockade and traffic was restored after four to five hours. 
Bihar received light rainfall at one or two places, while maximum temperatures increased by few notches in all major cities of the state. 
Bhagalpur recorded the highest maximum temperature at 36.5 degrees Celsius, while Patna registered a high of 36.1 degrees Celsius.
(With PTI inputs)