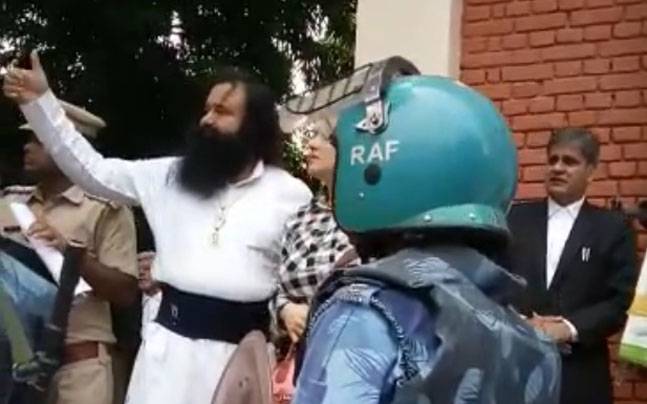 Five Haryana Police personnel, who were part of the Z+ security provided to the Dera Sacha Sauda chief Gurmeet Ram Rahim Singh, were dismissed on Thursday for allegedly preventing the cops from taking the self-styled godman into custody following his conviction.
The five Haryana Police cops were arrested on August 25 along with two private bodyguards and were booked on charges of sedition for obstructing government officers from discharging their duty, assaulting a public servant and under waging war against the State.
The five Haryana police personnel have been identified as head constable (HC) Ajay, constable Ram Singh, Exempted Head Constable (EHS) Vijay Singh, Sub-Inspector (SI) Balwan Singh and constable Krishan Kumar. 
The two private security guards were identified as Pritam Singh and Sukhbir. On August 26, all of them were produced in a local court and remanded to seven days of police custody.
Speaking to India TV on Tuesday, Inspector General of Indian Reserve Battalion, KK Rao, said that the Haryana Police personnel attached to the Dera chief were part of a plan to facilitate the escape of Ram Rahim following his conviction. The riots, the officer claimed, were part of the escape plan to escort him out as soon as the violence began.
"Baba (Ram Rahim Singh) and his people had planned that even if he got convicted he would not get arrested. Baba asked for a red bag from outside after being convicted. The red bag was a signal to his followers that he had been convicted. 
"It was planned that followers would be informed of his conviction and would begin riot which would be used as a distraction. We were surprised to know that even though no one had come out of the court, media knew about his conviction. Soon after getting to know that Baba was convicted, the mob which was 3-4 kilometres started rioting," said Rao. 
"As riots started, attempt was made by his security personnel to take him away in his vehicle. The commandos formed a cordon around him and a scuffle ensued with the police. They had AK-47 rifles and realising that firing would result in heavy casualties, we tried to tackle them without firing," he added. 
The seven people booked were attempting to evacuate Gurmeet Ram Rahim while he was being brought out from the court premises after the verdict was pronounced. According to sources, they also tried to manhandle the staff which had Ram Rahim in custody. 
They had tried to take Gurmeet away when he was being taken to a helicopter in a Scorpio by a special team of Haryana police on Friday. The cops, who were equipped with a jammer vehicle, also reportedly manhandled an IG-level officer who was overseeing arrangements for transporting Singh to Rohtak.