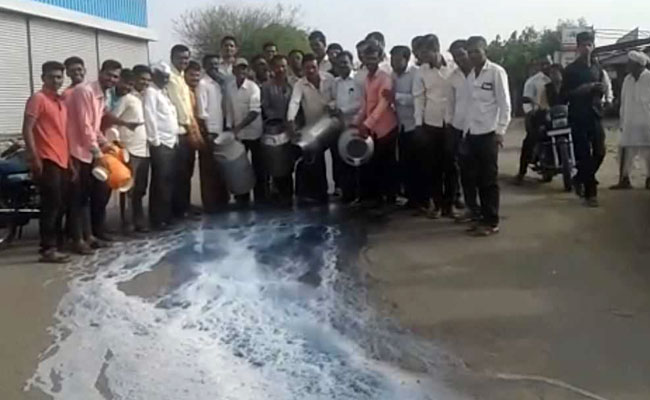 Farmers in six states--Madhya Pradesh, Gujarat, Maharashtra, Rajasthan, Punjab and Haryana--began a 10-day strike today, demanding loan waiver among other things. The strike 'Gaon Bandh' (village blockade), by farmers of these six states is likely to affect supply of essential items like milk and vegetables to cities. The farmers are demanding waiver of loans, right price for their crops and implementation of recommendations of Swaminathan Commission. 
In Maharashtra, farmers have announced a day-long strike on Friday, whereas in Madhya Pradesh farmers have declared a complete shutdown of supplies to cities. While the farmers have said that no eatables would be supplied from villages to cities in the state, the state government has claimed that it has made all necessary steps to tackle the strike.Vegetables and milk were thrown on roads in Madhya Pradesh, Maharashtra and Punjab as mark of a symbolic protest. 
Farmers at several places in Punjab, Haryana stop selling vegetables, milk 
Farmers stopped the supply of vegetables, fruits, milk and other items to various cities of Punjab and Haryana as part of the nationwide strike against alleged anti-farmer policies of the Centre. 
"We are getting very good response from fellow farmers for their support to this agitation. At majority of places in the state, farmers have stopped bringing vegetables, milk and other items to the cities for sale," claimed Balbir Singh Rajewal, president, Bhartiya Kisan Union (BKU). 
"No farmer is being forced by anyone to stop bringing their produce. The farmers have so much anger against the central government that they became a part of this agitation on their own," said Rajewal. 
The decision to stop supplies starting from June 1 till June 10 was taken by farmers under the banner of Kisan Ekta Manch and Rashtriya Kisan Maha Sangh. 
A meeting of the coordination committee of these two farmers' organisations, which are umbrella bodies of 172 farmers' outfits, was held here last month to give final shape to the programme. 
Rajewal claimed that not only in Punjab and Haryana, farmers in Uttar Pradesh, Rajasthan, Madhya Pradesh and some other states were also not selling their produce in cities. 
"During the 10-day long protest, the farmers will stay in their villages and will not go to cities for supplying their produce," he said. 
"However, they can sell their produce among villagers," he said, adding that the first day of their agitation had been peaceful so far. 
Similar reports emerged from neighbouring Haryana where farmers at several places stopped supplies to cities. 
"Farmers in Haryana were also supporting us and have stopped supplying vegetables, milk and other items," said BKU Haryana president Gurnam Singh Chanduni. 
They were critical of the central government for allegedly not addressing their issues pertaining to low income, increasing number of farmers' suicides and rising debt, he said. 
"We have also been demanding minimum income guarantee scheme, implementation of Swaminathan Commission report and waiver of farmers' debt," said Rajewal. 
"We were forced to take this decision as the central government failed to help farming community which was in the crisis at this moment," Rajewal alleged. 
In Punjab and Haryana, farmers' outfits like BKU Rajewal, BKU Sidhupur, BKU Haryana have participated in this agitation. 
Meanwhile, vegetable sellers at several places of the two states feared that prices of vegetables could go up if fresh supplies did not come in the market. 
There were also reports from some places in Punjab suggesting that consumers started purchasing vegetables in bulk in the wake of farmers' protest. 
At some places in Punjab, some farmers even threw vegetables and milk on road in a symbolic protest. 
Mixed response to farmers' agitation in Madhya Pradesh amid heavy police presence
A mixed response was witnessed to the Madhya Pradesh farmers' call for the 10-day shutdown in the state today amid heavy police presence, coinciding with the first anniversary of the death of seven persons in police firing on farmers.
In state capital Bhopal, Mandsaur and other places, milk and vegetables supply was affected, due to which prices of vegetables recorded an uptick.
Security personnel, including those from the paramilitary forces, were deployed in strength.
Though the shutdown had limited affect in big cities and towns, it was widespread in small towns and suburbs.
Aam Kisan Union Kedar Sirohi told IANS: "Farmers are united and continuing with their protest. The state government is trying to make their protest a failure but they are not ready to bow before the government at any cost."
Rashtriya Kisan Mazdoor Mahasangh leader Shivkumar Sharma accused the government of spreading lies and rumours on the agitation by farmers.
"The question is not who is supporting the agitation. The question is if the demands of the farmers are valid," he said.
Punjab govt backs agitating farmers, Sidhu slams Centre 
The Punjab government came out in support of the state's agitating farmers as minister Navjot Singh Sidhu slammed the Centre for ignoring the agriculture sector. 
In his unique way, the cricketer-turned-politician visited village Patto along with Congress MLAs Kuljit Singh Nagra and Gurpreet Singh and bought milk and vegetables from farmers to highlight their significant contribution in the development of the nation. 
"If the country is to be saved then saving farm sector ought to be a priority," Sidhu said adding that if the ruling NDA government at the Centre had fulfilled their pre-poll promises, the farmers would not have been in such a sorry state of affairs. 
Sidhu assured the protesting farmers that the Punjab government was sympathetic to their demands and stood shoulder to shoulder with them. 
The Punjab local bodies and tourism minister stressed that the Swaminathan Commission report was not being implemented and farmers were not getting adequate price for their crops, leading to escalation in farmer suicides. 
Suggesting linkage of Minimum Support Price (MSP) of crops with oil prices, the minister went on to say that in the last 25 years, oil prices increased twelve fold whereas the MSP increased by only five per cent. 
"When the price of petrol was Rs 20 per litre then the price of milk was Rs 16 a litre and now the price of petrol rose to Rs 80 whereas the price of milk stands at Rs 45 per litre," he said. 
Holding the Union government responsible for increasing oil prices, he said by reducing the prices of fuel by one paisa, the Centre played a cruel joke with the people of the country. 
(With PTI inputs)