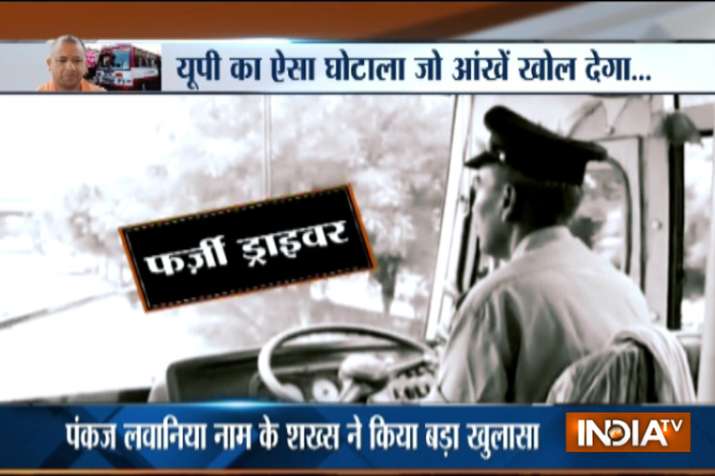 A revelation that will leave you shocked sheds light on how the Uttar Pradesh State Road Transport Corporation (UPSRTC), which has a fleet of almost 12,000 buses catering to over 1.4 million people, is being used as a 'money train' by two of its employees for the last ten years. 
In an exclusive expose "Loot Express" made by India TV tonight, it was revealed how two UPSRTC employees, in the last ten years, created a nexus and duped the government of over Rs 100 crore, using fake drivers and fake conductors.
Here's how the scam, which now involves various high-ranked officers of the UPSRTC, came into light. 
Devendra Singh, a conductor in Khurja depot who is believed to be the mastermind of the nexus, uses a gang of fake drivers and conductors who gave fake tickets to the passengers and kept all the money in their pockets, instead of depositing in the government's treasury.
The fake drivers and conductors take Agra-Mathura-Aligarh bus and give fake tickets to passengers on one side. This money goes into Devendra's pocket. On return journey, the passengers are provided with original tickets and the money collected is submitted in UPSRTC's treasury to avoid exposure of the scam. 
The same procedure is repeated on a daily basis and the wrongdoers are minting lakhs, while duping the state government of even more.  
In the sting operation video, Devendra can be seen training the drivers and conductors, and claims that nobody can stop his buses as he has high-profile connections.
Devendra Singh and Megh Singh, the two employees of the UP Roadways, also claim that no one can harm them because of their connections.
He can also be seen telling these fake drivers and conductors that when there are passengers travelling without ticket, it is better not to stop at the check point. 
These fake drivers and conductors are not certified by the state authorities.
The nexus has been exposed by Pankaj Lavania, who works as a contract conductor with the UP Roadways. He said that he approached several highly appointed officials and even the State Transport Minister, but his all his efforts have been in vain as the nexus is still working openly. 
However, Transport Minister Swatantra Dev told India TV that he has ordered an inquiry into the matter.