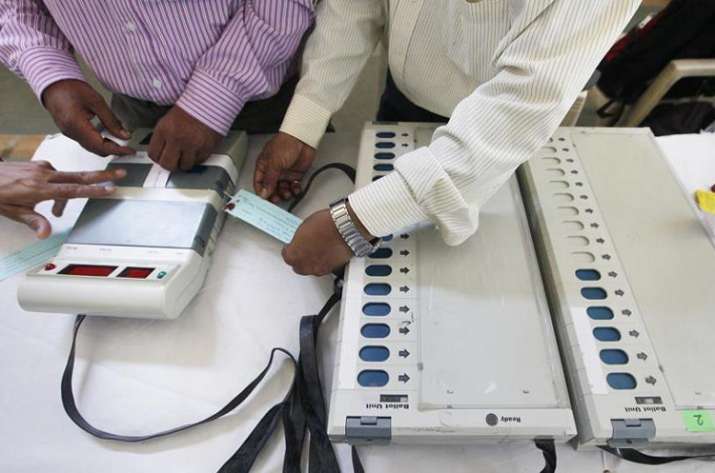 A day after an EVM in Bhind – during a demonstration to media – printed slips of the Bharatiya Janata Party (BJP) no matter which button was pressed, the Madhya Pradesh government on Saturday removed the district collector and the SP and initiated action against 19 others. 
VVPAT-enabled machines would be used at Assembly by-elections at Ater in Bhind district and Bandhavgarh in Umaria district on 9 April.
Meanwhile, Delhi Chief Minister Arvind Kejriwal urged the Election Commission to investigate cases of faulty EVMs to ascertain if they were tampered with to favour the BJP in recent elections.
Kejriwal said Friday's case in MP's Bhind was not an isolated incident. He also demanded that paper trail of votes be re-implemented for all elections in the country.
"I have been repeatedly saying that these machines are being tampered with at a very large scale. Similar machines also surfaced in Assam and Delhi Cantonment where no matter which party you vote for, the vote only goes to the BJP," he said.
Crying foul over efficacy of EVMs in Madhya Pradesh, the Congress today knocked at the doors of the Election Commission and demanded scrapping its use in upcoming elections while reverting to old ballot paper system. 
Citing the incident of Bhind where VVPAT machines dispensed slips only with BJP symbol, a delegation of Congress leaders met Chief Election Commissioner Nasim Zaidi and two other ECs seeking a thorough probe and strict action against officials involved. 
The delegation comprised Digivijaya Singh, Jytiraditya Scindia, Mohan Prakash, K C Mittal and Vivek Tankha, who told the EC to discontinue use of EVMs. 
"All parties should be taken into confidence for the credibility and viability of use of EVMs or to revert back to the old system of ballot papers," the Congress delegation said. 
"In the face of revelations about tampering of EVMs, it is necessary that the entire process be re-examined thoroughly and all agencies and persons involved in maintenance, operation and data feedings of machines be examined before use of EVMs in further elections," the party said in a memorandum. 
Congress general secretary Mohan Prakash said, "In a democracy, time and again there have been doubts created on EVMs. We have demanded that elections be held on ballot paper because every section has created doubts on EVMs. If there are doubts on votes cast, then democracy is weakened."