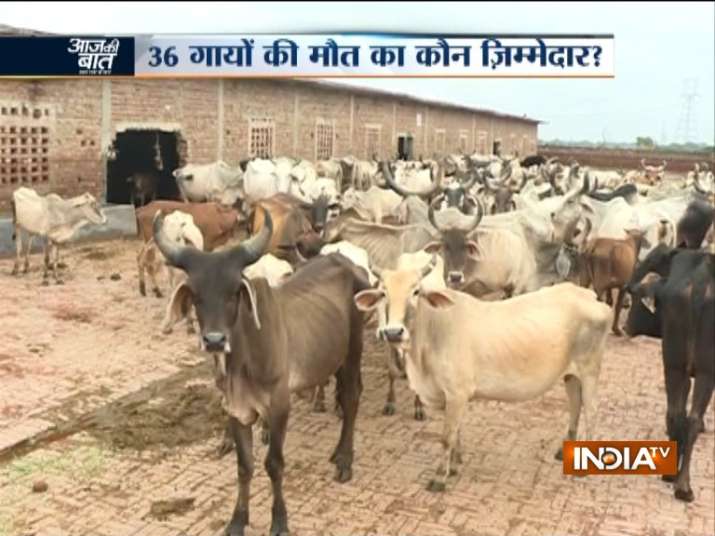 In a disturbing incident, 36 cows were found dead at a cowshed in the Najafgarh area of Dwarka on Friday.
The cows died at the gaushala in Ghumanhera village being run by Acharya Sushil Gosadan Trust.
The reason behind the death of the cows is yet to be known. Meanwhile, the Delhi govt has ordered an inquiry into the matter.
India TV correspondent Atul Bhatia visited the gaushala and found that there are no proper arrangement for the cows in this cowshed.
The gaushala lacked cleanliness and cows were found dead at several places inside the gaushala. Some of the cows were still alive but not in a position to get up.
Watch: Exclusive visuals of the gaushala where 36 cows died
The Chhawla police station received information around 12.30 pm that 36 cows have died at this gaushala. 
The police visited the spot and found that out of 1,400 cows sheltered in the gaushala, 36 have died. 
The gaushala is run by the Acharya Sushil Gosadan Trust. It is spread over 20 acres of land which was allotted in 1995. Around 20 labourers are working there, a senior police officer said.
As per the procedure, the police department sent a letter to Special Development Commissioner Kuldeep Singh Gangar to form a team of veterinary doctors for the inspection of the spot and post-mortem of the cows to establish the cause of death, the police officer said.
"A team of six veterinary doctors reached the gaushala and are conducting an enquiry into the cause of death and they will also conduct postmortem of all the dead cows. Once their report is submitted further legal action will be taken," the officer said. 
Development Minister Gopal Rai took a serious view of the incident and ordered a detailed inquiry into the matter within 24 hours, an order said. 
The order issued by the minister's Secretary Sanjeev Mittal read, "accordingly I am directed to request that an enquiry report in this regard. May kindly be submitted within 24 hours positively."
It has also been reported that the carcasses were lying in the gaushala, the order said.
(With agency inputs)