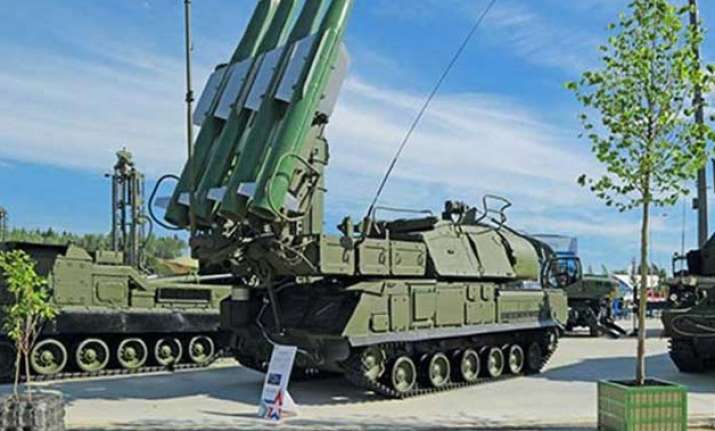 Panaji: Over 1,000 companies and 47 countries are taking part in the largest Defexpo India 2016 that begins in Goa on Monday. The ninth edition of Defexpo India, a biennial exhibition on land, naval and homeland security systems, will be inaugurated by Defence Minister Manohar Parrikar on Monday.
Being held at Naqueri Quitol in Quepem taluka in South Goa district, this is the first time the exhibition has moved out of Delhi.
India, being among a handful of countries with indigenous capabilities in defence fields like multi-level strategic deterrence, ballistic missile defence, nuclear powered submarines, main battle tank, stealth destroyers, aircraft carriers and fourth generation fighter aircraft, is hopeful of the exhibition providing opportunities for the domestic defence industry to grow.
An official statement on Sunday said the exhibition would be showcasing India's capabilities in land, naval and security systems as well as its emergence as an attractive destination for investment in the defence sector.
"The event provides a platform for forging alliances and joint ventures in the defence industry. The event also provides an excellent opportunity to the Indian Defence Public Sector Undertakings (DPSUs), private sector and other defence related industries to demonstrate their capability to design, develop and deliver a wide range of military and civil products and services," the statement said.
Over 1,000 companies, both foreign and Indian, are taking part in the exhibition this year -- over one and a half times more than the number of participants in Defexpo 2014.
At a total of 510 companies, the participation of Indian companies has doubled since 2014, which saw 256 companies take part.
A total of 490 foreign companies are participating this year against 368 in 2014.
Around 950 delegations this year against 511 in 2014 are expected to visit the exhibition this year providing great synergy in business to business (B2B) activities during the short span of four days.
As many as 204 official delegations from 44 countries and around 750 non-official business delegations are attending the show.
The net area sold during this edition is 40,725 square metres against 27,515 square metres in 2014.
The gross area of exhibition has increased over three folds to 150,000 square metres against 45,000 square metres in 2014.
On the sidelines of the exhibition, seminars will provide a platform to showcase developments and opportunities in the defence sector.
A total of 47 countries will be taking part this year against 30 countries in the last edition.
These are Australia, Austria, Belarus, Belgium, Brazil, Bulgaria, Canada, Croatia, Cyprus, the Czech Republic, Egypt, Finland, France, Germany, Hong Kong, Hungary, Israel, Italy, Japan, Lithuania, Malaysia, the Netherlands, New Zealand, Nigeria, Norway, Panama, Poland, Portugal, South Korea, Romania, Russia, Serbia, Singapore, Slovak Republic, South Africa, Spain, Sudan, Sweden, Switzerland, Taiwan, Turkey, Britain, Ukraine, United Arab Emirates and the US.