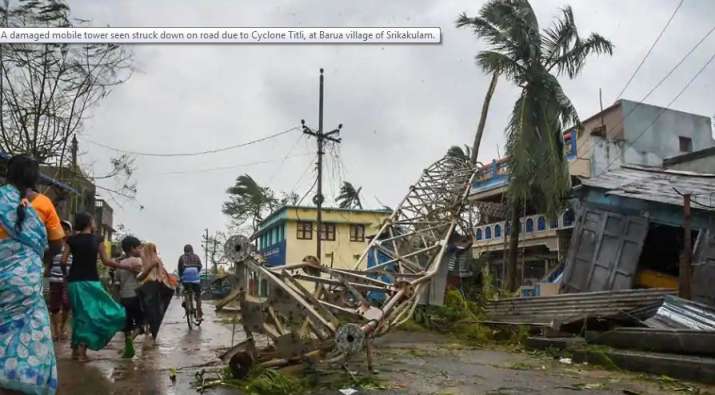 Cyclone Titli, that had hit Odisha this month, wreaked havoc in the state to the extent that a man in Gajapati district was forced to walk for eight kilometres carrying the body of his seven-year-old daughter, who died in a landslide. 
The footage aired by local channels showed Mukund Dora carrying his daughter's (Babita) body on his shoulder for post-mortem. 
Babita, who had gone missing on October 11, was swept away due to landslide during Cyclone Titli and subsequent flood caused by extremely heavy rainfall in the Mahendragiri hills of Gajapati district. The state had on Wednesday declared her dead  based on information from local panchayat functionaries, though her body was yet to be traced.
Later, the father found his daughter's body near a nullah on Wednesday afternoon. 
"We found my daughter's body near a nullah on Wednesday afternoon. Police was informed and they came to our village this morning and took photographs of the body," he said.
He told reporters, who spotted him near Laxmipur on his way to the hospital, that the police did not make arrangements to shift the body to hospital for post mortem. "Instead they (policemen) instructed me to bring the body to the hospital. I am a poor man and cannot hire a vehicle to transport the body from the village to hospital. Also the road to my village is damaged due to the cyclone and landslide. Therefore, I put the body in a bag and carried it on my shoulder."
Following this, police arranged an auto-rickshaw to carry the man and the body to Kainpur hospital.
Gajapati District Collector Anupam Shah told PTI he was trying to gather the details of the incident. "I am aware of the allegation and examining the matter to ascertain the truth."
This evening, the collector handed over a cheque of Rs 10 lakh to Dora as compensation following the death of his daughter in the cyclone-triggered landslide.
Union minister Dharmendra Pradhan, a resident of Angul district in Odisha, visited the cyclone-hit Gajapati and Ganjam districts Thursday. He said, "It is painful to witness a man carrying the body of his daughter on his shoulder and walking down to hospital for post-mortem."
Dana Majhi, a poor tribal man from Kalahandi district, had walked more than 10 km carrying his dead wife on his shoulder from the government hospital after being denied a hearse in 2016.
(With PTI inputs)