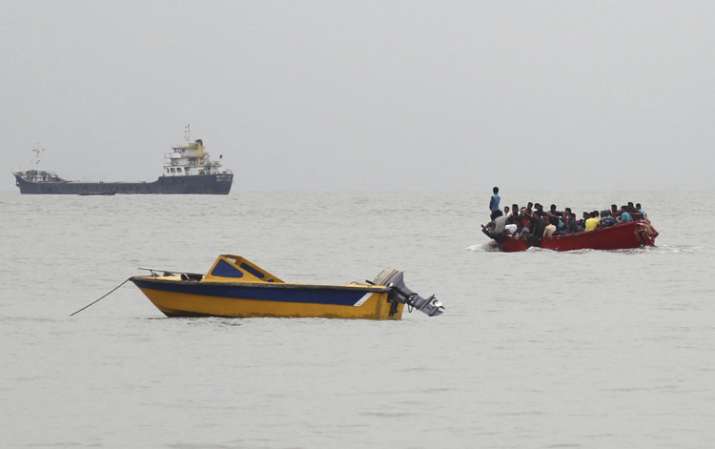 Coastal states of Odisha and West Bengal are bracing for heavy rainfall as cyclone Mora made landfall near Bangladesh's Chittagong coast early morning today. Besides Odisha and Bengal, north eastern states have also sounded alert for heavy rainfall. 
The storm made landfall on the coast between Cox's Bazar and the main port city of Chittagong at 6:00 am (local time), the Bangladesh Meteorological Department said in a special weather bulletin.
Mora hit landfall Bangladesh as a Category 1 cyclone packing winds of up to 117 kilometres per hour. Officials in Bangladesh expect at least 15 districts, including Cox's Bazar and Chittagong, to be inundated by the storm surge.
The Bangladesh government has sounded alert in the districts with more than 1,000 shelters set up for people who may need to evacuate as the storm approaches the low-lying delta nation. Authorities have evacuated hundreds of thousands of people from low-lying coastal villages. 
Also Read: Cyclone Mora hits Bangladesh coast, over 3 lakh evacuated 
Heavy rains likely in Odisha, govt issues alert 
The Odisha government has sounded alert in four districts and has asked fishermen not to venture into the sea as cyclonic storm 'Mora' is likely to trigger heavy rainfall in some parts of the state. 
State Revenue and Disaster Management minister Maheswar Mohanty, who held a meeting with senior officials to review the preparedness, said the collectors of Mayurbhanj, Balasore, Bhadrak and Jajpur have been alerted. 
Collectors of other districts have also been instructed to remain watchful in view of the cyclonic storm. 
Mohanty said according to the IMD, Mayurbhanj, Balasore, Bhadrak and Jajpur districts may receive rainfall due to the impact of Mora.
Cyclonic storm 'Mora' over east-central Bay of Bengal moved north-northeastward and lay centred about 550 km nearly east-southeast of Paradip, the MeT office said. 
It is likely to move north north-eastwards and cross the Bangladesh coast near Chittagong today morning.
Rain and thundershower is likely to occur at several places in north Odisha districts and a few places over southern parts of the state, the MeT office said, adding it may trigger heavy rainfall at one or two places in coastal Odisha. 
Instructions were issued for hoisting Distant Warning Signal Number Two (DW-II) at Paradip and Gopalpur ports, while fishermen have been asked not to venture into the sea.
Heavy rain likely in coastal districts of West Bengal 
Heavy rain is likely to occur in the coastal districts of West Bengal in the next two days due to cyclonic storm 'Mora'.
"Fishermen along and off the coast of West Bengal are advised not to venture into the sea today and tomorrow as wind reaching a speed of 45 to 55 km per hour may blow, with gusts touching speed of 65 km per hour due to the cyclonic storm," regional MeT director G K Das said. 
The MeT department said that Assam, Meghalaya, Tripura, Mizoram, Manipur, Nagaland, Arunachal Pradesh and West Bengal are likely to witness heavy to very heavy rainfall.
Coastal districts of West Bengal are likely to receive heavy rain on Tuesday and Wednesday due to the cyclonic storm. 
The districts likely to receive heavy rain are South 24- Parganas, North 24-Parganas, East Midnapore and Nadia, Das said. 
Kolkata is likely to have an overcast sky and witness one or two spells of rain during the next two days, he said. 
Meghalaya, Mizoram issue warning of heavy rainfall 
The Indian Meteorological Department has issued warning to the Disaster Management Authority in Meghalaya that the cyclone 'Mora' will hit several states in the north east. 
Meghalaya government yesterday issued warning of strong winds and heavy rainfall in view of 'Mora', saying that the cyclonic storm is likely to make a landfall in the north east region in the next 48 hours. 
Heavy rainfall is expected in the next 48 hours, an official told PTI. 
The government has advised people of the state to take precaution and other preventive measures as heavy rainfall is expected. Government response team has been activated in case of any emergency, the official said.
Mizoram government has also issued a warning that cyclone 'Mora' accompanied by thunderstorm and very heavy rainfall might lash the state on May 30 and 31. 
The Mizoram Disaster Management Authority and the Disaster Management and Rehabilitation department received a warning that the cyclone called 'Mora' will hit several states in the country and was most likely to lash Mizoram, Nagaland, Manipur and Tripura on Tuesday and Wednesday, an official statement said. 
The statement advised the people to take precaution and other preventive measures as the cyclone could trigger massive landslides and flash floods in the state.
Bangladesh braces for cyclone 'Mora'
Officials in southeastern port city of Chittagong said orders have been issued to suspend operations at the country's main port. 
The cyclone warning for the ports in Chittagong and Cox's Bazar has been upgraded to great danger signal No 10, the weather office said in a special bulletin. 
Many of the 22,000 people in Cox's Bazar's Moheshkahli Island, where 10,000 people died in a cyclone in 1991, were already moving to cyclone shelters. "We are at high risk," local representative Kamrul Hasan said.
Chief district administrator Ali Hossain said authorities were monitoring weather developments and were "ready for any situation."
"We have kept vehicles and small boats ready for taking people to safety," said Hafiz Ahmed, disaster management official in Cox's Bazar.
Inland water transport authorities have also suspended operation of ferries or motor launches on internal routes and asked those in the coastlines and in the middle of river routes to take shelter immediately. 
The met office bulletin said the cyclonic storm over north bay and adjoining east central bay intensified further "into a severe cyclonic storm". 
The Indian Navy on Monday said that it has kept its Eastern Fleet ships at the highest level of readiness to render assistance to Bangladesh if required.