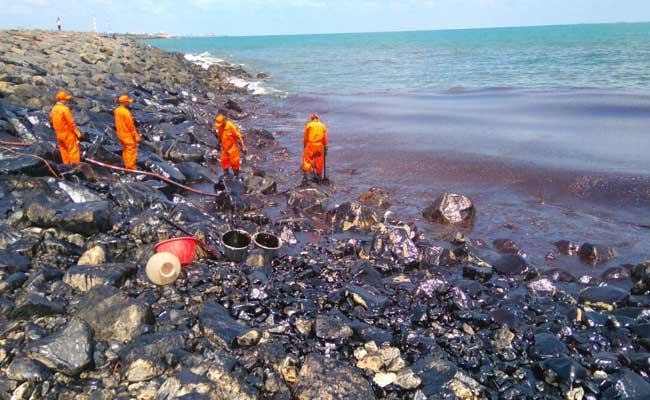 The Indian Coast Guard and Tamil Nadu Pollution Control Board were among others coordinating the operation to remove the oil spill caused by Saturday's collision of two cargo ships in the sea off suburban Ennore, authorities said today.  
The shoreline in and around Ennore and Kasimedu in north Chennai was hit by the oil spill, Tiruvallur District Collector E Sundaravalli clarified here today.  
The mishap occurred at 4 am on January 28 when 'M T BW Maple' with a flag of Isle of Man was leaving the port after emptying Liquefied Petroleum Gas (LPG) and M T Dawn, Kanchipuram, loaded with petroleum oil lubricant (POL) was on its way to the berth at the Ennore port.  
The port authorities had then said there was no damage like oil spill and no casualty or injury to any person.
"There is no damage like oil spill and no casualty or injury to any person. Both vessels are afloat and anchored. The extent of damage is under assessment," a statement issued by the port authorities had said. 
Sundaravalli, under whose jurisdiction the affected area falls, today told reporters here that there was a oil spill.  
"There is an oil spill after the incident on January 28. Officials, including those from TNPCB and Fisheries, were deployed by the government to look into the situation," Sundaravalli said.  
She said three Chennai Metro Water's super suckers (machines, mounted on trucks) were being deployed to remove the oil spill and expressed hope that it will be cleared.  
Super suckers are normally used by Chennai Metropolitan Water Supply and Sewerage Board to clear silt.  
Sundaravalli said the Coast Guard was trying to remove the oil spill manually and also monitoring its spread and removal by pressing its choppers into action. 
Asked about the fishermen getting affected and their livelihood hit due to the incident, she said Fisheries Department officials were looking into it and will give a report to the government.  
Replying to another question, Sundaravalli said officials were also studying the impact of the oil spill on the marine life in the region.  
The sea water had blackened and some turtles were found dead near the north Chennai shoreline in the aftermath of the incident.
The Coast Guard on Sunday said it coordinated the mopping operations of oil spill due to the collision. 
It has already issued a notice to the master and the owner of the vessel to take all actions to undertake containment and recovery of oil spill and all to take all necessary action to keep environment clean as prevailing before the incident. 
A team of scientists from coastal and ocean monitoring agencies has also started work to predict the trajectory of oil spill and its impact on the coastal water and marine eco-system.