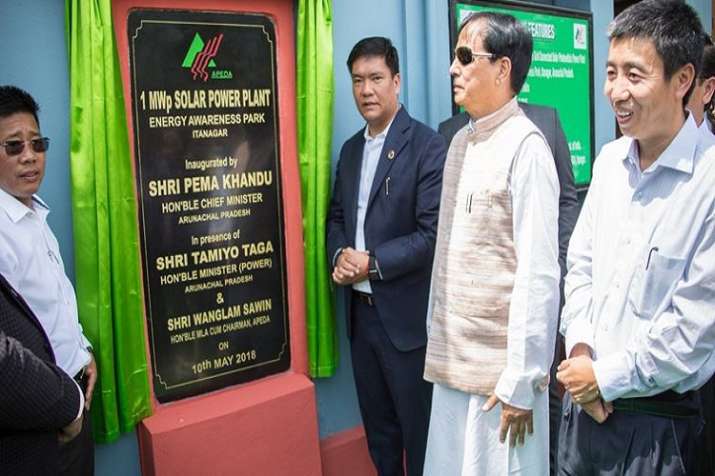 Arunachal Chief Minister Pema Khandu on Thursday inaugurated the state's biggest solar power plant at the Energy Awareness Park. State power minister Tamiyo Taga was also present during the event.
The plant, with a capacity of one megawatt,was commissioned on April 1 at an estimated investment of Rs 8.50 crore.
The chief minister congratulated the officials of the Arunachal Pradesh Energy Development Agency (APEDA) for the successful completion of the project and urged them to venture into more such environment-friendly initiatives in the future.
He said that under the efficient leadership of Prime Minister Narendra Modi, the country is  looking towards green energy and slowly phasing out the use of non-renewable sources of energy.
The chief minister also encouraged the government departments on the use of solar power and assured support of state government in initiatives that are environment-friendly.
Marki Loya, the director of APEDA, said the new plant will reduce the burden of energy bills in the state.
"With the commissioning of the solar plant, import of energy from other states will reduce considerably. That, in turn, will cut down the energy bills of Arunachal Pradesh," he said.
The fully-automatic plant will be able to run without manpower, Loya stated.
"Depending on weather condition and solar radiation, power generation starts around 5.30 am and continues till 6 pm. The plant has generated more than 1 lakh units of electricity from the date of its commissioning," he added.
(With PTI inputs)