Follow us on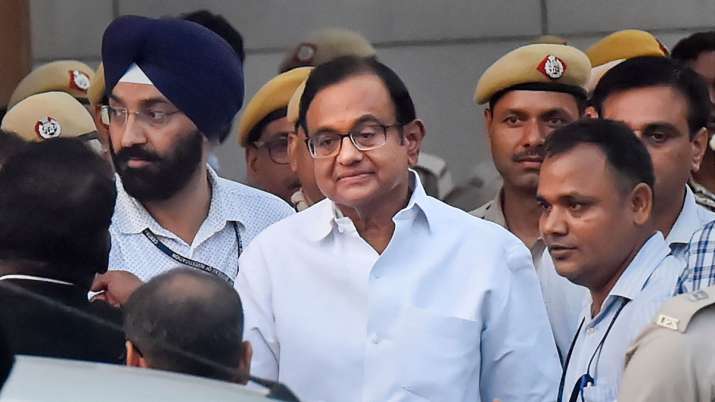 Supreme Court has extended P Chidambaram's interim protection from arrest till tomorrow. Arguments of Kapil Sibal, Chidambaram's counsel for today has concluded. The court will hear the petition again at 12 PM tomorrow.  A bench headed by Justice R Banumathi today heard a fresh plea of Chidambaram in which his counsel challenged the arrest warrant issued against him and the trial court's order remanding him to CBI custody till Monday in the INX Media corruption case. The court witnessing heated arguments between Kapil Sibal and CBI's counsel Tushar Mehta. 
P CHIDAMBARAM BAIL HEARING IN SUPREME COURT: AS IT HAPPENED
4 PM: The Supreme Court will take up P Chidambaram's case tomorrow at 12 PM.
4 PM: Supreme Court extends Chidambaram's interim protection from arrest till tomorrow
2.33 PM: Sibal argues that apart from P Chidambaram, all others have been on bail, default bail or sanctions to prosecute have not been asked for.
2.32 PM: Kapil Sibal points out that bail was granted to Karti Chidambaram in same INX Media Case. 
2.20 PM: Arguments on P Chidambaram's bail plea in INX Media Case has resumed. 
1.10 PM: Judges rise for the lunch break. To resume at 2.10 PM. 
1.05 PM: Justice Banumathi asks Sibal to show what's the ED's case against 
1 PM: Kapil Sibal has informed Supreme Court that CBI in custodial interrogation asked Chidambaram whether he had a Twitter account?
12.56 PM: "This is a media trial," Kapil Sibal in Supreme Court. Kapil Sibal, "Supreme Court may ask for transcripts of the three dates when he [Chidambaram] joined the ED probe. Let them show one property in name of P Chidambaram and we will withdraw our petition from SC."
12.55 PM: Kapil Sibal argues: "Allegations made in court were never put to him during questioning. The Delhi HC judgment copies verbatim the note passed on by the CBI/ED. You have not denied my allegation of 'cut-and-paste' even in your affidavit before the SC."
12.52 PM: Heated argument between Tushar Mehta and Kapil Sibal in the Supreme Court. 
12.51 PM: P Chidambaram has been questioned for 26 and half hours by the CBI and the only question CBI asked him is whether he maintains a bank account in Britain, Sibal tells Supreme Court.
12.39 PM: "The Enforcement Directorate doesn't maintain a case diary at all. And in any case, the law has been clear that neither the agency nor a court can use contents of a case diary as evidence," Kapil Sibal argues.
12. 37 PM: Kapil Sibal complains ED's affidavit being leaked even without having been filed in the Supreme Court registry.
12.33 PM: Kapil Sibal objects to the practice of handing over documents in the court in sealed covers. "How am I supposed to counter something which I don't even know what it is?" Kapil Sibal argued. 
12. 15: Justice Banumathi says the Supreme Court can't treat this [Chidambaram's plea] now as a regular bail petition when what they [Chidambaram's counsel] have filed was rejection of anticipatory bail.
12.10 PM: Supreme Court of India declines to pass orders on P Chidambaram's first bail application. "Can't entertain this bail plea after your arrest," says court.
12.05 PM: "We can't convert your petition against the rejection of anticipatory bail into a petition for regular bail," Justice Banumathi to Kapil Sibal, AM Singhvi, counsels for P Chidambaram
RECAP
On Friday, the apex court had granted protection from arrest till Monday to Chidambaram in the money-laundering case lodged by the Enforcement Directorate. The court has sought replies from ED on Chidambaram's plea and directed that all the three matters should be listed on Monday.
Chidambaram has contended that it is violation of his fundamental right under Article 21 of the Constitution, that his petition challenging the high court order was not heard by the apex court on July 20 and 21 and he was arrested on the August 21 night.
Solicitor General Tushar Mehta, appearing for ED, had said that lot of "hue and cry" and "political vendetta" is alleged by the petitioner (Chidambaram) and his party colleagues but "I am saying with a great sense of responsibility that this is a case of money laundering of a monumental magnitude".
"CBI has recorded statement of Indrani Mukherjea, which will be tested in the trial, that she and her husband Peter had gone to Chidambaram for FIPB approval and he (Chidambaram) had asked them to take care of his son," Mehta had argued.
The CBI had registered an FIR on May 15, 2017, alleging irregularities in the Foreign Investment Promotion Board clearances granted to the INX Media group for receiving overseas funds of Rs 305 crore in 2007 during Chidambaram's tenure as finance minister.
Thereafter, the ED lodged a money-laundering case in 2017.
Chidambaram was arrested on August 21 night from his Jor Bagh residence by the CBI in the corruption case and was produced before a trial court on August 22, which remanded him to four-day CBI custody till August 26. 
(with inputs from PTI)