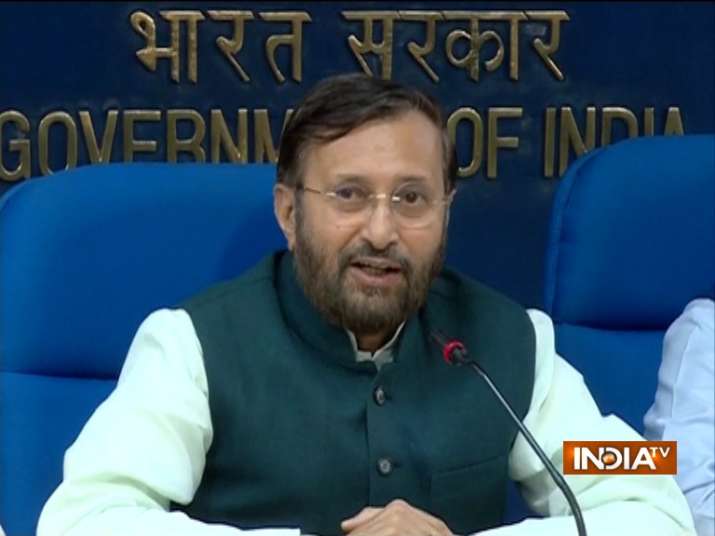 Union HRD Minister Prakash Javadekar on Thursday addressed a press conference on the issue of CBSE paper leak and said whoever was involved will not be spared and police will soon arrest the culprits.
"This is a very unfortunate development, I understand the pain the parents and students have to go through. Whoever is involved in the paper leak will not be spared, police will soon arrest the culprits," said Javadekar during a press conference in New Delhi today.
The CBSE will declare the date of re-examination probably on Monday or Tuesday, he said.
The CBSE has earned a name for conducting good examination and was, therefore, assigned the task of conducting medical entrance examination by the Supreme Court, he said.
Javadekar said being a sensible parent, he could not sleep last night.
We must make all efforts to ensure that these exams go really without any breach though culprits may be using newer ways and methods, he said.
He said all efforts would be made to improve the system with the new challenges posed by the culprits and make it foolproof.
Earlier in the day, the CBSE, in a complaint to Delhi Police, said that it had received a fax from an unknown source on March 23 naming a coaching institute owner from Delhi's Rajinder Nagar behind the CBSE paper leak.
In its complaint, the board has also said that the fax had named two schools in connection with the paper leak. The board added that an unaddressed envelope containing four sheets of hand-written answers of Economics paper was delivered to the CBSE office. 
The complaint also mentioned a WhatsApp number which was allegedly used to circulate the leaked paper.
This comes a day after the board announced it will re-conduct exams for Maths paper of Class X and Economics paper of Class XII after leak of both papers on social media message application.
CBSE in a complaint to Delhi Police says it received a fax on March 23 naming a person from Rajinder Nagar behind CBSE paper leak. This person, as per the complaint, runs a coaching institute. pic.twitter.com/0KLQ3GIQry

— ANI (@ANI) March 29, 2018
Meanwhile, the Delhi Police's Crime Branch has also begun investigating the alleged leak of examination papers after registering two separate cases in the matter. A Special Investigation Team (SIT), which would comprise of  2 DCPs, 4 ACPs and 5 inspectors, has also been constituted to look into the incident.
On Monday, panic had gripped students of Class 12 following claims on social media that the Economics paper had been leaked even though the board denied there was any slip up. Reports about the paper being leaked had circulated on social media, including on WhatsApp, several hours before the paper commenced on Monday.