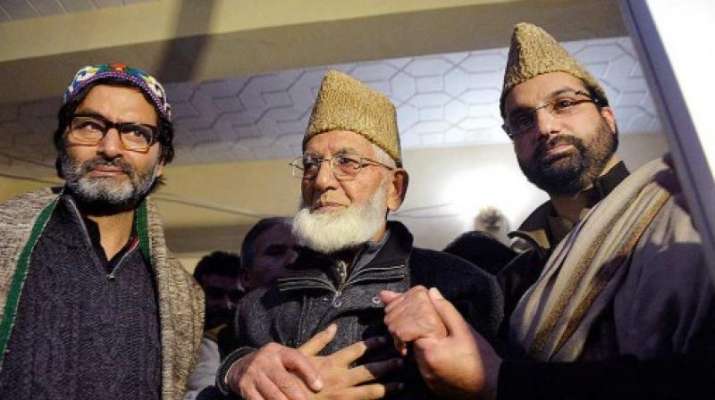 A group of prominent Kashmiri separatist leaders on Tuesday said that they can't afford to join talks with central government unless it clears the "ambiguity" in its offer of dialogue on Kashmir.
Three separatist leaders- Syed Ali Geelani, Mirwaiz Umer Farooq and Muhammad Yasin Malik- issued a statement in this regard after they held  talks at Geelani's uptown Hyderpora residence in Srinagar.
According to the statement, these leaders said the statements emanating regarding talks in the course of last few days from different people at the helm of affairs in New Delhi are unclear and ambiguous.
It pointed out that Home Minister Rajnath Singh said there should be a dialogue with both Kashmir and Pakistan but added that both parts of Kashmir belong to India while External Affairs Minister Sushma Swaraj put a rider and said no talks with Pakistan unless terror is stopped.
The statement further added that Bharatiya Janata Party (BJP) President Amit Shah "gives a new spin by saying that the ceasefire is not for militants but for the people while state police chief issued a statement that the ceasefire has been announced so that the militants come back home".
"All this ambiguity leaves little room to consider the talk about talks seriously with a purpose or warrant a response. The JRL wants to put all this in perspective and once again reiterate our stand.
"Stakes for the people of Kashmir are very high. We have invested heavily in our struggle for right of self-determination and we cannot afford to be part of an ambiguous effort that has no clarity and direction," the statement said.
Watch Video: Can't afford to join dialogue, say Kashmiri separatist leaders
(With IANS inputs)