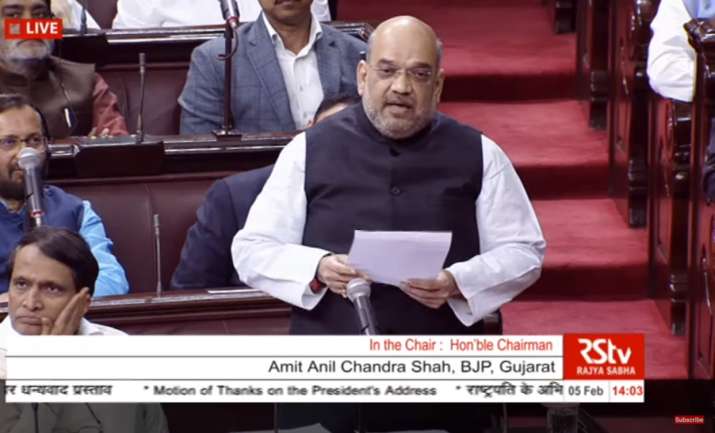 The Houses of Parliament reconvened on Monday first time since Finance Minister Arun Jaitley presented Union Budget 2018-19. 
In Rajya Sabha, BJP president Amit Shah made his maiden speech by initiating the motion of thanks to the President's address. Shah was elected to the Upper House last year but he could not make his debut in Winter Session due to disruptions in the house. He was expected to speak on triple talaq and GST. 
As It Happened: 
Highlights of Amit Shah's first speech in Rajya Sabha
03:20 pm: Speaker tells the members to respect others' speeches as it is 'not a charity we do but a responsibility to listen to others in the House'
03:19 pm: Speaker of the Upper House Venkaiah Nadu clarifies that BJP has been allotted a total time of 2 hours 49 mins, Congress - 2 hours 36 mins and Samajwadi Party 52 mins according to rules of the House, thus allowing Amit Shah's long speech was not out of order. "Plus it was his maiden speech," said Vice President Naidu. 
03:18 pm: BJP President Amit Shah concludes his 1 hour 15 mins long maiden speeches in Rajya Sabha
03:00 pm: Kashmir issue is very crucial problem for the nation. Kashmir has never been so safe in the last 35 years. We handled the Kashmir issue very well: Amit Shah
02:55 pm: Several attempts were made to stall the Triple Talaq bill, it was challenged in various courts across the country: Amit Shah
02:50 pm: Surgical strike was a historic moment. World started seeing India from a different view. They realised that after America & Israel, India is the only country which can protect its soldiers & Army: Amit Shah
02:48 pm: We conducted the surgical strike, the world now looks at India with a different perspective: Amit Shah
02:47 pm: OROP demand by the veterans which remained untouched since long, was finally delivered by our Government: Amit Shah
02:44 pm: India witnessed the biggest economic reform in the world in the form of GST. BJP had never in the past opposed GST but the way of its implementation: Shah
02:37 pm: In a direct jibe at UPA govt's slogan, garibi hatao - Amit Shah says many have come to power on the plank of poverty alleviation but only Modi govt has done anything to eradicate poverty in India 
02:34 pm: In 2016-17, over 5 crore farmers were beneficiaries of PM Modi's Fasal BIma Yoajna (crop insurance scheme): Shah
02:33 pm: Left supporting Congress did not do much to increase the minimum wage of labourers, but BJP has done it. We have worked in direction of doubling the income of our farmers too: Shah
02:31 pm: Bringing health, sanitation, employment facilities to each village - this is why India's great men fought for our independence, I am proud that we are making their dreams come true: Shah
02:30 pm: When NDA took over 18 thousand villages did not have electricity, we have brought electricity to 16 thousand of them: Shah
02:22 pm: Chidambaramji tweeted comparing pakora seller to a beggar. That is so wrong. A pakora seller is earning a living, not begging, who knows his next generation might rise to be a leader, after all, a tea seller has today become a Prime Minister: Amit Shah
02:19 pm: Hard work is better than unemployment: Shah on PM Modi's pakoda remark 
02:19 pm: I accept there is a problem of unemployment in our country, but we have got only eight years in govt, why did Congress not fix it in 55 years' of its rule: Amit Shah in Rajya Sabha
02:18 pm: Happy to share that people respected the word of PM Modi; 1 crore, 30 lakh people gave up gas subsidy
02:17 pm: 3 crore 30 lakh women have been given gas cylinders by the NDA Govt: Amit Shah
02:17 pm: We have been able to open 31 crore bank Jan Dhan bank accounts: Shah
02:16 pm: For the first time in 30 years, we have given the country a stable government: Shah
02:15 pm: Our government is determined to uplift the poor, it is determined to come to the aid of the farmer to help them in every step
02:11 pm: For the first time after independence, a non-Congress party was given mandate by the public and it was BJP government led by PM Modi. In spite of getting absolute majority, we formed government with NDA members: Shah
02:10 pm: We have worked on principles of Mahatma Gandhi and Deen Dayal Upadhyay: Amit Shah
02:09 pm: There was instability in the country since 30 years, but in 2014 people of the country crushed this notion: Shah
02:05 pm: During the last govt, the corruption was rampant and there was an environment of fear in the country: Amit Shah
02:03 pm: Took us a long time to fix problems left by the previous govt: Amit Shah
02:02 pm: BJP president Amit Shah rises to present Vote fo Thanks to President for his speech to joint session of Parliment before budget 2018. 
11:15 pm: Lok Sabha adjourned after paying homage BJP MP Hukum Singh who passed away on Saturday from a prolonged illness recently. 
11:11 pm: Rajya Sabha adjourned till 2 pm after ruckus
10: 51 am: Telugu Desam Party MPs stage protest at Mahatma Gandhi statue in Parliament urging the Centre to take steps to fulfil bifurcation promises and pending issues for Andhra Pradesh.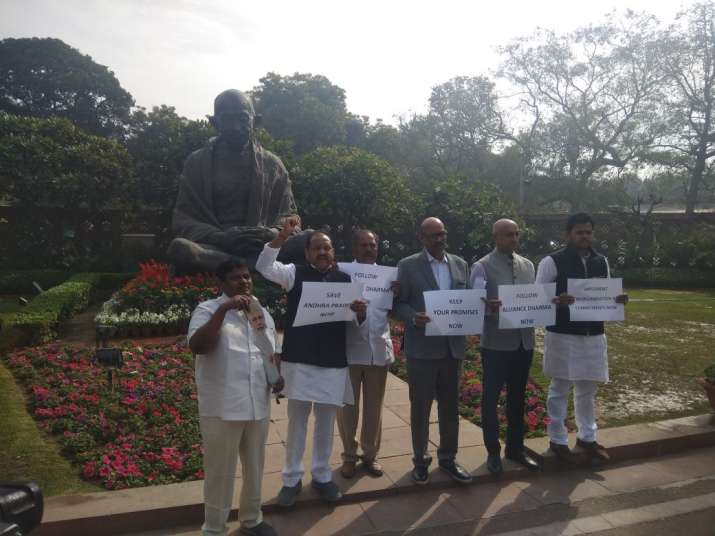 10:35 am: Congress MP Rajni Patil gave zero hour notice in Rajya Sabha over the issue of 33% reservation for women in Parliament & Assembly.
10:26 am: Samajwadi Party gives adjournment notice in Rajya Sabha on Noida fake encounter issue.
10:20 am: Rajya Sabha will discuss the motion of thanks over Monday and Tuesday. The House has decided to sit till 8 pm to make up for lost time.
10:15 am: BJP President Amit Shah to make the maiden speech in Rajya Sabha in form of the vote of thanks to President. Today, Shah will speak on the motion: "That the Members of the Rajya Sabha assembled in this Session are deeply grateful to the President for the Address which he has been pleased to deliver to both Houses of Parliament assembled together on January 29, 2018." 
10:05 am: Shah's talk about the President's address will give him scope to speak about a broad range of issues as opposed to the limited remit of a discussion either on the Muslim Women (Protection of Rights of Marriage) Bill or the GST. It would give him an opportunity to highlight the vision of the government and reiterate how those have been repeatedly endorsed by popular mandates.
09:50 am: Congress' Dr Karan Singh Yadav (Alwar, Rajasthan), Raghu Sharma (Ajmer, Rajasthan); and TMC's Sajda Ahmed (Uluberia, West Bengal) will take oath as the first order of business in lower house today. 
09:40 am: BJP MP Rakesh Singh will give the vote of Thanks to President in Lok Sabha. 
09:30 an: The Lower House will also pay homage to BJP MP from Kairana Hukum Singh who passed away on Saturday night after prolonged illness. In the last sitting, the house had paid homage to BJP MP from Maharashtra Chintaman Wanaga who died on Tuesday after collapsing at his Ferozeshah Road residence in the national capital.