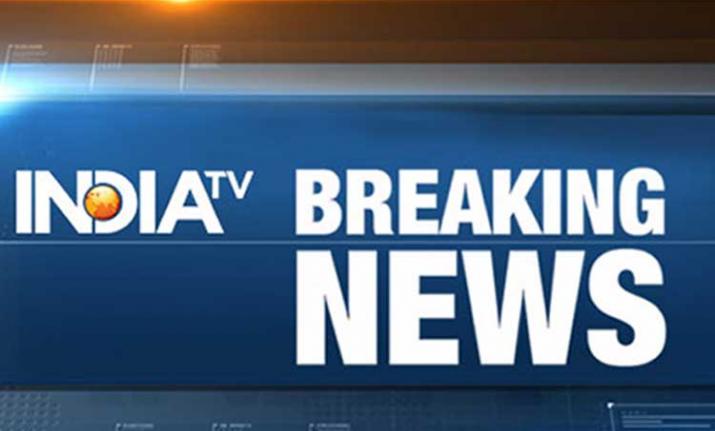 Daily dose of News plays very important role in our daily life. For some people, the morning is incomplete without knowing about what's happening across the world. Some digital-savvy people have a habit of consuming news even when they are travelling or in their free time. In today's world, where people rely on news websites for everything that's happening around, IndiaTV News provides you all breaking news, latest news, breaking story videos, Live TV and top shows of IndiaTV, country's leading News Channel on a single platform to ensure you don't miss anything important. 
Internet, Twitter, Facebook are buzzing with breaking news and news alerts from India and rest of the world. You can find here the LIVE COVERAGE of all breaking news alerts and latest news updates on just one page. IndiaTV Digital covers all top news as and when it happens and ensures its readers don't miss anything important.
BREAKING NEWS OF SEPTEMBER 10
7:00 pm: 608 people were detained and released subsequently today, 6 people were arrested, 8 cases were registered at various police stations. No serious incidents have been reported: Mumbai police PRO on Bharat Bandh
6:44 pm: Former President of Sri Lanka Mahinda Rajapaksa arrives in Delhi.
6:32 pm: A Parliamentary delegation from Sri Lanka led by Speaker of the Parliament of Sri Lanka, Karu Jayasuriya, called on President Ram Nath Kovind, at Rashtrapati Bhavan today.
6:27 pm: NIA court has sent second son (Shakeel Yousuf) of Hizb-ul-Mujahideen Sayeed Salahudeen to 30 day judicial custody. He was arrested by the National Investigation Agency (NIA) in connection with a 2011 terror funding case
6:03 pm: Delhi HC stays decision of JNU regarding cancellation of candidature of NSUI member Vikas Yadav for students union polls. Court said the September 7 decision of the Jawaharlal Nehru University (JNU) was "unsustainable on innumerable grounds." Next hearing on November 27
05:23 pm: HDFC VP Siddharth Sanghavi murder case accused Sarfaraz Shaikh was produced before a court in Mumbai today. He has been sent to police custody till 19 September.
05:09 pm: PNB Scam: Extradition request against Nishal Modi, Nirav Modi's brother, was sent to Ministry of Home Affairs on September 07: CBI Sources 
04:45 pm: National Herald Case: Delhi HC says Income Tax department has powers to reopen tax proceedings and that the petitioners can approach Income Tax department with their grievances.
04:42 pm: PM Narendra Modi and PM of Bangladesh Sheikh Hasina jointly inaugurated multiple projects between India and Bangladesh, through video conferencing.
04:40 pm: Delhi HC rejects Sonia Gandhi and Rahul Gandhi's plea challenging the Income Tax notice seeking tax reassessment for the financial year 2011-2012.
04:38 pm: Retired Justice Sawant Committee has submitted report, in a sealed cover, before Bombay High Court on Kamala Mills fire incident. A copy of the report will also be given to the petitioner later.
04:01 pm: A sessions court in Pune sent Sharad Kalaskar, an accused in the Narendra Dabholkar murder case, to Central Bureau of Investigation custody until September 15
03:45 pm: Andhra Pradesh CM Chandrababu Naidu announces a reduction in petrol and diesel price by Rs 2 each, in the state. The new rates will come into effect from tomorrow morning.
03:45 pm: Bharat Bandh: Bus services in Davanagere, Chamarajnagar, Kolar, Kolar Gold Fields, Bengaluru, Shimoga and Tumkur have now resumed says Karnataka State Road Transport Corporation PRO 
03:29 pm: Ex-Goa CM Laxmikant Parsekar,who faces Lokayukta probe in connection with the Rs. 1.44 lakh crore mining scam, has stated in an affidavit that "certain individuals", who were involved in process for granting renewals were "left out" in complaint filed by an environment foundation
03:27 pm: The Delhi Commission for Women (DCW) has issued a notice to Tihar Jail authorities over the delay in execution of convicts of Nirbhaya murder case.
03:25 pm: Bharat Bandh: Pune Police arrests six Maharashtra Navnirman Sena (MNS) workers who were trying to forcefully close shops in the city.
03:01 pm: Jammu-Srinagar National Highway closed after landslide in Ramban district. Traffic movement disrupted, clearance work underway.
03:00 pm: The Commission strongly condemns the objectionable and derogatory statements made by the MLA and has issued summons to him: National Commission for Women on Kerala Independent MLA PC George calling rape victim nun a prostitute
02:53 pm: Interpol has issued a red corner notice against Purvi Modi, the sister of PNB scam accused Nirav Modi
02:27 pm: Delhi Govt orders probe after five labourers died yesterday afternoon while cleaning a sewer near DLF flats in Moti Nagar. Labour Minister Gopal Rai has sought the probe report within three days
02:22 pm: Aircel-Maxis case: Delhi's Patiala House court has issued notice to Karti Chidambaram on ED's plea seeking cancellation of interim protection granted to him. Chidambaram has to reply by September 18.
01:12 pm: Sensex trading 395.60 points lower at 37,993.52, while the Nifty has dropped below 11,500 to trade at 11,458.40
12:49 pm: Tamil Nadu Sterlite case: SC refuses to restrain National Green Tribunal (NGT) appointed committee to look into the case. The Court has asked NGT to proceed after the committee files its report
12:44 pm: Bombay HC has allowed Gujarat IPS officer Vipul Aggarwal to be discharged in the case and quashed the refusal by a lower Court.
12:34 pm: Delhi: Case registered against a self-styled godman Ashu Ji and his son in Hauz Khas police station for allegedly raping a woman and her minor daughter, transferred to Crime Branch.
12:34 pm: Indian Rupee now at 72.66 versus the US dollar.
12:29 pm: A delegation led by Karnataka CM HD Kumaraswamy met PM Narendra Modi earlier today to seek relief funds for the flood-affected districts of the state including Kodagu. Former PM HD Deve Gowda was also present.
12:22 pm: Bombay HC dismisses petitions challenging discharge of top cops DG Vanzara, Rajkumar Pandian, Dinesh Amin in connection with Sohrabuddin Shaikh case.
11:52 am: SC agrees to hear plea of trial court judge SK Yadav. Asks him to file progress report on how he plans to complete trial in Ayodhya case by April 2019. SC also issues notice to UP Govt on Yadav's plea seeking to lift the stay on his promotion.
11:30 am: Hyderabad twin blasts case: Tariq Anjum, who was accused of harbouring they key convicts has also been convicted by NIA special court. Quantum of sentence hearing is to be held later today.
10:40 am: Supreme Court dismisses PIL challenging the appointment of Sharad Kumar as the Vigilance Commissioner in CVC (Central Vigilance Commission).
09:51 am: Aircel-Maxis case: Enforcement Directorate has approached Delhi's Patiala House court seeking cancellation of interim protection granted to Karti Chidambaram in the case.
09:47 am: Bharat Bandh: East Coast Railway Zone has cancelled 12 trains including Bhubaneswar-Howrah Jan Shatabdi Express and Bhubaneswar-Visakhapatnam Inter City Express in the view of.
09:45 am: Bharat Bandh: Congress workers stage 'Rail Roko' at Mumbai's Andheri railway station against fuel price hike.
09:39 am: Bharat Bandh: Sonia Gandhi and former PM Manmohan Singh join Congress-led opposition parties supported bandh protest against fuel price hike in Delhi. 
09:29 am: Sensex sheds over 100 points in opening trade; Nifty at 11,568
09:27 am: Rupee hits new record low of 72.18, drops 45 paise against US dollar.
08:30 am: Bharat Bandh: Extra deployment of forces has been done across the city today. Firm action will be taken on any miscreants taking the law into their hands, tweets Commissioner Of Police, Pune City, Dr Venkatesham K.
07:42 am: Tremors felt in Delhi after earthquake occurred 6 km from Meerut's Kharkhauda in Uttar Pradesh at 6:28 am
07:00 am: Bharat Bandh: Protests being held in Odisha's Bhubaneswar by opposition parties against fuel price hike
#BharatBandh: Protests being held in Odisha's Bhubaneswar by opposition parties against fuel price hike pic.twitter.com/SeES8vUGhg

— ANI (@ANI) September 10, 2018
06:30 am: Bharath Bandh: CPI(M) holds protest in Andhra Pradesh's Visakhapatnam against fuel price hike
#BharathBandh: CPI(M) holds protest in #AndhraPradesh's Visakhapatnam against fuel price hike pic.twitter.com/qPLBF152Cl

— ANI (@ANI) September 10, 2018
06:27 am: Odisha: Congress workers block a train in Sambalpur as Bharath Bandh has been called by Congress and other opposition parties today over fuel price hike.
Odisha: Congress workers block a train in Sambalpur as #BharathBandh has been called by Congress and other opposition parties today over fuel price hike pic.twitter.com/7rXobOCT7L

— ANI (@ANI) September 10, 2018
06:25 am: Petrol at Rs 80.73/litre (increase by Rs 0.23/litre) and diesel at Rs 72.83/litre (increase by Rs 0.22/litre) in Delhi. Petrol at Rs 88.12/litre (increase by Rs 0.23/litre) and diesel at Rs 77.32/litre (increase by Rs 0.23/litre) in Mumbai.
06:20 am: Seven people, including two UK tourists injured in Paris knife attack