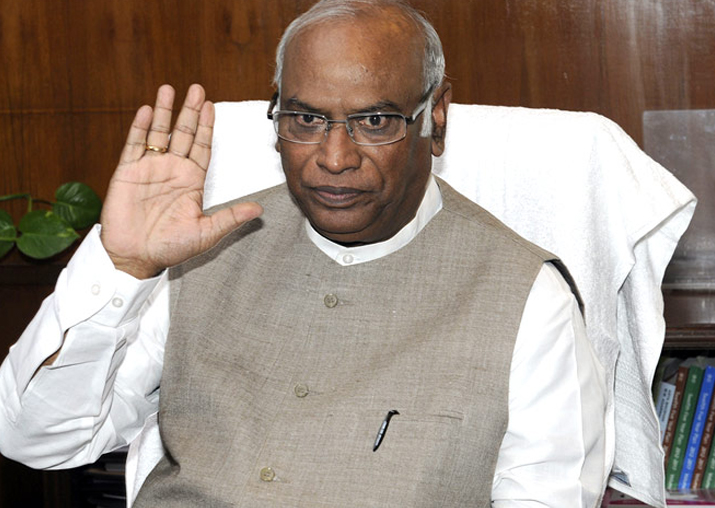 Building up the pressure on the Centre over caste violence in Maharashtra, the Congress today said the BJP-RSS combine was "conspiring to fuel violence against Dalits", even as it demanded Prime Minister Narendra Modi to speak up on the Bhima-Koregaon violence. 
The party also demanded the formation of a commission of inquiry by a sitting Supreme Court judge to probe the clashes between Dalit groups and supporters of right-wing Hindu organisations during the 200th anniversary celebrations of the Bhima-Koregaon battle in Pune district, that had left a man dead on January 1. 
The Congress also alleged that two of the accused, against whom cases of inciting violence were registered, have been seen along with Modi and Maharashtra Chief Minister Devendra Fadnavis. 
Leader of Congress in the Lok Sabha Mallikarjun Kharge accused the BJP and RSS of "conspiring to divide people" on caste and religious lines. 
Senior Congress leader M Veerappa Moily released the photographs of the two accused with the prime minister and chief minister. 
"It is unfortunate and strange that those who have to maintain peace and run the government both at national and state level, associate themselves with disrupters of peace," he said referring to the photographs. 
Moily said it was "most unfortunate" that the Bombay Police never anticipated this kind of gigantic eruption. 
"That is to say there is an intelligence failure...there is failure on part of the police to prevent it. That is because of a conspiracy hatched by RSS and BJP. How can the BJP government knowingly prevent it?" he asked. 
Leader of Opposition in the Rajya Sabha Ghulam Nabi Azad dubbed the BJP and the RSS as "anti-Dalit". 
"We had given an adjournment notice in the Rajya Sabha for taking up the issue of violence against Dalits in Maharashtra, but our voice was suppressed and live telecast was stopped," he told reporters. 
Moily also said if anyone could restore confidence among people and send a strong message, it is the prime minister and that he should have made a statement in parliament on the issue. 
Violence had erupted in Pune district of Maharashtra on January 1 when Dalit groups were celebrating the bicentenary of the Bhima-Koregaon battle in which the forces of the British East India Company defeated the Peshwa's army. 
Dalit leaders commemorate the British victory, as it is believed that soldiers from the Mahar community were part of the East India Company's forces. The Peshwas were Brahmins, and the victory is seen as a symbol of assertiveness by Dalits. 
The battle has come to be seen as a symbol of Dalit pride because a large number of soldiers in the Company force were the Mahar Dalits. Since the Peshwas, who were Brahmins, were seen as oppressors of Dalits, the victory of the Mahar soldiers over the the Peshwa force is seen as Dalit assertion.