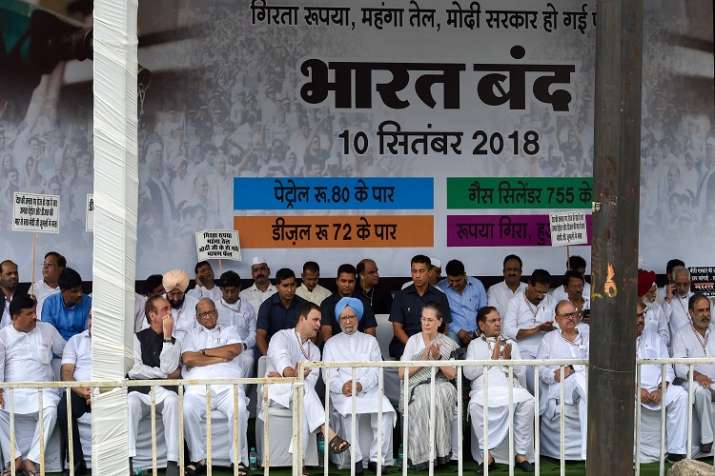 Former Prime Minister Manmohan Singh on Monday lashed out at the PM Modi-led government, saying that it has done a lot which is not in the interest of the nation and has now crossed all the limits.
Addressing supporters at the Ramlila Maidan in Delhi, Manmohan Singh said; "Modi government has done a number of things that were not in the interest of the nation. The time to change this government will come soon".
Singh also urged opposition parties to shed their differences and unite to save democracy in the country.
Leaders of various opposition parties led by Congress president Rahul Gandhi kickstarted Monday the country-wide protest against rising fuel prices from Rajghat as part of the 'Bharat Bandh' call given by the party.
Bharat Bandh called by Congress-led group of Opposition parties against rising petrol and diesel prices disrupted the normal life across India today as protesters indulged in violence despite promise of a peaceful protest. Schools, colleges and transport services were hit in parts of the country even as banks functioned as per usual. Trains and buses were targets of stone pelting and arson in at least Maharashtra, Rajasthan and Bihar.
According to the protest clarion issued by Congress, the Bharat Bandh intends to raise voice against 'price rise', 'fall' of rupee against the dollar and other issues that 'affect' the people across the country.
While on one hand, parties like BJD, TMC, Shiv Sena are not supporting the shutdown call by Congress, parties including DMK, SP, MNS, BSP, NCP, RLD, RJD, CPI, CPM, AIDUF, NC, JMM and AAP are backing it.