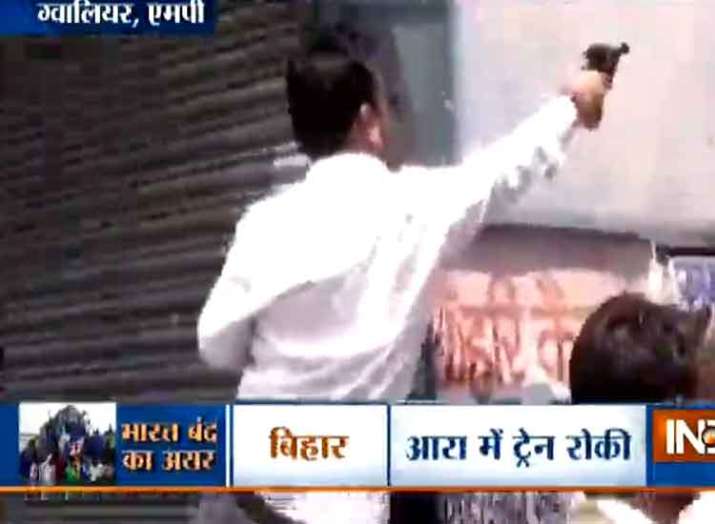 Four persons were killed and several others, including policemen, sustained injuries in violent protests in Madhya Pradesh during the nationwide bandh called today by Dalit outfits against the alleged dilution of the SC/ST (Prevention of Atrocities) Act. 
Curfew was clamped in three districts including Bhind, where the Army was called in to control the situation. 
"Two people were killed in Gwalior while one person each died in Bhind and Morena districts during the violence," Inspector General (law and order) Makrand Deoskar told PTI. 
Incidents of stone-pelting, arson and loot were also reported from several parts of the state during the protest, he said, adding that further details are awaited. 
A student leader, identified as Rahul Pathak, died in firing in Morena district, Sub-Divisional Magistrate (SDM) Umesh Shukla told PTI. 
Pathak was allegedly shot by agitators and he succumbed to injuries enroute to hospital, he said. 
As the violence escalated, curfew was imposed in the entire city, Shukla said.
The protesters also stopped a train in Morena, the police said. 
Curfew was also imposed in Gwalior and Bhind districts following violence, officials said. Gwalior Commissioner B M Sharma said, "Curfew has been imposed in several parts of the Gwalior city following violence during the protest." 
The Tahtipur, Gola Ka Mandir, Hazira and Morar police station areas in Gwalior were brought under the purview of the curfew, a senior official said. 
Curfew was also imposed in Bhind city, and Mehgaon, Lahar, Gohad and Machand areas of the district, Bhind Superintendent of Police Prashant Khare said. 
The Army has been called in Bhind to control the situation, Khare said. 
A person, identified as Mahavir Singh (32), died in the firing in Bhind district where while two others suffered serious injuries and were referred to a hospital in Gwalior, Bhind's chief medical and health officer J P S Kushwaha said. 
In Jhabua, protesters looted shops during the agitation, triggering tension in the tribal town. 
Meanwhile, Madhya Pradesh Chief Minister Shivraj Singh Chouhan appealed to the protesters to maintain peace in the state as the Centre has filed a review petition in the Supreme Court. 
Protests were also held in the state capital Bhopal with agitators blocking a road on the Board Office Square near the statue of Dalit icon Dr B R Ambedkar.
More than two dozen vehicles were damaged, several of them torched by the protesters, eyewitnesses said. 
In Morena district, the Chhattisgarh Express was stopped by protesters and was till at the station, they said. 
The Supreme Court had on March 20 diluted certain provisions of the SC/ST Prevention of Atrocities Act, in a bid to protect 'honest' public servants discharging bona fide duties from being blackmailed with false cases under the Act. 
The verdict is being widely criticised by the Dalits and the Opposition, who claim that dilution of the Act will lead to more discrimination and crimes against the backward community.
Watch Video: Four dead in MP during police-protester clash during Bharat bandh