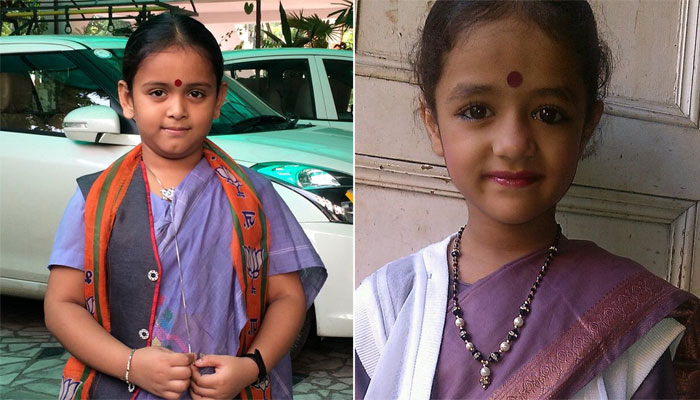 Known for her penchant for Twitter, External Affairs minister Sushma Swaraj has been extremely active on the social networking platform. Be it Indians stuck in war zones, or newly-wed husbands seeking visas for their wives – the minister has an ear for all. 
While Swaraj's presence on Twitter has been bordered from serious to outright hilarious, this time the minister has won the internet with her humility. 
On the occasion of Independence Day, many school students got dressed up as Sushma Swaraj and some fortunate ones even received heart-warming responses from our Union minister.
On August 12, a Twitter user, Rajesh Sharma tweeted a picture of his daughter Riya, dressed up as Swaraj for a fancy dress competition. 
Riya was wearing Sushma Swaraj's trademark half jacket over a sari, the maroon round bindi, and the BJP stole. 
@SushmaSwaraj my daughter # Fancy dress competition # national leader # SUSHMA SWARAJ...... pic.twitter.com/g8Xjxx4R19

— Rajesh Sharma (@Raj19Sharma) August 12, 2016
To which Mrs. Swaraj had the most adorable response that made everyone's day on Twitter.
Oh ! I love your jacket. https://t.co/xionOXbg0O

— Sushma Swaraj (@SushmaSwaraj) August 12, 2016
Both father-daughter couldn't control their happiness at this gesture!
Again, on August 14, another parent, whose child got dressed up like Shushma Swaraj, tagged her in his Twitter post and received a reply from her. 
प्रिय भव्या - लगता है जल्दी ही लोग आपको रियल और मुझे डुप्लीकेट कहने लगेंगे. @paruliift pic.twitter.com/J7u8yT4IdG

— Sushma Swaraj (@SushmaSwaraj) August 14, 2016
Dear Bhavya, I think people will soon begin considering me as a duplicate while calling you the real Sushma (Priya Bhavya, lagta hai jaldi hi log aapko real aur mujhe duplicate kehne lagenge).
In the past, the minister has even responded to people Tweeting to her with problems with their refrigerator even car smoke.