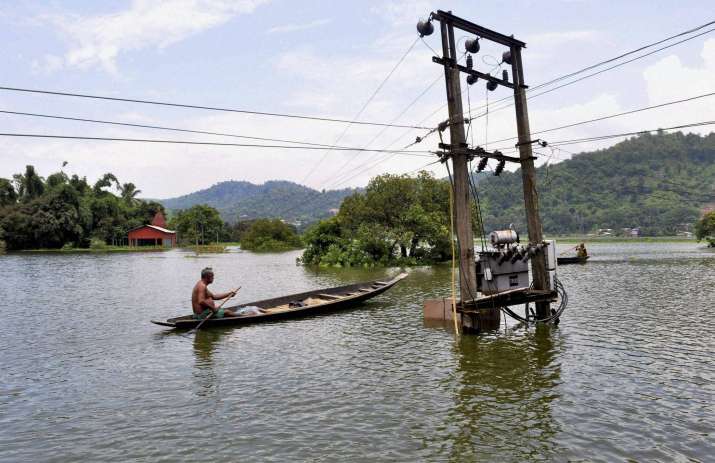 Rains lashing northern and eastern parts of the country have aggravated the flood situation in Assam, Meghalaya, Bihar and West Bengal, killing around 58 people while lightning strikes in Odisha have claimed 27 lives.
The flood situation in Assam remained critical with three more persons perishing on Saturday, taking the toll to 29 in the current deluge even as Union Home Minister Rajnath Singh made an aerial survey of the affected areas.
37 lakh people across more than 3,300 villages in 28 districts of Assam have been affected by the floods.
Assam State Disaster Management Authority (ASDMA) said one person each died at Kalgachia in Barpeta district, Dalgaon in Darrang district and Lakhipur in Goalpara district.
"I did not imagine that the situation is so grave. I have spoken to the Chief Minister and his officials. The problem is a big challenge," Singh told a press conference after making an aerial view of flood-hit Morigaon, Nagaon and Kaziranga.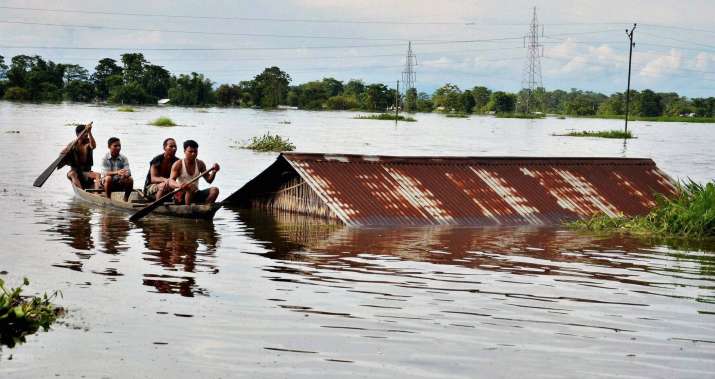 "The state government currently has Rs 620 crore under SDRF. I have asked them to spend it without any hesitation. If more fund is needed, we are there and we will help in every possible way," he said.
Around 36-37 lakh people across 28 districts have been affected by the floods, Singh said after a meeting with Chief Minister Sarbananda Sonowal and other state government officials.
Sonowal said 970 relief camps have been opened in which around five lakh people have taken shelter.
"This time the floods are very severe. Hundreds of villages have completely been washed away. Schools, roads, embankments have been either washed away or badly damaged. We are sincerely trying to help the people with our all resources," he said.
The worst-affected districts are Lakhimpur, Golaghat, Bongaigaon, Jorhat, Dhemaji, Barpeta, Goalpara, Dhubri, Darrang, Morigaon and Sonitpur.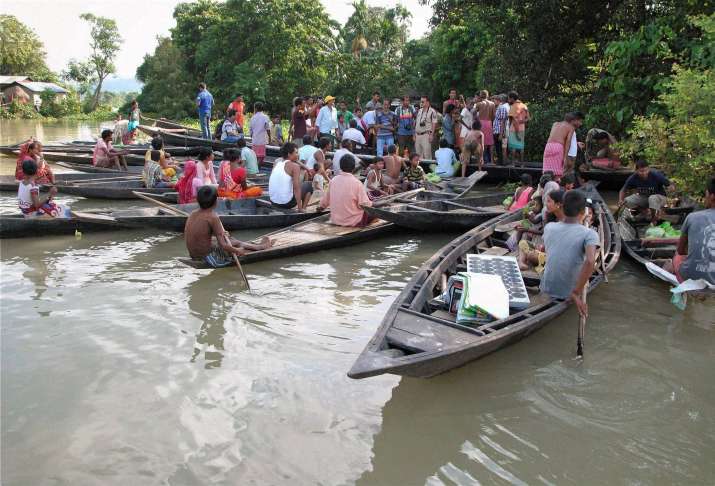 Over 1.95 lakh hectares of crop area is still under water, mostly in Morigaon district in central Assam and Barpeta in lower Assam.
ASDMA said nearly two lakh hectares of crop area across the state are under flood waters, while a number of roads, embankments, bridges and other infrastructure were washed away.
Currently, Brahmaputra is flowing above the danger mark at Guwahati, Nematighat in Jorhat, Tezpur in Sonitpur, Goalpara and Dhubri towns.
Its tributaries Burhidehing is flowing above danger level at Khowang in Dibrugarh, Dhansiri at Numaligarh in Golaghat, Jia Bharali at NT Road Crossing in Sonitpur, Puthimari at NH Road Crossing in Kamrup, Beki at Road Bridge in Barpeta and Sankosh at Golakganj in Dhubri, ASDMA said.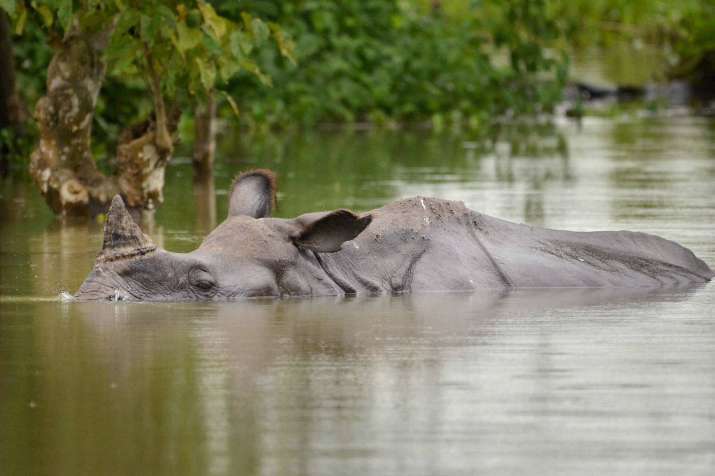 Meanwhile, a rhino, which escaped the floods at Kaziranga National Park and took shelter on a highland outside the protected area, succumbed to bullet injuries on Saturday after it was accidentally shot at by forest guards in self-defence on Friday.
Kaziranga National Park, located on the floodplains of the Brahmaputra River, is one of India's UNESCO world heritage sites. The park, home to many endangered species, is facing a major wildlife crisis this year as large portions of its area have been inundated in what are being described as the worst floods in a decade.
On the highway, herds of elephants can be seen making their way into the nearby hills, rhinos roam the roads and hundreds of deer are caught in the headlights as one drives through.
Some deer have already died after being hit by vehicles on the NH-37 when they tried to escape from the flooded Kaziranga.
1,800 one-horned rhinos, 70% of the world's rhino population, live in the park besides about 45 tigers.
The Assam forest department has deployed over 1,000 persons including staff on the highway to ensure passage of animals to the hills from low lying areas.
This is also the time when poachers prey on the vulnerable rhinos which are often disoriented by the surging waters, said a forest official.
Many rhinos were killed in Kaziranga during similar displacement during the 2013 floods. However, no poaching incident has been reported this year.
Bihar
In Bihar, many rivers are flowing above danger level as floods continued to wreak havoc, affecting 26.19 lakh people. Two more districts of East Champaran and Muzaffarpur were declared as flood-hit on Saturday.
Twenty-six deaths were reported in Bihar due to drowning and home collapses in 10 districts bordering Nepal, news agency AP reported on Saturday.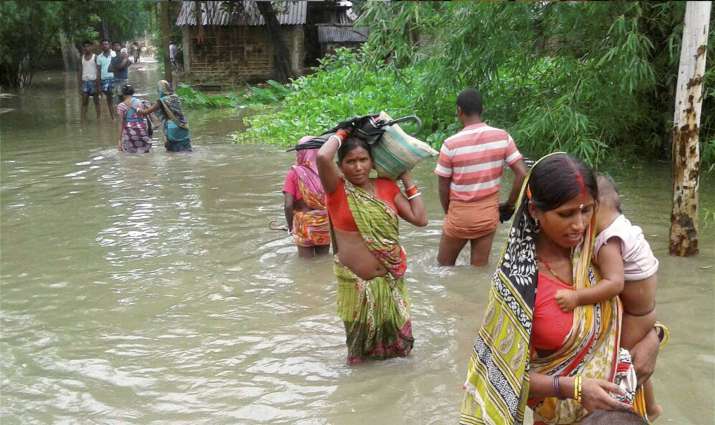 Two minor girls were swept away by waters of Burhidangi river in Bihar's Kishanganj district following incessant rains, an official said, adding that their bodies were fished out with the help of NDRF personnel.
According to the MeT office, Patna has received 18.3 mm rainfall since Friday, while Purnea witnessed 28.9 mm rains during the same period.
The ripple effect of the massive gridlock in Gurgaon due to flooding of streets continued to be felt, with several areas witnessing crawling traffic which received highest rainfall in 10 years.
Palam observatory recorded 144mm rainfall in a span of 24 hours from 5.30pm Friday out of which 80mm of rains were recorded in a span of mere three hours from 5:30am to 8.30am on Saturday. Prior to this, the record stood at 126mm of rain on July 28, 2009.
Arunachal Pradesh
According to official reports, flood waters have risen following heavy rainfall in the upper catchment areas of Arunachal Pradesh and Bhutan as well as in the state.
Meghalaya
In Meghalaya, at least three people were killed and two went missing as flood waters submerged the West Garo Hills district on Saturday, an official said.
Even though back flow of Brahmaputra and Jinjiram rivers has gone down marginally, many villages were inundated due to incessant rainfall.
Odisha
In Odisha, 27 people were killed in lightning strikes -- eight from Bhadrak district, seven casualties in Balasore district, five in Khurda, three in Mayurbhanj and one each in Kendrapara, Jajpur, Keonjhar and Nayagarh, police said.
(With PTI inputs)