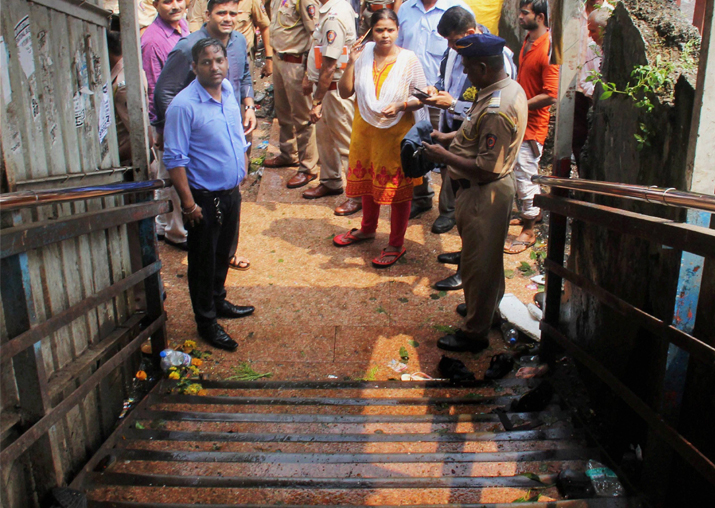 The Indian Army will help build a new foot overbridge at the Elphinstone Road station in Mumbai, where a deadly stampede killed 23 people and injured over 30 last month. The announcement was made today when Railway Minister Piyush Goyal, Defence Minister Nirmala Sitharaman and Maharashtra Chief Minister Devendra Fadnavis visited the station.
Fadnavis, who accompanied Sitharaman and Goyal, said the Army will also building three foot overbridges, including the one at the at the Elphinstone station. 
23 people were killed in a stampede on the Elphinstone Road station foot overbridge (FOB) on September 29.
After Elphinstone stampede incident, we had asked for help from armed forces and Defence Mininster agreed. We are taking the Army's help in building a new FOB at the Elphinstone Road station and at two other suburban train stations in Mumbai," Fadnavis told reporters at the venue. 
"I have been informed that the work on these bridges will be completed by January 31, 2018," he said. 
Goyal said bridges will be constructed with cooperation with the Army at Elphinstone Road, Currey Road and Ambivali.
Sitharaman said this was "probably the first time" the Army has been asked to come in to build what could otherwise be called civil work. But Elphinstone tragedy was so big, she said. 
A call was taken to cooperate seeing urgency of the matter as Army has its role at the borders, the Defence Minister added. 
"Army has come and seen, inspected and assessed where the bridge is going to be built, they will be there at every stage of the work," she said. 
However, the move has come under severe criticism from the opposition parties. While Punjab Chief Minister Captain Amarinder Singh said that the Army should not be used for civilians work, former Jammu and Kashmir Chief Minister Omar Abdullah pointed out that the armed forces should be called in extreme emergency only. Omar also took a jibe at the Maharashtra government by saying that the Army appears to be the  1st number on the speed dial of the state government. 
The @adgpi job is to train for war, not to be used for civilian works @nsitharaman ji. Don't divert defence resources to civilian jobs(1/2).

— Capt.Amarinder Singh (@capt_amarinder) October 31, 2017
The army was to be a measure of last resort to be called upon in extreme emergency. Now it seems like it's the 1st number on the speed dial. https://t.co/9e9hJOgDTY

— Omar Abdullah (@OmarAbdullah) October 31, 2017
After the stampede on September 29, railway officials posted police personnel to manage the crowd on busy platforms, evicted hawkers from suburban train stations and started speeding up infrastructure projects on suburban network.