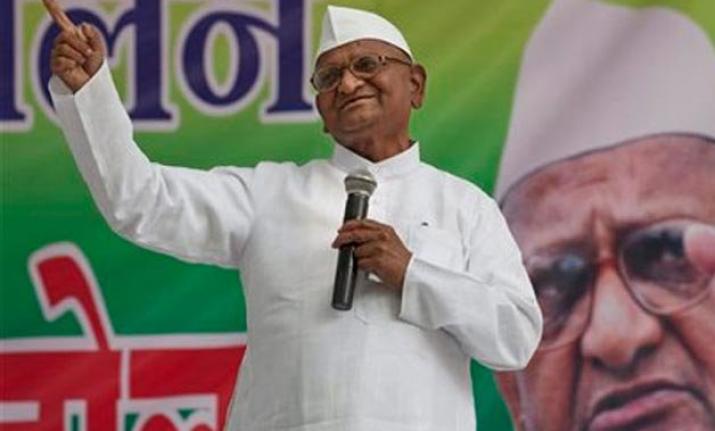 Nearly seven years after his anti-corruption movement shook the then UPA government, social activist Anna Hazare on Friday began his indefinite hunger strike against the Centre in Delhi.
The venue of his protest is the same iconic Ramlila Maidan, where he had sat on a hunger strike in 2011 demanding that the then government set up a Lokpal to investigate cases of corruption. 
Meanwhile, the Delhi Traffic Police has issued an advisory warning commuters to avoid taking routes towards Aruna Asaf Ali Road, Delhi Gate, Darya Ganj, New Delhi Railway Station, Ajmeri Gate, Paharganj, ITO, Rajghat, Minto Road, Vivekanand Marg, and JLN Marg. 
HERE ARE THE LIVE UPDATES:
#Anna reached the sprawling ground after paying tributes to Mahatma Gandhi at Rajghat.
Anna Hazare pays tribute at Raj Ghat in #Delhi; will begin an indefinite fast demanding a competent Lokpal and better production cost for farm produce, later today pic.twitter.com/DXaSsx96gJ

— ANI (@ANI) March 23, 2018
#The Gandhian and his supporters will first visit the Rajghat and then they will march to Shaheedi Park followed by Ramlila Maidan.
You cancelled trains carrying protesters to #Delhi, you want to push them to violence. Police Force deployed for me as well. I wrote in many letters that I don't need police protection. Your protection won't save me. This sly attitude of the government is not done: Anna Hazare pic.twitter.com/Ue91oXsnzG

— ANI (@ANI) March 23, 2018
#The anti-corruption crusader has been pressing for setting up of the Lokpal at the Centre and Lokayuktas in the states, besides implementation of the Swaminathan Commission report, which has suggested ways to address the agrarian distress.
#Thousands of people are expected to attend the protest.
#"Anna will first visit the Rajghat and then come to the Ram Lila Maidan, where he will go an indefinite strike," said an aide of Hazare.
#Earlier, Anna had said that he would do "satyagraha from jail" if not allotted a space in New Delhi.
 
#The 2011 anti-graft agitation by Hazare, which aimed at the increasing corruption cases that had surfaced during the UPA rule, had received the support of millions of people across the country. 
#Anti-corruption crusader Anna Hazare had told India TV that he won't share stage with Aam Aadmi Party chief Arvind Kejriwal.
#Maharashtra Irrigation Minister Girish Mahajan had earlier met Hazare to persuade him to give up his fast, but the activist, who has put together a team of around 6,000 people across India for the purpose, indicated that he would go for the fast until PM Narendra Modi's government came up with a concrete proposal to empower the Lokpal.
#Hazare has demanded setting up of Agriculture Price Commission on the lines of the Election Commission and Niti Aayog.
#The activist had in 2011 anti-corruption campaign and 12-day hunger strike warned that he would resume his fast if an effective law was not instituted to deal with corruption and misgovernance.
#Parliament had in the 2011 hunger strike aftermath passed an unprecedented resolution in support of his demands.