Follow us on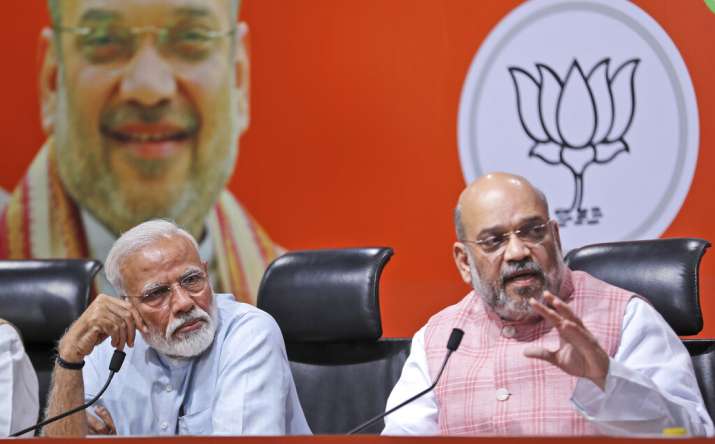 Bihar Chief Minister Nitish Kumar will attend the dinner hosted by the BJP president Amit Shah today. Amit Shah and Prime Minister Narendra Modi will host a grand dinner for all NDA constituents today after exit polls on May 19 predicted a comfortable majority for the BJP-led coalition.
Amit Shah will host the dinner at Ashoka Hotel in New Delhi. This is being seen as a move to bring together all the parties to discuss a plan for the formation of the next government. The exit polls on May 19 predicted a massive win for the Modi-led coalition. India TV-CNX exit poll has predicted anything between 300-310 seats for NDA. In fact, twelve of 14 exit polls predicted the NDA getting a full majority with seats ranging seats from 282 to 365. A party or an alliance needs 271 seats to form the government as Lok Sabha elections were held on 542 of the 543 seats.
Leaders like Shiv Sena chief Uddhav Thackeray, Akali Dal's Prakash Singh Badal, Sukhbir Badal, LJP's Ramvilas Paswan, Apna Dal's Anupriya Patel are expected to attend Amit Shah's gala dinner.
 Senior BJP leaders, Rajnath Singh, Sushma Swaraj, Nitin Gadkari, Arun Jaitley, Shivraj Singh Chouhan, BS Yeddyurappa, Yogi Adityanath, JP Nadda are expected to attend the dinner that begins  7 PM at Ashoka Hotel.
 Lok Sabha Elections in India were held in 7 phases and ended on May 19. The election saw an overall turnout of 67.1 per cent according to the final numbers released by the Election Commission of India. Almost 91 crore people used their adult franchise in the Lok Sabha election in what is world's biggest election. The final voter turnout may slightly change as the Election Commission has ordered repolling on some booths in few constituencies.
 Election results will be declared on May 23.
ALSO READ: 
Phir ek baar Modi sarkar? India TV-CNX Exit Poll predicts 300 seats for BJP-led NDA
Lok Sabha election 2019 result: All you need to know about counting of votes on May 23