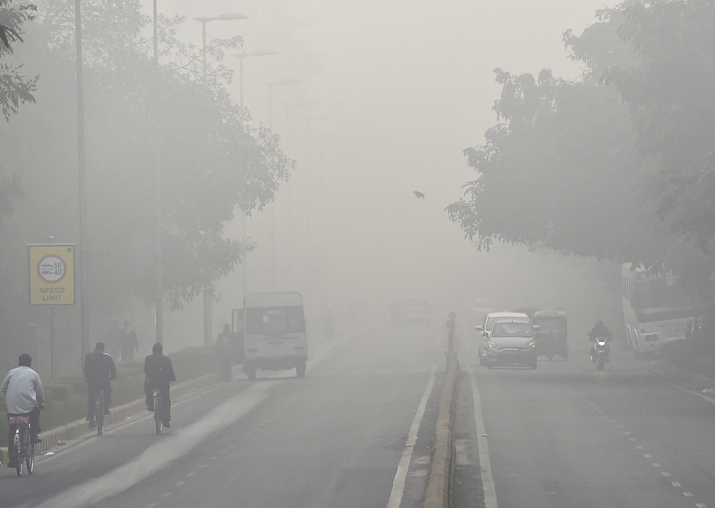 As Delhi Chief Minister Arvind Kejriwal goes around seeking meetings with chief ministers of Haryana and Punjab, questions have been raised on what his own government has done to control the situation. 
The past few days have seen the AAP government in the city face stiff reprimand from the National Green Tribunal over its insistence on bringing the Odd-Even scheme while failing to take any other concrete measures to counter air pollution. 
A fresh revelation now claims that the Kejriwal government failed to specify its utilisation of the Rs 787 crore green cess collected during 2017.
In response to an RTI reply to Sanjeev Jain, the Delhi government said that it received Rs 50 crore in 2015, Rs 387 crore in 2016 and Rs 787 crore as environment cess from January 1 to September 30 in 2017. 
Of this, the government has spent Rs 93 lakh of the environment cess in 2016, but there was 'no mention of any expenditure' in 2017.
The revelation comes at a time when Delhi-NCR is facing severe air pollution level, especially smog over the past few weeks.
With the crisis over toxic air garnering political undertones, the AAP government came under attack from the opposition parties following this RTI response. 
The Congress accused CM Kejriwal of not utilising funds for strengthening the public transport system and instead was involved in 'blame game'.
"It is complete negligence on the part of (Chief Minister) Kejriwal's government. It has not been able to utilise Rs 787 crore which is lying idle. The public transport system in Delhi is in shambles," Delhi Congress Chief Ajay Maken said.
Maken said that the AAP government could have bought new buses with this money and also augmented total parking capacity of the bus depots. He added that Kejriwal could have purchased road vacuum cleaners, as the dust "is the single biggest contributory factor for air pollution" in Delhi.
"Instead of using the money which is lying idle, he is busy aiming at the other state governments and the Centre instead of doing his bit. In Delhi, if we look at all the factors contributing to air pollution, then about 80 per cent of it is due to road dust, vehicular movement, industrial pollution and domestic pollution. And the Delhi government itself should deal with it," he said.
"He (Kejriwal) is passing the buck and trying to get attention. He could have utilised Rs 787 crore... they could have bought more than 1,500 Delhi Transport Corporation buses," Maken opined.
BJP's Delhi unit chief Manoj Tiwari said that the AAP government has failed to act on environment protection despite having 'ample' resources.
He also demanded from the government to share details of spending of the environmental cess.
"This year when the people are suffering badly and ₹775 crore lies at its disposal, the Kejriwal-led government has not found it worth spending on improving the environment," Tiwari said.
Earlier in the day, Kejriwal met Haryana Chief Minister Manohar Lal Khattar for nearly 90 minutes in Chandigarh to discuss steps to prevent a repeat of smog in the NCR next year.
Speaking to the media after his meeting with Khattar, Kejriwal said that " we all will have to make efforts to control air pollution".