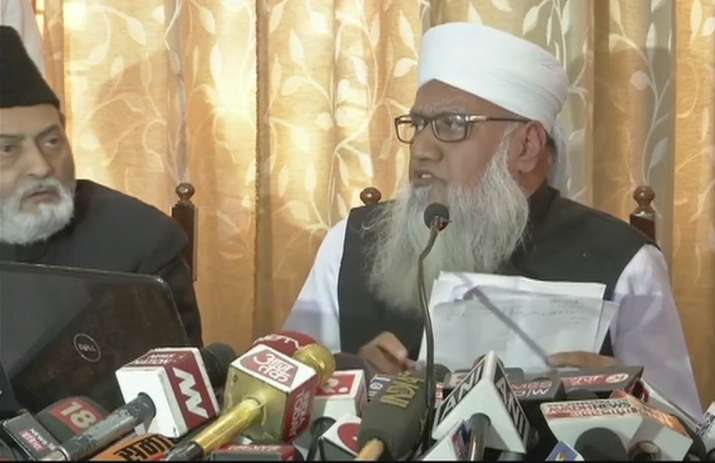 All India Muslim Personal Law Board (AIMPLB) on Sunday raised objections on the Triple Talaq bill to be tabled in the Parliament in the coming week and urged the Prime Minister to hold it off. 
Criticising The Muslim Women (Protection of Rights on Marriage) Bill, 2017, AIMPLB spokesperson Sajjad Nomani said: "After observing the provisions mentioned in the bill, it looks like that it is a kind of a conspiracy to grab the power of divorce from Muslims.
"If government want to stop triple talaq, then it can take our suggestions. We will help in solving the issues under the constitutional provision of Muslim laws." 
Terming the bill against women and Shariya, Nomani claimed that the provisions in the bill will break families. 
Nomani argued that the legislation was drafted without proper procedure, "No procedure was followed in drafting this bill, neither any stakeholder was consulted. President of AIMPLB will convey this stand to the Prime Minster and request him to withhold and withdraw the bill," Nomani said in a press conference on Sunday in New Delhi. 
The bill seeks to criminalise the practice of instant triple talaq. According to the draft law, which would be applicable to the entire country except Jammu and Kashmir, giving instant talaq would attract a jail term of three years and a fine. It would be a non-bailable, cognisable offence.
The bill is being introduced in Parliament as the practice still continued despite the top court striking down 'talaq-e-biddat' (instant triple talaq). The bill, passed by the Lok Sabha in April, was sent to the Rajya Sabha which passed the bill with amendments. Hence, the government will now reintroduce the bill.
"In case of a constitution amendment bill, the Lok Sabha and the Rajya Sabha cannot differ. So the bill has to be reintroduced," Parliamentary Affairs Minister Ananth Kumar said.
The Supreme Court, in August, by a majority of 3:2, had ruled that the practice of divorce through triple talaq among Muslims is "void", "illegal" and "unconstitutional".
The press note issued by the Muslim outfit: