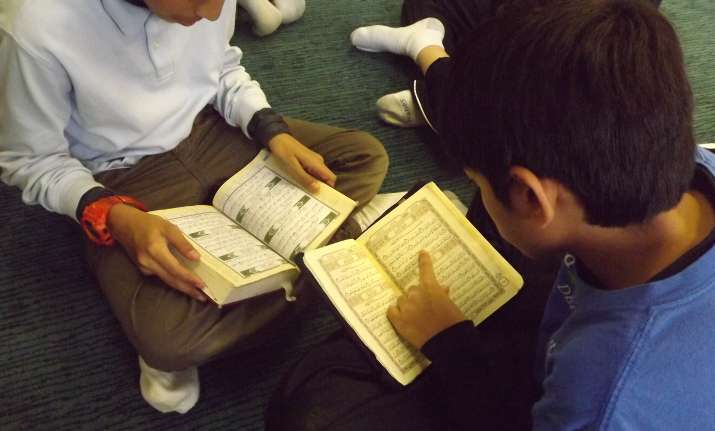 Contrary to the prevailing communal restlessness in western Uttar Pradesh, Muslim kids in an Agra locality are offered lessons in Quran by a 18-year-old Hindu girl in an open-air classroom held every evening in a temple premises in the city's Sanjay Nagar colony.
Pooja Kushwaha, a class XII student, turns into a teacher by evening and imparts Quran lessons to Muslims kids.
Pooja has excellent command over the difficult Arabic phonology, which includes an array of syllables and emphatic consonants.
"It is a marvel to see her achieve this rare distinction at so young age. I am very pleased to have her as my kid's teacher. Her religion is the last thing on my mind or any other parents' that I know," Reshma Begum, mother of five-year-old Alisha, one of Pooja's students, was quoted by Times of India as saying.
When asked how she learnt the Arabic language, Pooja answered, "Many years ago, there was another woman of mixed faith in our locality. Born to a Muslim father and Hindu mother, Sangeeta Begum used to hold Quran classes for the kids. I got interested in the holy book and started attending her classes. I made steady progress and was ahead of all others in her class soon."
"She taught me an important tenant of Islam, that there is no point in gaining knowledge if you don't share it," she further added.
Pooja gives Quran lessons for free as most of the kids are from poor families and they don't have money to offer.
As the number of students in her classes grew day by day, her house became too small to accommodate them. It was then that the elders in the locality offered her premises of a temple for her classes.
On the other hand, Pooja's elder sister Nadini, who is a graduate, also imparts local kids lessons in Hindi and Bhagwat Gita.
"These children are from underprivileged backgrounds and giving education to them is a great work. I am proud of my daughters," said Pooja's mother Rani Kushwaha.