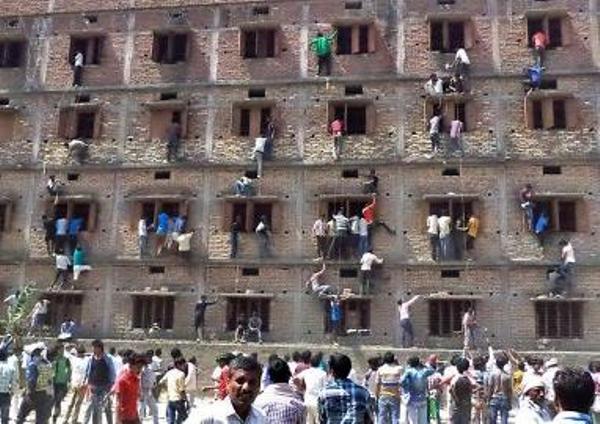 Diwakar Prasad, main accused in Rs eight crore Bihar School Examination Board (BSEB) topper scam, was found dead under mysterious circumstances on Friday.
According to reports, Diwakar was found dead in front of his house located under Kotwali police station jurisdiction.
However, the family alleged that the police, who had come to arrest him, pushed him from the roof of the house that led to his death. But the police officials denied the charge, saying that Diwakar jumped off the building after seeing the cops who had gone to arrest him.
A police team had gone to Prasad's house to arrest him in connection with a case related to irregularities in floating tender for supply of answer sheets of the Intermediate examination to BSEB.
Diwakar was the owner of a printing press, which was earlier raided by the special investigation team (SIT), which is investigating the Intermediate topper scam. It also seized a few bundles of the answer sheets from Diwakar's printing press.
Bihar topper scam 2016 is a corruption scandal in Bihar which came into limelight on 31 May 2016 when the Bihar School Examination Board (BSEB) Arts and Humanities topper Ruby Rai, Science topper Saurabh Shrestha and third topper in Science stream Rahul Kumar were interviewed by television channels and they were unable to answer to basic questions.
Ruby Rai, student of Vishnu Roy College, Kiratpur Raja Ram village in Vaishali district pronounced Political Science as 'Prodigal Science' and described it as a subject related to cooking.
Science topper Saurabh Shrestha was unaware of electron and proton and wrongly said alumunium is the most reactive element.
After the video of their interviews went viral, a three-member SIT was formed by the Bihar state government to look into the fraud.
(With agencies input)